Wader Base & Under Layer Guide

Wader Base Layers
The base layer is a thin layer worn next to the skin. It assists temperature regulation by wicking moisture (sweat), which would otherwise conduct heat away from the body, away from the skin. On warmer days, base layers can be worn directly under waders or on their own. Simms Waderwick? core bottoms and crew neck tops are great examples of base layers with a two-way stretch fabric for improved mobility and a mechanically wicking moisture knit structure for increased comfort.
What do I wear under my waders?
In recent years breathable clothing has become very popular with fishermen. A breathable, waterproof outer-shell combined with lightweight, purpose designed base and mid-layers has significantly increased personal comfort in poor conditions. Why wear clothing that is less comfortable?
Why breathable?
The breathability varies greatly depending on the construction of the garment. Usually the more advanced the construction, the more effective it is and this aspect is reflected in the price. In order for breathable clothing to be most effective, droplets of perspiration produced by the body must be turned into water vapour quickly to allow the moisture to pass through the breathable membrane ensuring that the skin remains dry. If a wicking layer is efficient in dispersing perspiration it will dry more quickly - essential to achieve effective body insulation.
Manage moisture…
Moisture management is essential to help regulate body temperature. Understanding how base layers work and selecting the right type and weight of layers for the prevailing conditions will keep you dry and comfortable. Using layers allows one to fish comfortably in a wider range of conditions - layers can be added or removed depending on the ambient temperature, humidity and level of exertion.
The Layering System
Think of these undergarments as your body temperature control system that you can modify to suit the conditions.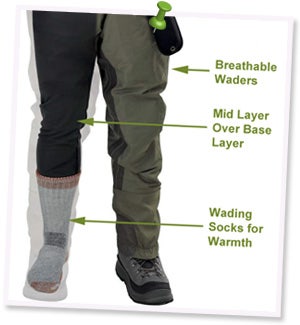 Base Layer
In warm weather or during times of physical activity the body produces perspiration. As the perspiration evaporates it has a cooling effect on the body. To accelerate the evaporation process, a mid-weight wicking base layer can be used to dissipate the perspiration over a large surface area of the garment. This high surface area to volume ratio rapidly increases the rate of evaporation and in turn cools the skin more effectively. Increasing the effectiveness of evaporation keeps the skin drier. For any base layer to work properly and allow it to wick moisture from the skin it must be worn directly against the skin. It is fascinating to see a wicking layer work by placing a droplet of water onto the inside of the garment. The droplet will spread over a large surface area very quickly. High quality wicking layers absorb a droplet of water almost instantly leading to fast and effective evaporation. Base layers of different weights can be used in conjunction with others allowing great flexibility to regulate temperature. Many wicking layers also feature two or four-way stretch to allow unrestricted movement – ideal for an active sport such as fly-fishing. The benefit of this is particularly noticeable when wearing several layers in cold conditions. Some garments also have anti-microbacterial finishes which kill odour causing bacteria. These are particularly useful when travelling especially if washing facilities are limited!
What if its colder?
Heavyweight base layers achieve warmth in two ways, first by wicking moisture away from the skin and dispersing it over a large surface area for rapid evaporation. This does not happen with normal polyester fleeces. Secondly, trapping a large volume of still air close to the skin provides a warm layer between the body and any outer layers. Using a windproof, breathable shell as an outer layer helps to keep still warm air trapped within the heavyweight base layer preventing it from being forced out by the external cold air. To insulate effectively in cold conditions, perspiration caused through physical activity, such as casting or walking, must be removed from the skin in order to prevent the chilling effect. It is for this reason that neoprene waders are not as comfortable for fishing in cold conditions. Instead breathable waders with good insulation and moisture-wicking properties provided by a heavyweight base layer will keep the body dry and warm. Heavyweight base layers may resemble a normal polyester fleece but they function very differently.
Mid Layer
Mid-weight layers trap small pockets of warm air, which act as a light insulator in cool conditions. The effective dissipation of water by wicking layers can be achieved by chemical or mechanical processes or a combination of both. These wicking layers are normally made from a man-made fibre such as polyester. These fibres do not absorb water; instead, the water lightly coats the outer surface of each fibre. This high surface area to volume ratio of moisture allows them to dry very quickly.
What's wrong with my old long johns?
Traditional cotton & wool fabrics absorb moisture & therefore do not keep you as warm or assist breathability in your outer garments. If suitable layers are used in conjunction with breathable clothing one can fish comfortably in all conditions. After all, how often have we said, "I'm feeling cold, let's go home" - when instead we could stay on and spend more time enjoying our sport.
Guide by Sportfish expert Jonathan Randall
Still need help?
For more help and information on purchasing wader base and under layers contact Sportfish on 01544 327111 or email danny.north@sportfish.co.uk