Fly Fishing Lessons and Courses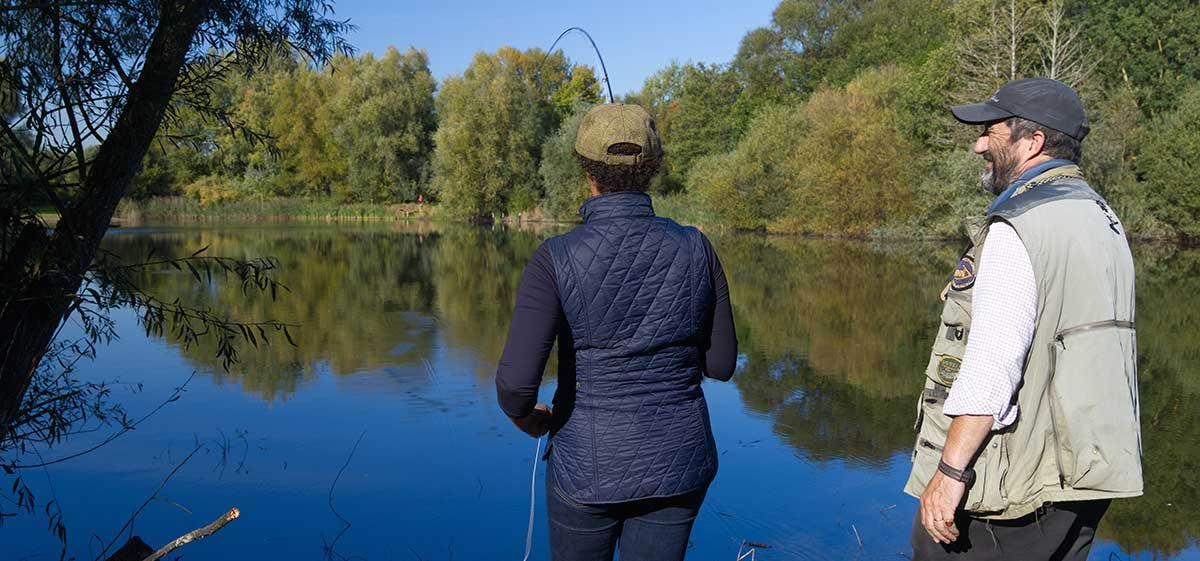 We offer a range of different types of lessons and courses to suit everyone's needs at any ability.
Casting Lessons
Enjoying the preparation for the next fishing adventure is undoubtedly a big part of our wonderful sport. We know conditions will not always be perfect, so why not learn how to cast into a blustery wind or Speycast in that tricky pool with a high bank? Fishing effectively in a wide range of conditions is something that separates those that catch fish and those that fail. If you plan to travel to fish this year surely a fly casting lesson is a sound investment. We are able to offer half day lessons in all salmon, trout and any saltwater disciplines, group lessons and single hour one to one lessons.
BEGINNER'S FLY CASTING LESSONS
Catching your first fish on a fly is one of life's milestone experiences. The path to this moment can be frustrating without the right help and guidance. Sportfish will give you the foundation you need for a lifetime of successful fly fishing, whatever your quarry.
One-to-one adult fly casting lessons £50 per hour (can include up to two under 16s)
Group (2 adults) fly casting lessons £85 per hour
One-to-one under 16s lessons £25 per 1/2 hour, including one fish from Kingfisher Pond (subject to pond availability).
One-to-one under 16s lessons £20 per 1/2 hour (no fish).
INTERMEDIATE AND IMPROVER'S FLY CASTING LESSON
We like to think of these fly casting lessons as M.O.T.s - an opportunity to fix minor faults before they become a major problem. Alternatively, you may wish to perfect a new fly casting skill e.g. double hauling or advanced roll casting. Either way, a little time invested with an expert Sportfish fly fishing instructor will reward itself every time you fish.
One-to-one fly casting lessons £50 per hour
Group (2 people) fly casting lessons £85 per hour
SPEYCASTING LESSONS
Many anglers consider an elegant, well executed Speycast to be the holy grail of game fishing. Sportfish teach hundreds of novice salmon fishermen how to master these casts every year. Once mastered, Speycasting adds a whole new dimension to all your fly fishing.
One-to-one Speycasting lessons £50 per hour
Group (2 people) Speycasting lessons £85 per hour
Fly Tying Lessons
A sound knowledge of the basic techniques in fly tying is essential to the construction of quality fishing flies. Our lessons will teach you a tailored range of flies to suit your fishing interests and help you improve your skills. Lessons can be on a one-to-one or group basis.
Tying great fishing flies is a skill useful to all fly fishers. More experienced anglers will appreciate the opportunity to experiment with their own patterns and fly variants, beginners will get the chance to become a more complete fly anglers early in their fishing career. Fly tying is also a hobby in its own right and our courses are designed to teach a range of easy to learn techniques to add to your existing skills, or get you going from scratch. All tools and materials can be supplied as needed.
One-to-one 1/2 day fly tying lessons £125
Group (2 people) 1/2 day fly tying lessons £225
One-Day Stillwater Trout Course
To many fly fisherman, the ultimate experience is watching a trout or grayling rise to the surface to sip down a carefully presented dry fly or nymph. We can help you achieve this ambition on one of our courses.
To get the most from your trout fishing, a sound basic knowledge of casting, tackle selection, entomology and fishing techniques will set you on the road to success. All of these skills will be learnt on this course you may even go home with a trout for the pot!
Cost of course: £175.00 (Rods strictly limited to three per course)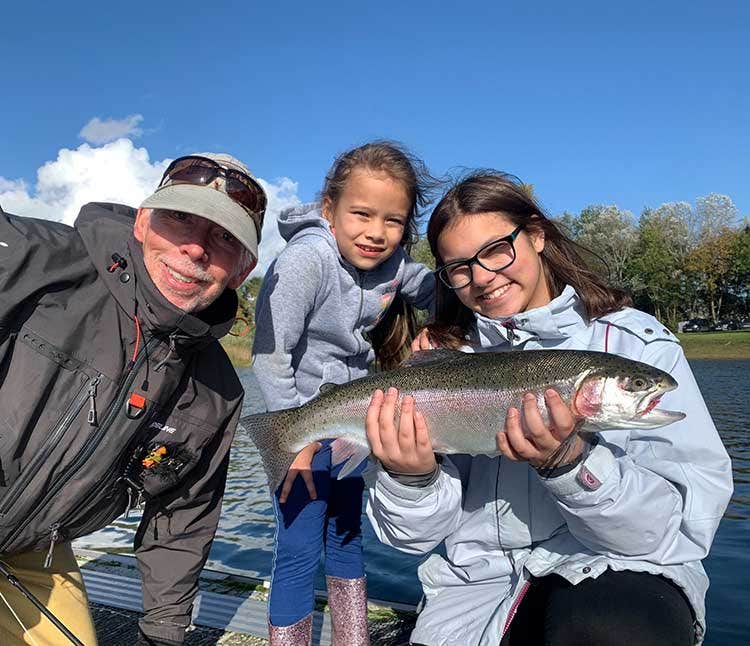 One Day Chalkstream Trout & Grayling Courses
To many fly fisherman, the ultimate experience is watching a trout or grayling rise to the surface to sip down a carefully presented dry fly or nymph. We can help you achieve this ambition on one of our courses. All of these take place on a beautiful stretch of either the Hampshire Test or Itchen rivers in the stunning countryside! You will learn casting, entomology, river fishing tactics and fish spotting amongst other skills.
Residential Courses
For the ultimate fly fishing experience, nothing beats one of our residential courses! You'll be out in the field for a number of days or nights fishing with our expert instructors helping you every step of the way. We run courses throughout the seasons, at prime locations and the best times to give you the best chance of success. Along with this we couple our courses with high quality local accommodation to ensure your comfort and convenience. For example we've recently completed courses for spring salmon fishing on the Tyne, and are looking forward to our North country trout courses on the River Wharfe.
For more information or to place a booking please call us on 0118 930 3860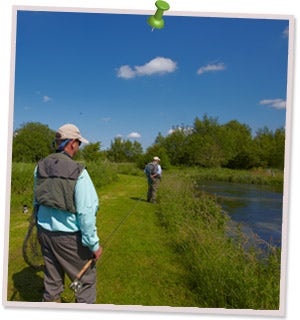 ---
QUICK CASTING TIPS
SINGLE-HANDED CASTING
For beginners the most important factor is to make sure you learn with a professional coach. Positive muscle memory can never be forgotten but bad muscle memory can be difficult to eradicate. Because of this learning from a professional – just as you would learn to drive with a driving instructor – is advised.
Make sure you choose the correct tackle for the application you require and for your own individual style, not just because it is 'balanced'.
For single-handed casting learn to make a nice, straight overhead cast, turning the leader and the fly over fully.
Once you have mastered the basic cast go fishing and make sure you catch some trout to give yourself confidence in your ability. Don't head to a big, open water or to a river for your first session; head to a small, well-stocked stillwater venue such as Haywards Farm at Sportfish Reading and get a bend in your rod!
Improvers should learn single and double haul casting, which will improve distance and give better line speed in unfavourable weather conditions. It is particularly useful for saltwater fishing too.
Know and cast within your capabilities! The most important thing is not so much the distance you cast as the presentation that you achieve – even on bigger waters.
In conclusion learn to make a nice, smooth cast and beginners should always learn to cast BEFORE they go fishing.
DOUBLE-HANDED CASTING
As with single-handed casting it is important to learn from a pro and ensure you don't get into bad habits from the beginning. It is far easier to learn correctly right from the beginning than to have to un-learn bad technique before you start!
Make sure that you understand the mechanics of what you are trying to achieve.
Mechanically the rod must travel in straight lines with a tensioned line.
Remember that without line tension the spring of the rod is massively reduced.