A Guide to Choosing a Single-Handed Fly Fishing Rod

Single-Handed Fly Rods Guide
Like most sports equipment fly fishing rods have been subjected to a huge amount of technological development in the last few years. The net result of this is the best range of rods we have ever stocked. Today's rods are lighter and stronger than ever before with more feel and casting ability.
In simple terms, modern rods are constructed from carbon fibres held in place by resin, formed by wrapping carbon cloth around a mandrel applying the resin then baking the lot in an oven. The result of this is a long slim cone known as a blank. The blank is then ground to remove any unevenness created by the cloth being wrapped and fitted with a cork handle and reel seat. Rings (guides) are whipped on and then coated with a clear resin to protect them against the day to day wear and tear of fishing.
What is rod action?
This is the way the rod flexes in response to casting or playing a fish. A rod can be described as having a fast action, very often this means that the rod will flex mainly through the tip section when really the description means it recovers quickly to being straight after flexing. Fast action rods are generally good distance casting tools because they allow a talented caster to have great control over loops of line cast back and forth. They will not 'bounce' when cast with force upsetting the fly lines progress through the air.
Less able caster may find it hard to get the timing of the cast correct so may be more comfortable with a rod with a more moderate action. Fast action rods are favoured particularly by saltwater fly fisher's as they will need to deal with strong winds on a regular basis. Rods for trout fishing are better served by a middle to tip action, less demanding to cast and better for roll casting and fishing at close range. Very soft action rods are really a thing of the past.
Which type of handle?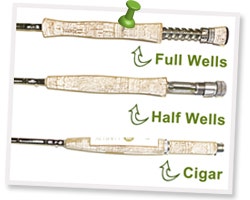 Most fly rod handles are made of cork - cork feels great in the hand and is easy to grip if your hands are cold and wet. It is a natural material so there may be some imperfections, these may be filled to improve the cosmetics of the handle.
Very high quality cork is getting increasingly hard for rod manufacturers to source due to competition from champagne producers and disease problems with cork tree cultivation. Most quality cork is grown in Portugal.
Handle shapes vary, there are three main styles - full wells (mainly found on heavier line rating rods #7 and up), half wells and cigar (rods for lighter lines). The one you prefer will be dictated by your casting grip. The diagram opposite shows these three types.
What type of rings?
Most fly rods are fitted with snake rings, but some come with single leg rings and recoil rings. Most rods will have a lined stripping ring or two on the butt section. This ring will take a lot of the wear caused by the line travelling over first ring when retrieving the line. Over the course of time rings will wear – this can be minimised by keeping fly lines clean and inspecting the rings regularly for damage. You may find a keeper ring just above the handle – this is used for hooking the fly onto when you are not casting.
Choosing a rod length & line weight...
| | |
| --- | --- |
| Freshwater Single-Handed Rods | Saltwater Single-Handed Rods |
| Large Reservoirs 9.5' – 10' 7/8 weight | Flats Bonefish/UK saltwater 9' 7/9 weight |
| Small Still waters 9' – 9.5' 5/6 weight | Flats Permit/Baby tarpon 9' 9/10 weight |
| Large rivers 9' – 10' 4/6 weight | Big Tarpon/bluewater 9' 11/13 weight |
| Small rivers/streams 7'- 8.5' 2/5 weight | Sailfish/Big Sharks/Tuna 9'/8.5' 12/14 weight |
| Sea trout/Light salmon 10' 7/8 weight | |
Guide by Sportfish expert Allan Shephard AAPGAI
Still need help?
For more help and information on purchasing your new single-handed rod please contact Sportfish on 01544 327111 or email danny.north@sportfish.co.uk
---
Discover Our Range of Single-Handed Fly Rods