A Guide to Choosing the Right Fishing Waders & Boots

Fishing Waders and Boots
Waders and wading boots are an important addition to your fly fishing gear. Wading will give you access to water that you would not otherwise be able to cast to. They will keep you dry and dedicated wading boots will provide you with secure traction when walking and wading through the water.
Waders, and chest waders in particular, are becoming ever more popular with all fly anglers. Increasingly, stillwater trout anglers are now taking advantage of the benefits of having a totally waterproof lower half to their clothing. Great for avoiding the dreaded 'soggy bottom' if you need to sit down on damp grass or wade just that little bit further than thigh waders will allow.
Which type of waders are best for me?
Choosing a pair of waders can be a little daunting. There are two main types:
Boot-foot waders
These have a boot already welded to the bottom of the waders and are first choice if you need to get the waders on and off quickly and don't have to walk too far. Perfect for a salmon beat with good vehicle access and easy wading conditions. The downsides are less size options – (many will find it hard to get a good overall fit) and the lack of ankle support compared with a purpose designed wading boot.
Stockingfoot waders
These have welded neoprene socks to take your foot but require a pair of wading boots to be used over the top of them. Your foot is water proof but the boots are designed to be submerged in the water for long periods. There are wide choices of fittings available and the boots are very comfortable to walk long distances in. They also protect your feet from the rocks on the riverbed – it is easy to injure your ankle if your foot gets trapped between rocks and you stumble.
What is the best material for the waders?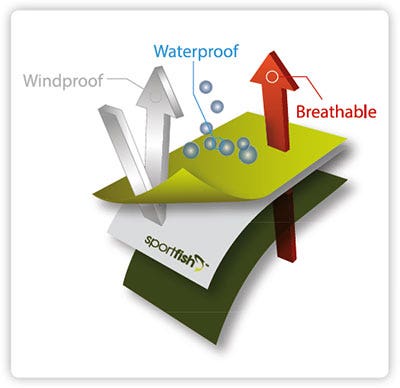 Breathable Waders
It's generally accepted that the versatility and comfort of breathable waders makes them an essential part of the fly fisher's wardrobe. Waders now have a range of user-friendly functional design improvements made possible by recent technological advances in fabric performance and manufacturing techniques that enhance durability and wearer satisfaction.
A range of breathable fabric technologies are used in our wader range – here are some examples:-
GORE-TEX – The best known brand of waterproof, breathable and windproof fabric, licensed exclusively to Simms for use in waders. You can expect the highest standards of performance from any product bearing the Goretex label.
H2No – This is Patagonia's high performance breathable membrane designed to be used in combination with their HydroStorm fabrics and Deluge DWR (durable water repellance). H2No pressure tests at 20,000mm when new and 10,000mm after being subjected to Patagonias own Killer Wash Test that replicates many years real world use.
F 3.5 Fabric Technology – Used in Vision's Ikon waders to give a pressure test of 13,000mm and breathability of 5,500g/m2/24hrs
Vapour-Tec – used in Snowbee's new 'Soft Touch'breathable wader technology, it gives superior breathability of 4000g/m2/24hrs and hydrostatic water pressure resistance of up to 20,000mm.
Non-Breathable Waders
We also stock a range of waders made from Neoprene, PVC and Nylon materials. These are bootfoot designs and are available with studded and cleated soles. They offer a less expensive option for infrequent fishers, emergency use for flooding and garden pond maintenence etc.
Neoprene – This material has great insulation properties and is very durable, perfect for cold conditions particularly for this less active angler.
PVC & Nylon – These models offer affordable and robust waders, they are lighter than neoprene waders but lack insulation.
Choosing the best fit possible
Waders that fit correctly will be far more comfortable and last longer – a major advantage of premium brand waders is the wider range of sizes on offer. It is possible to have waders made to measure with some brands – please enquire at our stores for details. Aim to have a minimum of loose material whilst ensuring that you are not stressing the seams if you crouch down. The same applies to the neoprene feet – if they are too tight, they will become uncomfortable and too loose, you will have folds of neoprene inside your wading boots that will compromise the fit of your boots.
Online shopping for waders can be tricky, but we have compiled a simple video guide to the measurements you need to take to ensure a perfect fit every time. Take a look and shop with confidence!
Wader Fitting and Measuring Guide
Repairing Waders
Unfortunately all waders are susceptible to puncture and tear damage on the riverbank and care is needed to ensure this is kept to a minimum. Minor repairs to waders can be made in the field or at home, we recommend more serious tears and large damaged areas are dealt with by the manufacturer.
Breathable waders
Here's how to repair minor damage.
Dry the waders inside and out. Then turn them inside out and try to locate the puncture. If this is not visible to the naked eye, spray Stormsure Leak Doctor in the area and look for any dark patches that appear. These indicatean area of damage – mark by circling with a marker pen.
If you are in the field apply a thin coating of Loon UV wader repair to the area (away from sunlight) and expose to either sunlight or a UV torch light to cure. If you are indoors use a thin coating of Aquasure and leave the repair on a level surface overnight to cure. Avoid allowing Aquasure contact with skin – use a brush or a polythene bag/glove as a barrier.
If the puncture is large enough to allow glue to seep through to the outer surface of the waders, seal the hole with sticky tape on the outer surface first. Remove the tape when the Aquasure is fully cured.
Continue fishing!
Non-breathable waders
These can be repaired in the same way as above, but Stormsure is no longer used. You may find leaks by filling the waders with water and looking for signs of water seeping out, marking it with a waterproof pen and applying Aquasure to the affected area. Larger holes can be patched.
Looking after your waders
Here are some simple guidelines that will ensure you get optimum performance from your waders at all times.
Breathable waders
Dry your waders thoroughly inside and out before storage. As the neoprene feet do not breath you will need to turn the feet completely inside out to achieve this. Leaving them damp will allow mould to get established – the first sign of this is the tape that goes around the seams will become detached as the mould attacks the glue. Avoid this by keeping them dry and clean.
To ensure maximum breathability you will need to wash your waders regularly in a detergent free soap based cleaner – we recommend Nikwax Tech Wash. It will revive both breathability and water repellence. Nikwax can be used in a washingmachine in accordance with the garments washing instructions. Bear in mind that to function correctly breathable fabrics must be clean to allow the passage of water vapour through the material.
Use Revivex spray to restore the water repellence of the waders outer surface after washing – water should bead off the fabric surface when you emerge from the water. If your waders look dark when you come out of the water they have absorbed water and need to be treated.
Store waders on a hanger in a cool dry place away from direct sunlight. Ensure there is no possibility of rodents getting to them.
Non-breathable waders
Dry waders thoroughly after each use, turn inside out, dry, then reverse.
Store hanging up in a cool dry place.
Which soles are best for your wading boots?
There are two basic sole types in use on wading boots:-
Felt – This material has stood the test of time, and on some surfaces is unbeatable. Felt provides excellent grip on rock and gravel surfaces, particularly smooth rock often found on riverbeds. It's not so good on muddy banks where the felt gets blocked by fine particles making the boots very slippery indeed. On snow it's a nightmare – snow sticks to the felt and you get taller as you walk along! A number of metal studs screwed in around the edge of the sole (2cm from the edge) will help you maintain grip on slippery surfaces. Don't overdo these – too many will impair grip. In some parts of the world felt soles are no longer permitted – this is because they take longer to dry and have been linked with transferring bio hazards between watercourses. Check before travelling.
Rubber/Plastic compound soles – These soles provide superior grip on muddy banks and are the preferred choice for anglers who hike a long way to their fishing spot. They are more durable than felt and can be studded if required. For general use they are a better option for most situations but not all! Anglers who fish a lot may prefer to have two pairs of boots to match the terrain that will let you enjoy the best of both worlds!
Wading Safety
Sadly, every year there are a number of wading accidents, some of which end in a fatality. Many could be avoided by following some simple guidelines and wearing a lifejacket. Here are some ground rules for staying safe:-
Wading is a skill that you have to learn, so don't be surprised when the beat gillie wades to the middle of the river without blinking. You must take your time and always err on the side of caution.
Wading deep can have a very negative effect on your catches – water greater than thigh depth is probably deep enough to hold fish but it's also easy to scare them away. Cast to these areas from the shallows. Your casting performance will decline the deeper you wade as well.
Always wear an automatic lifejacket designed to keep your head above water. If you fall and hit your head you may not be able to inflate a manual lifejacket even if the water is shallow.
Get your lifejacket professionally serviced at the end of every season. Carry a spare gas cylinder in your kit.
Use a wading stick but don't rely on it too much. They are best used for probing the depth or to lean against if you get in trouble.
Beware the fast water at the tail of a pool – as the current starts to draw it can wash gravel out from under your feet making it impossible to keep balance.
Don't wade fast water with a net on your back – if you fall over it could catch on the rocks and make getting ashore difficult.
Always carry spare clothes in your vehicle especially in spring and autumn. Wet clothing can make you feel very cold very quickly if you fall in.
Don't fish alone if you can help it – if you get into trouble having someone to help could save your life.
There will always be another fish on another day – don't take unnecessary risks.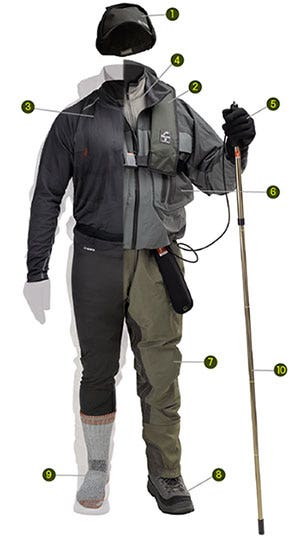 What to wear
The more comfortable, warm and dry you are, the less tired you will get and you will enjoy your fishing for longer, and hopefully catch more fish!
Hat – A lot of heat is lost through the head, so it's important to wear a hat when it is cold.
Life Jacket – Absolutely essential for deep or fast-water wading, or when fishing from a boat.
Base Layers – Keep you comfortable both by insulating you and importantly by wicking any moisture away from the body.
Insulating Layers – This is the layer that retains your body heat on cold days. Typically this will be fleece, as this has a very good warmth to weight ratio and dries very quickly – essential when fishing.
Gloves – This is the layer that retains your body heat on cold days. Typically this will be fleece, as this has a very good warmth to weight ratio and dries very quickly – essential when fishing.
Wading Jacket – This is your weather protection layer. It is waterproof, breathable and will be designed to protect you completely from wind driven rain. A breathable fabric is essential to stop condensation building up inside and making you damp and therefore cold.
Waders – The key piece of equipment. Chest waders are ideal, as they can be worn for deeper wading but most can be rolled down at the top when warm. The best ones have carefully cut legs with seams moved away from the inside leg to stop them rubbing together and causing durability issues. Stockingfoot waders with separate boots offer better fit and versatility.
Wading Boots – When wading, it is essential that your feet are well supported on the uneven, hard to see river bed, and that they grip to a multitude of wet surfaces. Felt soles with studs are a traditionally good all rounder, but increasingly specifically designed rubber tread patterns are taking over. Separate wading boots offer a better fit and support than you get with bootfoot waders.
Socks – Decent wading socks not only keep your feet warm, but also move moisture away from your skin.
Wading Staff – To stay stable and secure when wading, a wading staff is an essential tool.
Still need help?
For more help and information on purchasing your new double-handed rod please contact Sportfish on 01544 327111 or email danny.north@sportfish.co.uk