Just When You Thought Fly Rods Couldn't Get Any Better - Guess What?

Our Guide to Fly Fishing Rods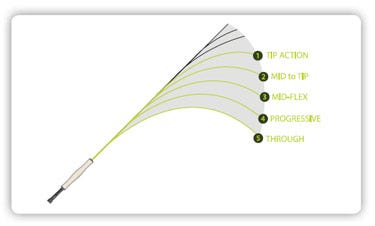 We are truly living in a golden age of fishing tackle. The global tackle industry has embraced a wealth of cutting-edge technology making our tackle lighter, stronger and more fun to use than ever before. This applies as much, if not more to rods than any other tackle item. Our fly rod range includes everything from our value rods perfect for beginners and those on a budget to specialist fly rods suited to specific techniques and demanding species.
Jargon Buster
Here are a few commonly used terms that describe fly rods explained.
Blank – This is the long, thin hollow tube the rod is built on.
Carbon Fibre – Also known as graphite. Most rods are built by wrapping pre-impregnated carbon fibre cloth (known as prepreg) around a steel mandrel under pressure then baking the whole lot in an oven. Prepreg is stored frozen until needed then cured by heat. Carbon fibre is delicate and easily damaged but by mixing the fibres with epoxy resin the union of the two materials form a composite and provide the amazing properties exhibited by a modern fly rod. The technological advances of recent years have finessed this basic process by improving resins, carbon fibre and manufacturing methods.
Modulus – This term, more correctly tensile modulus, describes the elasticity and relative stiffness of carbon fibre. High Modulus carbon fibre is more refined and therefore more expensive – it is also lighter and higher performing but more delicate in general use.
Action – This describes two attributes of a fly rod that will usually go together. First the speed the rod returns to being straight after being flexed (recovery) is described as fast, medium or slow. A fast action will allow the caster to generate higher line speed in the air, tighter line loops and therefore greater casting distance. The rod will also be more timing critical to cast and require more advanced casting skills to get the best from it. A slow action rod will perform optimally at shorter distances, and will be the preferred action for small river work. Secondly, the way a rod bends when it is flexed – a rod can be tip action, middle-tip, middle or through action. A fast action rod will normally bend most at the tip and less so through the rest of the blank. So tip and fast action go together as do through and slow action.
Line rating – Most fly rod ranges will include a number of specific models designed to cast a particular weight of fly line. This is identified by a number between 1 and 14 preceded by a hash sign or possibly ending with the letters wt (weight). More information on this will be found in the Fly Lines section. As a rule it pays to match your rod with the relevant size fly line to maximise performance although sometimes over or underloading by one line size may be beneficial. Be careful to ensure the line you select is for a single-handed rod as lines for double-handed rods are designed for speycasting and won't work on a single-hander and vice-versa.
Sections – how many? – We no longer stock any 2 or 3 section fly rods, simply because rods with 4 or more sections are much more convenient to transport and have great actions thanks to recent improvements in rod design.
Rod Handles and Fittings Handles
Most fly rods have a cork handle and for a single-handed rod will have one of three basic shapes:-
Full wells – Will generally be found on rods with a line size #7 and greater. The handle is fattest in the middle to fit in the palm of your hand, flaring out at each end. This thought to be a better grip for distance casting as opposed to delicacy.
Half wells – Found on rods of #6 or less – the same profile as a full wells grip at the reel end but tapering in to where it meets the blank.
Cigar – Less popular these days but still found on light line rods with traditional aesthetics.
Cork – Varies in quality greatly and every year it gets harder for rod manufacturers to find premium grade material. Top quality cork has fewer imperfections and a uniform colour, but the great thing is all cork gains character as it ages giving your rod its own unique feel.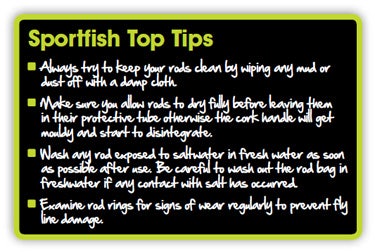 Reel Fittings
On lighter rods reel fittings may have an attractive wood or carbon insert with a single locking nut, heavier rods will have two locking nuts – always undo these one at a time and if they get stuck never be tempted to force them undone or use pliers directly on to the alloy nut to free them. Heavier rods may have anodised fittings to prevent corrosion making them suitable for saltwater use.
Fighting Butt
Heavier fly rods will have a short extension to the handle fitted behind the reel seat, ending in a fatter button of cork, composite or rubber. This is useful when playing large fish and to keep your reel clear of the ground if you stand your rod up against a tree.
Rings or Guides
There are several types of rings that can be used on a fly rod. Starting just above the handle some rods will have a keeper ring – a simple U- shaped wire to hook your fly on to when not fishing. Next there will normally be a large lined (possibly with a hard smooth material such as silicon carbide) ring referred to as a stripping ring designed to take the wear and tear of the flyline being pulled back and forth. There may be two of these on rods for larger line weights. The rest of the rings will be either snake rings, single leg rings or recoil rings, each has its advantages. Snakes are very strong, single legs maximise the rods performance and are light and recoils are very durable. Finally the tip ring will normally be a hayfork or loop design in hard chrome.
What Length & Line Weight Fly Rod Should I Choose?
As all fly fishers know to their cost there is no single fly rod that will excel in more than a few fishing situations. Here is a guide to the general consensus on which rods should be used for particular applications:-
| | |
| --- | --- |
| Freshwater | Saltwater |
| Large Reservoirs 9.5' – 10' 7/8 weight | Flats Bonefish/UK saltwater 9' 7/9 weight |
| Small Still waters 9' – 9.5' 5/6 weight | Flats Permit/Baby tarpon 9' 9/10 weight |
| Large rivers 9' – 10' 4/6 weight | Big Tarpon/bluewater 9' 11/13 weight |
| Small rivers/streams 7'- 8.5' 2/5 weight | Sailfish/Big Sharks/Tuna 9'/8.5' 12/14 weight |
| Sea-trout/Light salmon 10' 7/8 weight | |
Guide by Sportfish expert Allan Shephard AAPGAI
Still need help?
For more help and information on purchasing your new single-handed rod please contact Sportfish on 01544 327111 or email danny.north@sportfish.co.uk