A Guide to Choosing the Right Fishing or Wading Jacket

Fishing and Wading Jackets
The jacket forms your outer layer, or shell, and this should protect you from wind and rain and, for the layering system to work effectively, it should also be breathable.
Why do I need a purpose designed jacket?
Protection from the elements is essential for all anglers. Its certainly true to say that great fishing will probably not coincide with perfect weather so you need to make sure your outer shell is waterproof, windproof and breathable. The jacket will also serve as a storage facility for a variety of accessories, flies, leaders, snacks and a drink – so it is important to have pockets of the correct size and shape that are easy to access.
Which jacket?
Today the choice of jackets is wide, but to narrow it down only consider jackets made from breathable materials. The best known of these is GORE-TEX®, this material not only is 100% waterproof but also allows moisture generated by you to escape through the material and back into the atmosphere. Currently only Simms are licensed to use GORE-TEX® in fishing clothing. Other manufacturers offer materials with similar properties and many have proved to work well in the field and may be less expensive. The jacket must be cut to allow freedom of arm movement for casting and sized to give a generous fit. This is important so fleece and base layers can be built up under the outer shell if needed and be tailored to prevailing conditions. For salmon fly fishing the pockets are particularly important as you will generally not wear the jacket with a waistcoat over the top. Ideally you should be able to carry everything you will need in the cargo pockets. You need room in the pockets for two large fly boxes, spools of fluorocarbon, a couple of spare shooting heads, polyleaders, snips, a tape measure, camera and a drink. Hand-warmer pockets lined with a micro fleece material are very welcome on a cold day. You may prefer a separate collar this allows you to protect your neck from a cold wind without having to put your hood up. An alternative is to wear a buff to cover your neck. With all the recent advances in clothing design and improvements in fabric technology is not hard to find the perfect fishing jacket.
Tell me more about GORE-TEX®…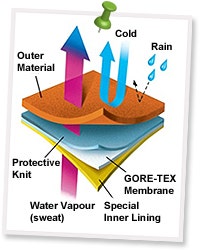 This is the proprietary name for the waterproof, breathable membrane used in most Simms fishing jackets. There are other similar products, eg. H2NO from Patagonia, that work in a similar way. Both provide breathable comfort, with durable waterproof, windproof protection. The breathable membrane consists of an extremely thin film containing microscopic pores that are large enough for body moisture to pass through, but small enough to keep water droplets out.
Most micro-porous membranes are laminated to a face fabric and are available in two-layer and three-layer versions. In the case of GORE-TEX®, a plastic based PTFE (Polytetrafluoroethylene) layer is laminated to the outer fabric, and then the garment is cut to shape. Seams are then sealed for complete protection. Seams are then sealed to prevent moisture entering the garment. Hydrophilic coatings rely on the behavior of water molecules when heated, so heat generated by the body inside the garment drives body moisture down the polymer chains in the coating to the external face. This is also refered to as moisture management.
What is DWR?
DWR is Durable Water Repellency, another way of coating the fabric after a laminate or membrane has been applied to form a protective wall from water droplets on the outer layer. A chemical treatment, DWR is not waterproof, but does reduce condensation forming; aiding breathability so less moisture reaches your skin. DWR needs to be reapplied, and can be retreated to improve it's performance. Due to DWR being applied to the face of the fabric, it is easily affected by dirt and oils, which soon coat the DWR layer, hindering the performance. DWR can also be removed by regular cleaners, so DWR should always be treated with a specific product which can refresh it.
Guide by Sportfish expert Jonathan Randall
Still need help?
For more help and information on purchasing your new fishing or wading jacket please contact Sportfish on 01544 327111 or email danny.north@sportfish.co.uk
---
Discover The Latest Fishing Jackets