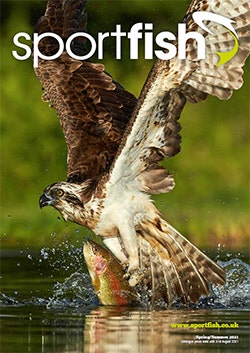 Request Your FREE 2021 Spring / Summer Catalogue Now (UK only)
WELCOME TO THE 2021 SPORTFISH SPRING AND SUMMER CATALOGUE FOR 2021, YOUR DEFINITIVE SOURCE FOR ALL THAT IS GOOD, NEW AND ESSENTIAL IN THE WORLD OF GAME FISHING.
Despite the lockdowns and uncertainty that we have all endured through 2020 and into 2021 fishing, thankfully, has flourished. It became obvious to many that taking to the water with a fishing rod while enjoying the great outdoors could have significant well-being and mental health benefits including reduced stress, increased fitness, improved concentration, boosted mood and overall improvement of self-esteem. We have been privileged to welcome many newcomers and returning anglers to our sport and in this catalogue we have catered for those who are less experienced and are looking for a good value ready-to-fish outfit (p10 & 11) whatever the budget.
More and more anglers these days are enjoying catch and release fishing which we fully support and we encourage all anglers to follow the principles of the "Keep Fish Wet" organisation (www.keepfishwet.org). To this end we have expanded our range of barbless flies (p87-95), catch and release tools (p162), rubber meshed landing nets (p171-173) and have also included InLine single hooks (p226) to enable you to swap out the treble hooks on your lures.
Despite supply and logistical challenges resulting from the effects of the pandemic we have secured many new and exciting products to share with you, some highlights being the innovative HEXGRID® attachment system used on the new Simms Flyweight waders and accessories (p111), the new, award winning, Scott Centric rods which are sure to turn heads as they arrive in the UK market and we are pleased to introduce Schöffel's brand new range of superb fishing jackets and clothing (p132-133). For those of you who enjoy the outdoors for other pursuits, as well as fishing, we have continued to expand our range of outstanding YETI products (p166) to meet your needs.
As always, though, it's not all about new products and technical evolution. You will still find all your, and our, favourite products and essentials from the fly fishing world and everything you buy from Sportfish is backed by our comprehensive guarantee of quality and customer service.
If you are not on our mailing list and would like to receive a catalogue, please fill in your details below and we will post one to you. Unfortunately, we cannot post copies of the catalogue outside the UK but, if you are outside the UK, or wish to view a digital version, it is available to view via our online 'page turn' catalogue here, or you can download, save and print the full catalogue PDF (49mb) here.
So, enjoy browsing the catalogue and remember our team is always here to help you whatever your angling query. If you do have any queries, or require advice on what's best to buy for your fishing, we can be contacted on 01544 327111 or by email at orders@sportfish.co.uk.
Tight lines
The Sportfish Team