Request a Catalogue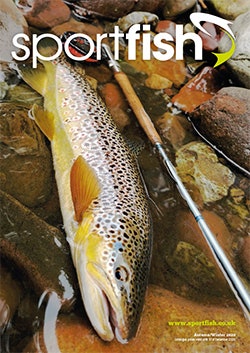 Request Your FREE 2020 Autumn / Winter Catalogue Now (UK only)
WELCOME TO OUR AUTUMN/WINTER 2020 SPORTFISH CATALOGUE – YOUR DEFINITIVE GUIDE TO ALL THAT IS GOOD AND ALL THAT IS NEW IN THE WORLD OF FLY AND GAME FISHING.
When we published our spring catalogue back in February, we were full of optimism and excitement for the season ahead – little did we know what was about to occur and change all our lives to an unprecedented extent. Our thoughts are with all of those who have been affected by and suffered as a result of the pandemic.
Fishing was off-limits for a period during the lockdown but thankfully it was not for too long and we were all set free to get out on the water – whilst observing the necessary rules and restrictions of course. Conditions were generally very good and catch reports have been excellent and, despite our stores being closed for some of the period, our loyal and enthusiastic customers have kept us very busy on the phones and through our websites. We are very grateful for your support through what has been the most difficult period in our history. Now things are edging back towards some form of normality we are ready with a raft of new and exciting products to make your fishing more enjoyable and more successful.
Some of the highlights among the new additions to our ranges are Greys' ready-to-fish outfits (P10) which offer incredible value for money and are perfect for those starting out on their fly-fishing journey or the new Shakespeare Firebird outfits (P209), ideal for those who would rather spin for their catch. The new award-winning rod and reel ranges from Hardy include the Ultralite flyrods (P17) and Hardy's lightest ever disc reel, the stunning Ultradisc Reel (P44). The much talked about RIO SlickCast fly lines (P63 & P65) have the slickest, most durable coating on the market, as the science tell us. Simms' new ExStream jackets (P140) will keep you warm whatever this winter throws at us. Nigel Holdsworth's superb river maps (P165) make ideal gifts or just rekindle memories of a trip to a special river.
As always, though, it's not all about new products and technical evolution. You will still find all your, and our, favourite products and essentials from the fly fishing world and everything you buy from Sportfish is backed by our comprehensive guarantee of quality and customer service.
If you are not on our mailing list and would like to receive a catalogue, please fill in your details below and we will post one to you. Unfortunately, we cannot post copies of the catalogue outside the UK but, if you are outside the UK, or wish to view a digital version, it is available to view via our online 'page turn' catalogue here, or you can download, save and print the full catalogue PDF (47mb) here.
So, enjoy browsing the catalogue and remember our team is always here to help you whatever your angling query. If you do have any queries, or require advice on what's best to buy for your fishing, we can be contacted on 01544 327111 or by email at [email protected].
Tight lines
The Sportfish Team

Sign up to our newsletter