Where It All Began
Sportfish was born in a north Wales garage in 1982, times have changed, but our innovative approach continues to build an enviable reputation among game fishers the world over.
The Brand Today
Sportfish is perhaps best known as a mail order and online business but these sides of the business are also supported by two fantastic stores - at Reading, Berkshire and Winforton, Herefordshire. Our store contact details and directions can be found on the relevant store pages, please do make time to visit, you will receive a warm welcome and be able to see just how good our products are in the flesh. Indeed, our Reading store, at the Sportfish Game Fishing Centre, has two fine stillwater trout fisheries on site and a beginner's pond, allowing you to try before you buy. At both sites our experienced staff share your passion for our amazing sport, they have fished across the globe and will almost certainly have the answers to your most obscure fishing questions.
The Sportfish Show
We are also famous for The Sportfish Show, held annually in May at the Sportfish Game Fishing Centre in Reading. With all the leading manufacturers present and talks and demonstrations from the top names in game fishing it has become one of the world's greatest fly fishing shows. Keep your eyes open for more news via our Blog and our social media feeds on Facebook, Twitter & Instagram.
The Best Game Fishing Range
Sportfish was among the first businesses to offer a wider range of product choice, importing big names such as: Sage, Abel, Thomas & Thomas, Dynaking, Action Optics, C&F, Vivarelli, Marc Pettijean and Benecchi. With our own brand products, Sportfish now offers one of the largest selections of fly fishing tackle in the world and the buying team has literally been to the ends of the earth to source the very best game fishing products available. Don't forget to check out our busy YouTube Channel which is packed full of advice and tackle test videos.

Where It All Began
Sportfish was born in a north Wales garage in 1982. Within 10 years it became the UK's leading supplier of game and fly fishing tackle, a position it still proudly holds today.
The Brand Today
Our team constantly scour the world for the finest fishing tackle and equipment the sport has to offer, including kit for lure fishing and spinning. Our aim is to provide the ultimate range of the latest high quality fishing tackle, clothing, and equipment to suit every budget. Much of our experts' free time is spent on the water testing the latest rods, reels and lines...checking and testing the details, right down to individual leaders, lures, spinners and flies. It's how we're able to constantly offer our customers the best advice. And our knowledge extends beyond our products – we love nothing more than offering friendly advice on wherever you're fishing or whatever you're fishing for.
The Sportfish Stores
Sportfish has two amazing stores, both carrying an extensive range of products from the biggest brands. Our superstore in Winforton, Herefordshire, is nestled in the delightful Wye valley and has its own 30 metre casting pool for trying out rods. The Sportfish Game Fishing Centre in Theale, Berkshire, offers 1,500 square feet of retail space set amidst 45 acres of wonderful countryside, with two spring fed lakes providing some of the finest trout fishing in the UK, plus a team of qualified instructors offering casting tuition for every level.
The Best Game Fishing Range
The Sportfish catalogue is produced every April and is a book of dreams for every fly fisher, featuring over 8,000 products and a whole host of fishing tips, techniques and guides. You can view the latest catalogue online in digital format. The Sportfish team also regularly publish an in-depth blog, full of practical advice, guides, reviews and tips which you can read over on The Sportfish Blog. You can follow us on social media, all the links are on in the footer, and our YouTube channel is also packed full of advice, including our popular how to cast a fly rod videos.
Sustainability and Charities
Sportfish is wholeheartedly committed to helping the environment. Following on from Planet Mark Business Certification for The Farlows Group Ltd (which owns both the Farlows & Sportfish brands) in 2022, we're proud to announce that in our first year we have reduced our carbon footprint by 7.6% and have been certified for another year. We remain committed to cut this by at least 5% every year, to help reduce our impact on the planet and society, striving for net zero carbon emissions by 2030.
We are also proud to support a few selected charities in whatever ways we can to help the conservation of fish and rivers, and to encourage a new audience into the sport we love.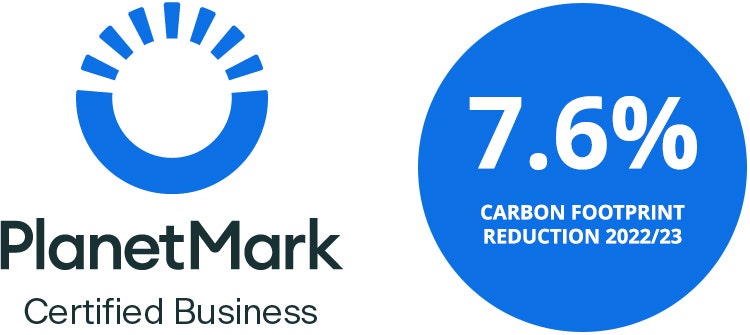 SPORTFISH: BY THOSE WHO FISH, FOR THOSE WHO FISH