One of our most iconic sporting species, bass, are aggressive saltwater predators bristling with spines and menace. Summer through to late autumn is the prime time to target them, so take our advice, grab your gear and head out on a bass fishing adventure this summer.
1. Check the tide
When planning a bass trip, it is essential to know the tide times, both to maximise your fishing chances and to ensure your own safety. For an excellent free tide prediction service check out
Easy Tide.
Don't forget to check out the weather forecast and sea temperatures too.
2. Be safe
Whether you fish from a boat or from the shore make sure you do so safely. Wear a lifejacket, have an exit strategy from rocks and beaches and make sure you can safely land and return bass from your chosen fishing position. Fishing with a friend is always useful but if you fish alone let friends and/or relatives know where you are and when you will be returning.
3. Dawn or dusk
Early or late is always prime time for bass so maximise your chances and make sure you fish when they are most likely to feed. A first light session before joining the family for breakfast and a day on the beach is our favourite on a summer holiday, but go with whatever works for you and your routine. After dark (or before first light!) fishing with lures and poppers can be awesome.
4. Look for structure
Most of the prey items consumed by bass are to be found in or around structure, so always look for features such as pier and jetty legs, groynes, sandbanks, moorings and snags. Admiralty charts and Google Maps are well worth scouring for likely marks.
5. Don't overcast
Bass are notorious for striking close in, very close, so make sure you search out the water under your feet, even if it is shallow. Work your fly or lure right back to the edge and explore areas newly flooded on an incoming tide too.
6. Be adaptable
Don't become too stereotyped with your bass fishing. Targeting them on flies and lures is great in clear, calm seas and in and around structure and shoals of bait fish, but if it has blown up, stirred the bottom and you are faced with an 'oxtail soup' then think about presenting a bait instead, with offerings such as crab or mackerel head always great to have available as back up. Don't forget float gear too, great for ragworm or live sandeel fishing over broken ground.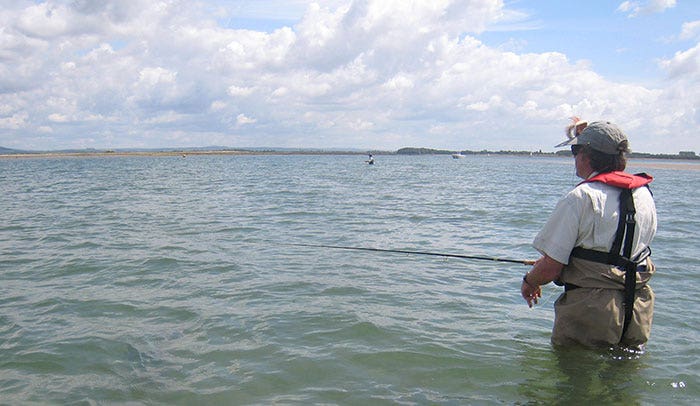 7. Go large
Our friend Austin Goldsmith put us onto this one, and it's great advice. To reduce your chances of pulling out of big bass use a large hook, with 1/0 to 6/0 (with an average of 2/0), the go-to sizes. Bass have big mouths and are greedy fish.
8. Be impatient
We love
Rapalas
in green, blue and silver and
Clouser Minnows and sandeels
in chartreuse and white livery but keep ringing the changes in terms of lure or fly size and colour. Make sure you vary your retrieve rate too, an erratic retrieve of sandeel imitations replicates the movement of the real eel perfectly!
9. Put the biggest ones back!
Make sure you adhere to the latest rules on retaining bass and, if you choose to keep a fish, make sure it's over the current 42cm minimum. If you catch a really big bass we always recommend that you return it as these fish are the breeding stock for the future!
Visit the government's website for the latest guidance
»
10. Join BASS
The
Bass Anglers' Sportfishing Society (BASS)
is a fishing organisation dedicated to the conservation of the European sea bass. They produce regular newsletters, arrange social events and fish-ins and provide a wealth of information for all bass fishers. If you fish for bass you really should consider joining!
Our experts have pulled together their recommended bass fishing tackle for you to browse.
Video Rewind... JT Ties A Killer Fly