A Guide to Choosing a Fly Line for Double-Handed Rods

Salmon Fly Lines for Double-Handed Rods
Global input into the way we fly fish for salmon has led to the rapid development of modern speycasting styles. At a glance these may appear complicated and confusing; particularly the fly line choices that go with them, but these lines allow anglers with modest casting ability to fish confidently in conditions that would have been a real challenge a few years ago. These are:-
Skagit Lines
Developed in the early 1990's by steelhead anglers on the Skagit river in the USA, these lines needed to cover large areas of water but at the same time get a big fly deep down in a river with a powerful flow. A specific casting style developed to compliment the lines and to allow for the heavy weight the lines carry without damaging rods. Skagit lines are significantly heavier than conventional salmon lines and consist of a short floating belly section and a selection of interchangeable tips. They are at their best with very heavy fast sinking tips making them ideal for early and late season fishing but less effective in lesser flows and when delicacy is important. A good rule of thumb is to make sure the total length of line outside the rod tip when you are casting (head length plus tip) is about 3 x the length of the rod (so roughly 45' for a 15' rod). Skagit lines are sold in grain weights by some manufacturers. These translate to rod line ratings as follows; 450grain - 7/8wt, 550grain – 8/9wt, 650grain – 9/10wt and 750grain – 10/11wt.
Advantages of Skagit Lines
Easy casting to moderate distances with good technique, very useful where casting room is tight, excellent depth presentation with heavy flies, easy control of the fly as it swings with a floating head, good for casting from a boat, easy to cast from a sitting position.
Disadvantages of Skagit Lines
Line must be retrieved to the head before recasting, thin running line must be managed to avoid tangles, can be splashy and can impair delicate presentation.
---

---
Shooting Heads
They have been central to a revolution in salmon fly fishing tackle that has taken place over the last five years. It is now normal for salmon anglers to carry a shooting head set up as their preferred tackle option in most conditions. This style of fishing became popular in Scandinavia first and has spread quickly to the UK as its benefits have become apparent. Casting good distances is easy with a well-balanced set up and modest casting skills. One reel loaded with a suitable running line and a selection of heads to suit varying conditions will cope with a whole season's fishing. The running line is independent of the shooting head and heads can be swapped over in minutes allowing huge tactical variation. There are two types of shooting head available – the simplest is pre-looped at both ends and ready to fish. Slightly more complicated are heads designed to be customised to precise lengths and weights to suit your casting style and rod. These will need to be cut to the desired length and loops fitted before fishing. Jumbo loops made for this purpose are easily fitted, or alternatively there are several methods of forming loops with whippings, shrink tube and glues if you prefer. Approximate weight ranges for shooting heads are as follows; 23-27grams – 7/8wt, 28-32grams – 8/9wt, 33-37grams – 9/10wt & 38-42grams – 10/11wt. You can easily weigh the head on household electronic scales and cut it down to the required weight by removing 10cm lengths from the butt end and reweighing.
Advantages of Shooting Heads
Good for complete water coverage – depth and distance, easy to carry extra heads in a jacket pocket, suited to a range of casting styles & abilities, fun to use!
Disadvantages of Shooting Heads
Running line has to be pulled in before recasting (although this is when fish sometimes take), to an exact position, running line needs to be managed to avoid tangles and mending line is more difficult.
Full Spey Casting Lines / Multi-tips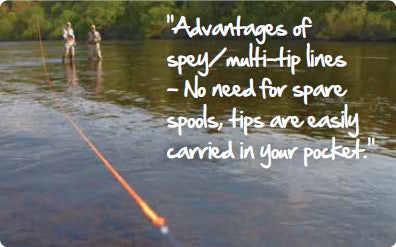 This is a more traditional approach to salmon fly fishing using a longer belly line with an integrated running line. Lines designed for speycasting were developed from double taper lines in the early nineties when speycasting became the popular and standard cast for salmon fishing. Spey lines are basically weight forward profiles with a longer front taper, belly and rear taper attached to a thin running line that will shoot good distances with minimal effort. A natural progression from this basic floating line was to reduce the length of the tip and replace it with a loop so a selection of tips of varying densities could be swapped to suit conditions. These lines are available in a range of head lengths, a simple rule is that the longer the head length the more skilled a caster you need to be to realise the lines full casting potential. Multi tips with head lengths around the 55' mark are generally thought to be best for general use by a wide range of abilities in varying conditions.
Advantages of Spey/Multi-tip lines
Perfect for those looking for a traditional feel in their casting and an inexpensive line system for general use. No need for spare spools, tips are easily carried in your pocket and line does not have to be drawn back as far to recast.
Disadvantages of Spey/Multi-tip lines
Tactics are more limited than with other line systems, not as good for presenting the fly at depth and can be tricky to cast with ultra-fast sink tips and large flies.
Guide by Sportfish expert Allan Shephard AAPGAI
Still need help?
For more help and information on purchasing your new fly line for a double-handed rod please contact Sportfish on 01544 327111 or email danny.north@sportfish.co.uk
---
DISCOVER OUR RANGE OF SALMON FLY LINES