Chalkstream Rods 2019 ? River Itchen - Hampshire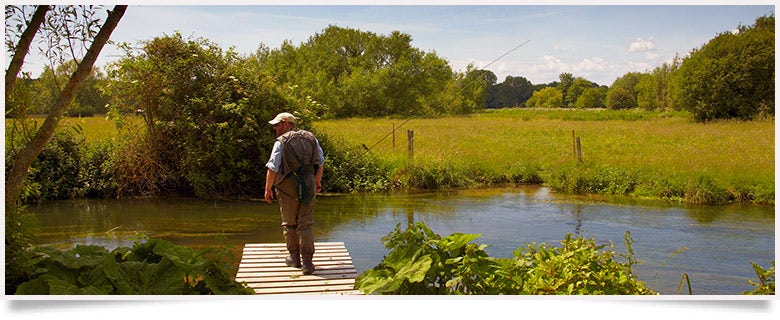 The Lower Itchen Fishery
The fishery is situated under five miles from Junction 5 of the M27, affording excellent access from surrounding areas with London is only 77 miles away. Southampton Parkway railway station is only two miles away from the fishery with London Waterloo just an hour away. For those further afield, Southampton Airport is a five-minute car journey away.
The Beats
The Lower Itchen Fishery (LIF) offers excellent dry fly fishing for brown trout over five beats. The river has superb Ranunculus cover, which is cut by the traditional line and bar method, and all of the beats have different qualities with white water pools, faster riffles and deep pools, giving different environments – and excellent sport.
Regular stocking is carried out using only the highest quality brown trout up to 5lb, with fishery policy to only stock with brown trout, not rainbows, to mirror the indigenous population of the river.
Four of the five beats are fishable from both banks with footbridges for easy access. The fifth beat is only fished from one bank, with the other bank, owned by the fishery, left natural to provide a haven for wildlife. All of the beats are adjoining and there is a central fishing lodge and BBQ area.

The Fishing
The fishing can be spectacular: hunting and spotting fish in crystal clear water, then trying to work out how to catch it - and with what pattern - what could be simpler? There isn't a better way to 'lose' yourself for a few hours than targeting a fish and working out just how to catch it.
The average trout weighs in at just over 2lb with a few fish between 3 to 5lb. The largest brown trout caught on the fishery was 8lb.
The ecology of the water meadows is extremely rich, and provides the right environment for abundant fly hatches. This commences with the Grannom, followed by the Hawthorn and Mayfly. From June onwards there are prolific hatches of Blue Winged Olives providing excellent late evening sport. During August and September Sedges and Daddy Long Legs prove to be the favourites, which is typical of a Hampshire chalk stream.
Available dates:
MAY

2nd
7th*
14th - Mayfly season
21st - Mayfly season

JUNE

4th – Mayfly season
11th
18th
25th

JULY

9th*
23rd
30th

AUGUST

13th
20th*
27th

SEPTEMBER

3rd
17th
24th

OCTOBER

1st
Cost:
A single rod for a day outside mayfly season is £180 (exclusive use of the beat)
A double rod outside of mayfly season is £300 (£150 each)
A single rod inside mayfly season is £195
A double rod inside mayfly season is £320 (£160 each)
Mayfly dates are 14th, 21st and 28th May and 4th June
These rods sell incredibly quickly and we would hate for you to miss out, so please call the Sportfish Game Fishing Centre on: 0118 930 3860 or email: tuition@sportfish.co.uk to make a booking.
10% Discount Voucher - All clients booking fishing will also receive a 10% discount voucher to be used against tackle purchases either at the Sportfish Game Fishing Centre, Theale or at Farlows, London with our compliments.
* 7th May, 11th June, 9th July and 20th August are fishery weed cut days and we offer a 10% discount on the quoted prices on those dates. Weed cutting on the Lower Itchen Fishery does not usually adversely impact the fishing but the price reduction reflects the fact that it is happening.