Learn the Secrets of Lure Fishing with Andy Buckley
Savage Gear consultant and lure fishing expert, Andy Buckley, guides you through his secrets of lure fishing containing some of the most effective methods for bagging a big winter predator.
For those of you of a spotty fish persuasion, I'm afraid that's it! The nights are drawing in, there has been a real nip in the air of late and the season for trout is now coming to a chilly end. I suggest you while away a few hours cleaning lines, sanding cork and making sure everything is in tip-top shape for the start of the next season. Don't pack away your will or desire though, because even through the frosty months there are some truly awesome angling opportunities available to UK freshwater anglers.
Lure Fishing Throughout Winter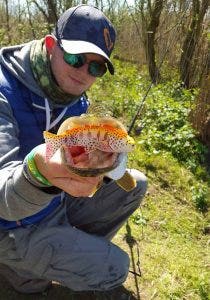 For many game anglers much of the joy of fly fishing comes from having minimal kit and maximum mobility, and if this is what you're looking for from your angling then lure fishing might just do more than scratch the itch during winter! With modern rods getting shorter and lighter, braid getting thinner and stronger and lures becoming more and more effective it is possible, now more than ever, to get out and fish for predatory fish on days that you may previously have spent looking wistfully out of the window.
Pike and perch have long been a mainstay of the UK predator angler, and it's safe to say that the fishing hasn't been as good in a long time! The rivers are cleaner, silver fish stocks are high and as a result the predators have plenty of food sources. Add to the plentiful bait fish the huge proliferation of American signal crayfish and you create perfect conditions for predators to thrive. The perch and chub records have risen remarkably quickly in the past few years as both species have gorged on the invasive crayfish species, both pike and zander love them too!
There are of course many different ways of fishing for these species, from tiny soft plastic lures no bigger than your finger to behemoth baits the length of your arm! Fortunately, Savage Gear produce kit for all eventualities, so let's go through a few of the most common ways of catching predators through the winter months.
Dropshot Fishing
Few techniques have been talked about more in recent years than dropshot fishing! It's a method that has taken all kinds of waters throughout the UK by storm and it shows no sign of letting up. It is, however, an oft misunderstood technique, and one that requires specialist kit to fish effectively.
All of the end tackle you need can be found in the
Savage Gear Dropshot Kit
, as can instructions on how to set up. Perch anglers should fish a fluorocarbon trace of between 4 to 8lb, while pike anglers should use a wire trace above the hook to prevent being bitten off.
For perch, braid between 8 to 12lb is ideal, for pike between 15to 20lb. The rod should have a sensitive tip, particularly for perch fishing as winter bites can be delicate and shy!
Dropshot fishing is generally most effective at short range. Originally conceived by Japanese anglers fishing for tiny rockfish below the rod tip, it is a method to be used in places where you are confident there are fish. Make casts of no more than a rod length or two, and gently wiggle and vibrate the rod tip to create movement in the lure. The lead should stay static on the lake or river bed - if you are moving the lead, then you're moving the tip too much. Takes can be anything from tiny taps through the braid to full-on rod lurches - so be on your guard!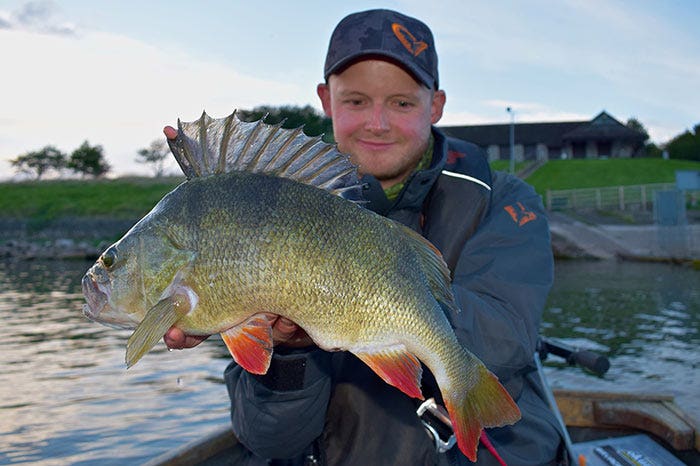 Jigging
Jigging is my favourite method of catching perch and the term 'jigging' covers a wide variety of different baits - but almost always involves using soft plastic lures that require mounting on a jig hook - one that is weighted towards the eye. I really love fishing the
Perch Lure Kit
, which contains two different types of bait that are perfect for jigging, as well as the appropriate jig hooks.
These baits have proven effective for all predatory species so I would recommend the use of a wire trace unless you're certain that there are no pike present. You simply mount your chosen lure on the hook, cast it out and 'jig' or bounce it along the bottom. For me the absolute key to this technique is not to allow any slack to form in the braid between the rod tip and bait, even while the lure is falling, as this can prevent you from feeling delicate takes from wary fish.
Also, you shouldn't be afraid of leaving the bait static on the lake or river bed for a few seconds - it always amazes me how many takes I get when the lure isn't moving! The key is to always be in direct contact with the lure - if you can't feel the lure then you won't feel the takes! The technique requires similar line strengths to dropshot fishing but I would recommend a rod with a hollow but forgiving tip, such as the
MPP Softlure Rod
which provides the angler with unparalleled sensitivity with light to medium-sized jigs.
Swimbaits/Tailbaits
The rise of swimbaits and tailbaits has made the art of imitating bait fish easier than ever before for the pike angler. Gone are the days of having to perfect the art of imparting action to a lure - with swim and tail baits you just cast, wind and set the hooks on pike that just can't resist!
Swimbaits, like the awesome
3D Roach and Trout
, continue to take countless UK pike, down to their super-realism and ease of use. Tailbaits like the
Real Eel
can be fished at fast speed when the pike are charged up in the autumn and around spawning time, or slowly and methodically along the deck during the winter months. Casting these heavier lures requires heavier kit: 25-50lb braid and rods like the
Roadrunner XLNT 4pc
can punch these bigger baits far into the distance and give you the best chance of setting the hooks in hard-mouthed pike.
So there we are - my three favourite methods for luring winter predators! Of course alongside these kit items you'll need long forceps, a large net and an unhooking mat on which to lay your prize. If you're fishing the Savage lures I've detailed then I'd also be taking a friend along with you as you'll need somebody to take all the fish photos for you!
I wish you all a safe, productive and fruitful season, and look forward to meeting one of you for a one-to-one session on Lake Savage as part of the competition prize through Sportfish!