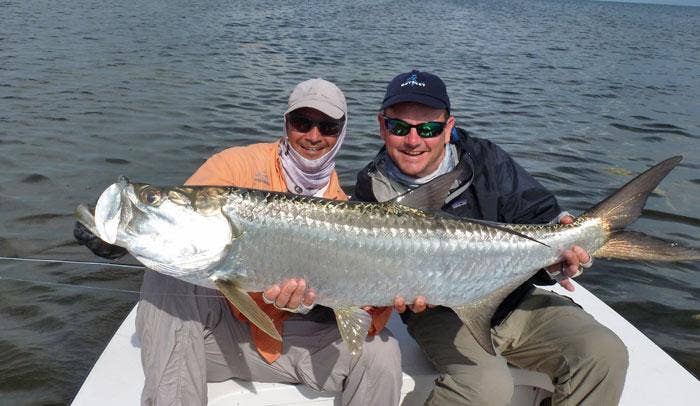 Dances with Tarpon: Allan Finds the Cuban Tarpon in an Exuberant Mood!
Cuba has been on my bucket list for a long time now; I constantly hear good things about this very unconventional Caribbean island's superb saltwater fly fishing and have long been determined to get out there for a few casts. Stories of endless pristine flats populated by shoals of bonefish and permit abound, and of course huge shoals of tarpon. As you can imagine, I was really excited about this trip...!
We flew into Havana – a bustling city where deliciously OTT 1950's American cars roam the streets in varying states of disrepair, weaving their way through the most amazing architecture most of which is similarly distressed. It is obviously a poor country but the sunny weather is reflected in the inhabitant's happy dispositions and smiling faces are not hard to find. Mind you, we had plenty of happy souls in our group too – Mat from Fly Odyssey, Toby, Charles, Duncan, Phil and myself all straining at the leash to get fishing.
After a comfortable night in the Parc Central hotel, an early start took us back to the airport to board a short domestic flight to the Isle of Youth where our adventure would begin. Our base for the week would be the charming 75' yacht 'Perola' and the plan was for the mothership to move during the day while we fished from skiffs so we could access the chain of Mangrove island's, flats and reefs east of the island towards Cayo Largo constantly fishing new water.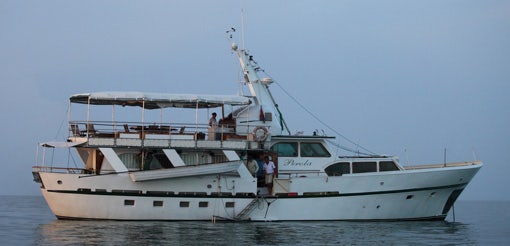 This area is justifiable famous for the quality of its fishing in general and tarpon in particular. I thing I particular liked was the variety of areas you would fish even if tarpon were your only target. They are routinely found patrolling the barrier reefs that surround some islands both inside and out. Areas where there is a break in the reef and tarpon can travel between open ocean and more sheltered areas are certainly the place to be at dusk! You will also find tarpon on open flats and they seem to prefer flats with a carpet of turtle grass interspersed with sand, we saw both groups of fish plus occasional much larger specimens in these areas.
For baby tarpon tidal lagoons are the place – watch out for rare Cuban crocodiles here – I had one that was very keen on any hooked fish! Also don't be surprised if a larger fish appears. I had my best fish – a 50 pounder – in an area of mangroves and shallow murky water. Don't think this fishery is just about tarpon though – there are huge shoals of bones, pods of permit, barracuda, jacks. snappers and I even caught a really hard fighting lemon shark on a shallow flat. This shark was hunting and ate the fly on the third cast.
Tarpon Tackle & Tactics
Most of the tarpon fishing was done with 12 weight set-ups, I recommend you take a spare rod and at least three fly lines – floating, clear sink-tip and a fast sinker. You will also need 50lb bs monofilament line and 80lb fluorocarbon for making up rubbing leaders. Ideally learn some really strong knots for joining leaders together. If knots are not your thing don't worry - the guides all tie great knots that you can trust for battling monster tarpon. We found tarpon bunnies in black/purple, black/red and black/orange were taken freely, a 3/0 hook size was perfect and the Tiemco 600SP was the best hooker.
Baby tarpon in the lagoons are best attacked with a lighter outfit, a 9 or 10 weight is ideal – you will only need a floating line with this outfit and it will double up for permit, jacks, baracuda and small sharks.
A 12wt outfit is heavy to cast if you are not used to it – please invest in a couple of lessons and do a bit of practising before your trip and practice accuracy casting as well as distance and dealing with awkward winds.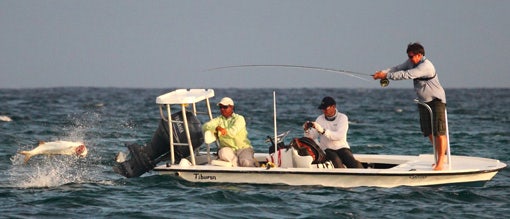 Hooking & Playing Tarpon
Keep your rod pointed at the fly as you strip the fly back, when a tarpon takes the fly just keep stripping until you feel the weight of the fish and then pull hard on the line with the stripping hand. DON'T LIFT THE ROD!!!! At this point the tarpon will jump and you need to push the rod towards the fish to prevent it landing on a taught leader (bow to the king!).
If the tarpon is still on, (some will fall off, but you have still jumped a tarpon!) you can now raise the rod at a low angle and start putting more pressure on the fish. Start applying side-strain in the opposite direction to where the tarpon is swimming and keep changing this to put the fish off balance and tire it as quickly as possible. Once the tarpon tires your guide will grab the fish by holding inside its lower jaw and lift it into the boat providing it's not a monster! Really big fish stay in the water and are best photographed in the shallows or as a release shot from the boat.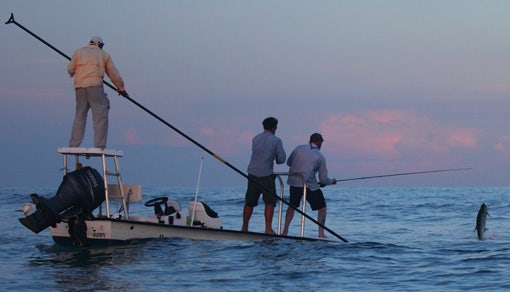 Trip Information
Who arranged the trip? Mat Mchugh at Fly Odyssey www.flyodyssey.co.uk
Would you go again? In a heartbeat! Already sorting out a trip for next year.
Best moments from the trip? Landing a 50lb tarpon on a 9 weight rod, catching a lemon shark on a fly (great fight) and going lobster fishing with a mask and snorkel, watching the sun go down on the yachts upper deck as a pod of dolphins circle the boat and watching a huge electrical storm from the boat at night – a true wonder of nature.
What was it like living on Perola? Superb, I loved the food (fresh fish and lobster every day!) and being out on the water. You are really well looked after and nothing is too much trouble for the staff. The atmosphere is relaxed and a great antidote to the pressures of modern day life.
Any downsides? There were a lot of biting insects around if the breeze dies so take plenty of bug spray to keep them away. Also be prepared for things to happen slowly when you travel but just relax enjoy the ride.
Tackle Recommendations
Hope you enjoyed my Cuban fishing diary and found some of the tips useful, it was a fantastic trip… please
leave your comments below
– it's great to share & chat! You can also share with all your friends via our
social sharing buttons
below. Also a special thanks goes to
Toby Coe Photography
for some of the photos.