Address & Contact Details

Address: Winforton, Hereford, HR3 6SP
Telephone: 01544 327 111
Fax: 01544 327 093
e-Mail: sportfish@sportfish.co.uk

Store Opening Times

Monday - Friday: 9am - 5pm
Saturday: 9am - 3pm
Sunday & Bank Holidays: CLOSED
---
2023 Christmas Opening Hours
Friday 22nd December: 9.00am - 5.00pm
Saturday 23rd December: 9.00am - 3.00pm
Sunday 24th December: CLOSED
Monday 25th December: CLOSED
Tuesday 26th December: CLOSED
Wednesday 27th December: 9.00am - 5.00pm
Thursday 28th December: 9.00am - 5.00pm
Friday 29th December: 9.00am - 5.00pm
Saturday 30th December: 9.00am - 3.00pm
Sunday 31st December: CLOSED
Monday 1st January: CLOSED
Back to Normal Hours from 2nd January
---
How To Find Us
Our store is easy to find, situated on the A438 between Hereford and Brecon in the pretty village of Winforton close to the famous river Wye. We are a short drive away from the popular tourist town of Hay-On-Wye, so why not combine a visit to our Angling Superstore with a visit to the many book shops in Hay-on-Wye. View our entire product range under one roof and then try any rod on our 30m casting pool. Easy parking and a warm welcome come as standard.
About Sportfish Winforton
Situated close to Hereford in the heart of the delightful Wye Valley, the Sportfish Winforton game fishing superstore always carries an extensive range of products from all leading manufacturers, showcasing the very finest in fishing tackle, clothing, waders and accessories.
If you want to try before you buy, there is a 30m on-site casting pool and access to the River Wye at Whitney Court is possible by prior arrangement if you wish to try salmon rods.
The highly-experienced in-store team have fished numerous destinations around the world, have an intimate knowledge of local waters and are always happy to advise or to answer any questions you may have.
With easy parking, hot coffee and a warm welcome it's a great stop off for any game fisherman but if you are unable to call in, don't worry, our award-winning internet and mail order service is second to none and we endeavour to get all orders dispatched in full within one business day.

10 Time Winner of the Best Mail Order Service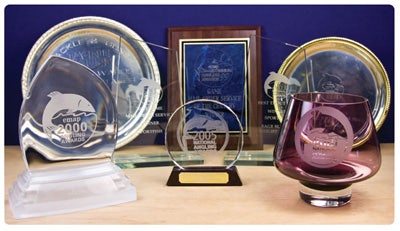 We're delighted that we have won EMAP's Best Mail Order Service of the Year for an unprecedented Tenth year running.
We collected the trophy from representatives of Trout Fisherman magazine at the award ceremony at Sopwell House, St Albans.
The annual awards are voted for by the public and in addition to our service award Sportfish also picked awards for Simms wading boots and Simms fleeces.
In 1999 we were the EMAP Game Mail Order Service of the Century winner. We endeavour to give the best possible advice and service at all times and are particularly grateful when we are rewarded with such an expression of goodwill from our customers.
Sportfish Winforton Team Members
Danny North

Sales & Mail Order Manager at Sportfish Winforton

I have been fishing for over 40 years, and have travelled the world in pursuit of many species of fish. I have visited Arctic Russia and North America in pursuit of salmon and have enjoyed saltwater fly fishing in destinations such as Cuba, Venezuela and North Carolina.

Telephone: 01544 322 300

e-Mail: danny.north@sportfish.co.uk

Find out more & read Danny's profile »

Steve Hunt

Senior Sales & Technical Advisor at Sportfish Winforton

I would describe myself as an all round angler, but I am happiest with a fly rod in my hand. I have been lucky to fish a number of destinations over the years; Cuba, Belize, Australia and Norway to name but a few, however I still have one or two destinations on my to-do list these include the Seychelles and Russia. Prior to working at Sportfish I served my country in the Armed Forces.

Telephone: 01544 322 307

e-Mail: steve.hunt@sportfish.co .uk

Find out more & read Steve's profile »

Josh Bunning

Sales Advisor at Sportfish Winforton

Josh joined Sportfish in July 2019 after studying geography, travel and tourism at Hereford College and after a couple of trips with family and friends he was completely hooked on fishing.

Direct Tel: 01544 322 305
Email: josh.bunning@sportfish.co.uk

Chris Ryan

Buyer for the Sportfish & Farlows Group

I joined Sportfish in 1999 from American tackle giant Orvis. I was the retail manager of the Sportfish Reading store during its building, setting up and early years. In 2003, I relocated to the Sportfish Mail Order HQ at Winforton where I am currently the Buying and Catalogue Manager.

I am lucky enough to have fished many of the rivers and loughs in Ireland and I am the resident expert on Irish Salmon and Sea-Trout fishing. I also have an unrivalled passion for big game spinning with light tackle.

Telephone: 01544 327 111

e-Mail: chris.ryan@sportfish.co.uk

Find out more & read Chris' profile »