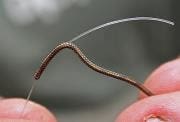 The Needle knot is the safest way to attach lead core to your main line. It's also the most unobtrusive knot so anything, like a rubber bead, can pass over it easily should a break off occur. Here's how you tie it...
1. Burn the end which rolls the outer skin back to reveal the lead core and it stops the end from fraying.

2. Pull back a couple of inches of lead core.

3. Break off the inner core so you're left with a couple of inches of hollow outer skin.
4. Cut the end of your main line with sharp scissors – this is important otherwise you won't be able to thread it into the skin.

5. Slide the line into the hole until it meets the lead. Bend it over where the end of the lead is situated

6. Then, twizzle or twist your line and it will emerge from the skin.
7. Now all you do is form a loop...

8. ... and go through the loop with the tag end five or six times.

9. Whet the knot with saliva before pulling it tight and the job's a good 'un!