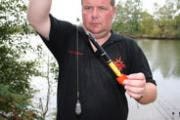 A marker float is great piece of kit to use for accurate feeding. Simply cast it out and then catapult your bait or cast your spod close to it. Here's how you set-up a marker float rig...
1. Components needed: Everything except the green bucket that is!

2. Attach a quick change clip to the lead. Then attach a swivel onto the clip before tying a length of 20lb nylon to the swivel to create a boom.

3. Tie an Easy Glide Run Ring to the other end of your boom.
4. You should end up with a boom section that looks like this.

5. Thread the boom onto your main line and then tie on your chosen marker float.

6. You're then ready to use your marker float set up.