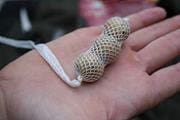 The PVA stick is a great way of introducing a few freebies around your hookbait and here's exactly how you make one.
1. Components needed to make yourself a PVA Boilie Stick

2. Take three Dynamite Baits 15mm Monster Tigernut Boilies and drop into the PVA boilie mesh

3. You should have a boilie stick that looks like this now
4. Tie an overhand knot in the end of the mesh tight to the last boilie

5. Trim with a pair of scissors to get rid of any excess mesh

6. Attach the boilie stick to your chosen rig and away you go!