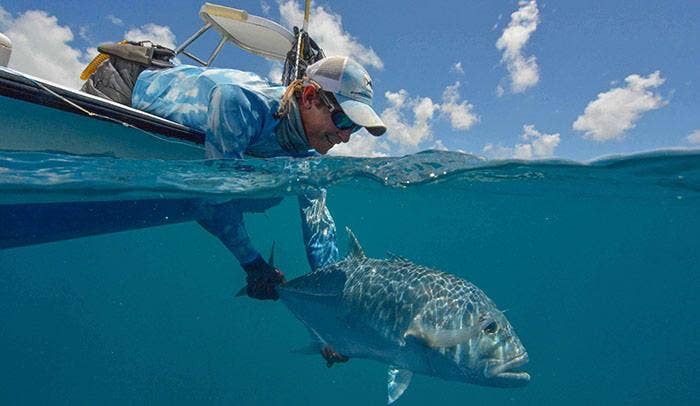 Add a Pinch of Salt to Your Fishing & Read Our Saltwater Guide!
The idea of heading away on a trip of a lifetime for some tropical saltwater fly fishing never looks more appealing than when winter is approaching! Wading a shallow sand flat in warm, clear water with the sun on your back is the stuff of daydreams. So check out our recommended gear – and book yourself a fly fishing adventure.
Learning to Cast
- You will be fishing for wild fish that are easily spooked by clumsy casts and poor presentation so take a saltwater fly fishing casting lesson before you travel. The Sportfish casting instructors are experienced saltwater anglers and can offer advice on tactics and recommend tackle as well as improving your casting. [vc_button title="View Our Tuition Pages & Find Our More »" target="_self" color="default" href="http://www.sportfish.co.uk/tuition/tuition-lessons-courses"]
Tackle Up for the Salt
Your rod choice needs to suit the combination of the size of the flies you will be casting and the size and species of fish you are likely to catch. An 8-weight is ideal for bonefish, small jacks etc. A 10-weight for permit, jacks and small tarpon and a 12-weight for dealing with the real heavyweights – big tarpon, small tuna, large barracuda etc.
We recommend the
Hardy Demon Saltwater Rod
, which is undoubtedly the best value saltwater rod on the market and the 'go to' fly rod for bones, permit, jacks and tarpon.
Also worth checking out is the
Sage Salt HD rod range
, which are true hardcore rods, designed to meet the challenges of the saltwater environment.
Saltwater is a harsh environment for a
fly reel
and even the best need to be rinsed in freshwater after each use to ensure longevity. The perfect reel will have a disc drag system that allows line to be taken smoothly, even when there is a lot of pressure being applied to the braking surface in the drag. The reel also needs adequate capacity to hold both the
fly line
and the 200-300 yards of backing required.
Reels need to be anodised to a high grade to ensure the corrosive effects of saltwater are kept at bay. Reels with a sealed drag are better for keeping maintenance down to a minimum but a non-sealed drag can be more easily repaired if problems arise in the field. We recommend the
Nautilus NV reel
for unrivalled value and performance.
You need a matching saltwater specific fly line to cast well in high temperatures (lines designed for temperate climates will go limp in the heat and this will impair casting performance) the coating is also toughened to provide resistance to abrasion. The exact density of the lines required will depend on the depth of water you are fishing. Our saltwater line of choice is
Lee Wulff Bermuda 2-Tone Fly Line
which is perfect for the flats and has a hard, textured, slick coating to help shoot long casts with ease.
For leaders check out the
RIO Bonefish Leaders
and the
RIO Saltwater Leaders
. Also, carry a spool of fluorocarbon in a similar diameter to the end of the leader too, it's essential for spooky fish in shallow water. Our recommendation is
Seaguar Ace
.
Having the correct clothing can make a huge difference to your enjoyment of a day's fishing, this applies more to flats fishing than possibly any other type of fishing. You will probably spend the greater part of the day either wading shallow flats or standing on the bows of a skiff being poled across the flat. Either way you will be in the tropical sun with no shade so all of your clothing needs to have a high sun protection factor to prevent damage to your skin. If you have fair skin it is particularly important to cover up. The
NEW Patagonia Sol Patrol Shirts
are particularly good.
High quality
flats sneakers
are also essential to ensure a successful trip and are ideal over sand, to protect you from coral and on the deck of a skiff.
A good pair of sunglasses are essential and anything that helps you spot fish early will improve your catches - and you need eye protection from flies and UV too.
Costa Del Mar
models with 580 Copper/Silver lenses are our top choice.
Finally, if you are mainly wading, a lightweight, stay-dry pack such as the
Simms Dry Creek Hip Pack
is useful for carrying all of your odds and ends.
Now Book That Saltwater Fly Fishing Trip!
If you want some saltwater holiday suggestions and advice, leading fly fishing tour operators, Farlows Travel, are always on hand to provide information on their saltwater destinations including: Cuba, Mexico, Seychelles, Belize, Bahamas, Christmas Island, Tahiti, The Maldives and many more.
[vc_button title="Find Out More About Farlows Travel »" target="_self" color="default" href="https://farlowstravel.com/"]