Two-Day Spring Trout Fishing Course on the River Wharfe

Our 2017 course is now complete. Please check back regularly for 2018 dates.
Have you missed the opportunity to join us on one of our fantastic courses?
Our top-selling courses are very popular indeed, and do sell out very quickly, so if you would like to get ahead of the crowd for next year and get advance notice of this course for next year before it is advertised then simply email: [email protected] with your name and telephone number, stating which course(s) you are interested in.
We will then be in touch via email, prior to advertising the course, with dates for your consideration before they go live.
---
Spring is on the horizon so it's time to dust off your kit and get ready to join us on the beautiful River Wharfe to experience the very best of the early season hatches amongst some stunning countryside.
We are proud to offer you the opportunity to join two highly experienced instructors and fishermen: Sportfish instructor and England international Jonathan Tomlinson and Farlows Group Tuition Manager Chris Hayward, on a trip for early season free-rising trout and grayling fishing in the beautiful Yorkshire Dales.
The River Wharfe Beat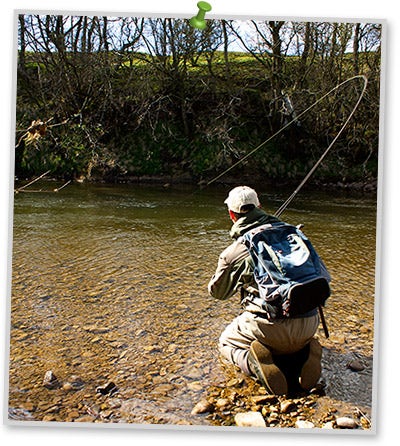 The location for the course is a 4 1/2 mile beat of the stunning River Wharfe at Bolton Abbey forming part of the Chatsworth Estate. It is nestled in the heart of the Yorkshire Dales and makes a spectacular backdrop for your fishing.
The Wharfe is a classic freestone river and is an archetypal northern fishery boasting a very good stock of wild brown trout and grayling, all of which can be caught with the techniques we'll be using.
The River Wharfe Course
This is one of our favourite courses of the year and we have extended it this year from two courses to three because of demand. If you are interested, please do book early, we have already sold five places prior to updating this webpage!
Our objective with the course is to provide you with the skills to tackle any river fishing you are likely to encounter. We will cover dry fly fishing, upstream, Czech, duo (Klink and Dink), trio and French nymphing techniques and North Country spiders.
It sounds like a lot - and don't worry If you haven't heard of a few of these techniques! A mixture of talks, river craft, entomology and practical fishing techniques, delivered in a very relaxed and enjoyable way, will help you to acquire the skills needed to master these waters.
Once all the methods have been explained and demonstrated you will be off to try those that you want to have a go at, or those that suit the stretch of water you are fishing. Sometimes under instruction and sometimes on your own, feel free to change tactics if you think something will work, so back yourself and trust your instincts! All of the techniques we will be demonstrating are there for you to practice, build confidence using and most importantly to enjoy.
Accommodation
We are staying at the Cow and Calf Inn on Ilkley Moor. The views are stunning, the grouse can regularly be heard in the mornings, there is a great selection of real ales and roaring open fires will be ready for you after your day's fishing (the gin and whisky selections aren't too bad either!) The food is great and the staff are first class, you will be very, very well looked after.
We hope that you will join us next year, learn some new skills, catch a few fish along the way and truly immerse yourself in all that the Wharfe has to offer.
We certainly can't wait to get back there…
COST INCLUDES:
Two full days' fishing on the Bolton Abbey Estate Water, River Wharfe
Instruction on both days from Jonathan Tomlinson and Chris Hayward
Two days' full board and accommodation at the Cow and Calf Inn
Two riverside lunches
FREE casting lesson prior to trip
Sportfish will also offer 10% OFF* any purchase made prior to the course at either Sportfish, Reading or Farlows, London
You are required by law to have a current EA rod licence; one can be purchased online here »
Price does not include: Gratuities, evening drinks, travel costs or EA rod licence. Please ensure you read our course terms and conditions prior to booking. * This offer cannot be used in conjunction with any other offer.