One-Day Stillwater Trout Fly Fishing Course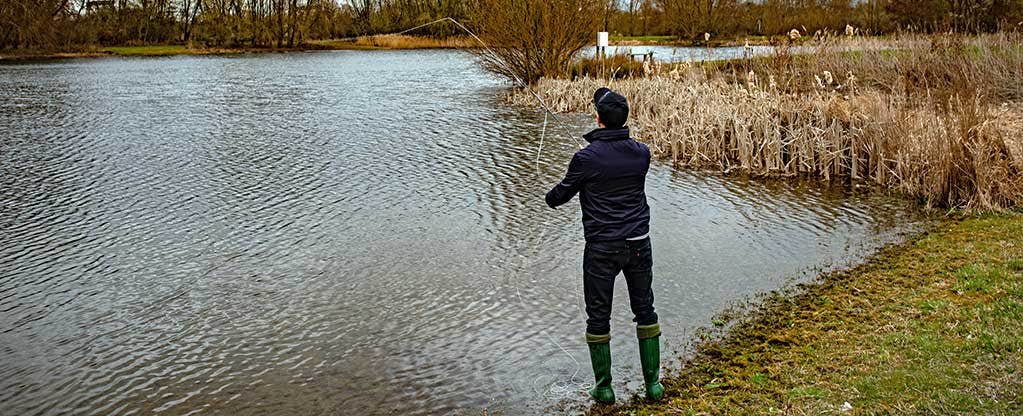 Sportfish Tuition Update
Our team of expert instructors – Chris, JT, Robin and Nick – are back at the Sportfish Game Fishing Centre and are once again delivering safe and socially–distanced casting tuition on a one–to–one and small group basis. If you are an absolute beginner, looking to improve your technique, or an experienced fisher seeking a few advanced refinements, get yourself booked in now by calling the team on 0118 930 3860.
We will be restarting our highly acclaimed One–Day Stillwater Trout Course on Haywards Farm Lake shortly too, these always sell out quickly so do make sure you register your interest early.
We are currently unable to deliver our usual off–site trout, sea trout, salmon and grayling courses, but we are hoping to be able to restart these in 2022. Please call us on 0118 930 3860 for further details and get your name down to receive advance notification of the schedule.
---
Cost of course : £199.00 (Rods strictly limited to four per course)
Cost includes a FREE Shakespeare Sigma fly rod, reel, line outfit (RRP £76.00)
To make a booking, or for more information, please call 0118 930 3860.
Stillwater Trout Fishing Course
Fly fishing for trout on a stillwater is how the majority of people enter the sport and with lakes all over the country it's easy to grab a day, or a couple of hours after work, without any real planning or preparation.
It's a great way to unwind surrounded by great scenery, wildlife and the occasional like-minded angler, relaxing in the fresh air and, hopefully, catching a fish or two along the way.

If this is something you have fancied having a go at, then why not join us at the Sportfish Game Fishing Centre just off the M4 motorway at Junction 12 for a full day of instruction and fishing - but most of all fun.
Trout Course Aims
This course is aimed at beginners - or anyone who has left the sport and wishes to get back into it - and they run on a Saturday, so there's probably no need to take time off work. Don't worry if you haven't got any equipment, we can provide that for you, and the cost of the course also includes a free outfit for you to take away too.
Kicking off at about 9.30am the course is restricted to four people, so you can spend plenty of time with your instructor, who will be with you all day. We will talk tackle in the morning with a look at all the kit that is available and, more importantly, how it all works and why we use it. We will even spend time in the store getting 'hands on' with the latest kit.
Then it's down to the fun bit - getting out and having a go - starting with some practise casting on the lawn, learning how to get that fly where it needs to be - in front of the fish!

Lunch is provided, after which it's time to go fishing 'proper' for the afternoon and you can fish for a variety of trout on the well-stocked lake - and even take a couple home for dinner. If you catch a couple early on you can keep fishing on a catch and release basis for the rest of the afternoon, honing those all-important fishing skills. If the going on the main lake is tough we also have a smaller pool, Kingfisher Pond, where the trout are usually very willing to feed.
Your instructor will be on hand throughout the day to help and guide you in how to tackle up, cast, hook, play and net your fish.
The day concludes at around 4.30pm when you can return to the shop for a well-earned cuppa.
By the end of the day it is hoped that you have had a real taste of all that stillwater fly fishing offers and we hope that you will be well and truly 'hooked'.
Please book early to avoid disappointment as these courses are very popular.
COST INCLUDES: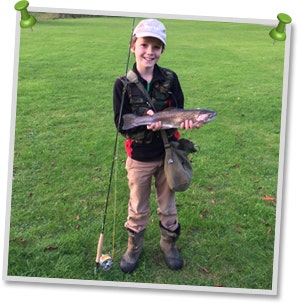 All-day instruction with an instructor.
A two fish ticket as well as catch and release fishing in the afternoon.
Lunch.
Tea and coffee during the day.
A FREE Shakespeare Sigma fly rod, reel, line outfit (RRP £76.00)
Note
You will need a current EA Rod Licence, which is available from the Post Office Website.
There are a couple of options but as a minimum you will need a one day non migratory licence dated for the day of your chosen course. This license is a legal requirement and must be purchased before any fishing can be carried out.
Please read our terms and conditions prior to booking.