Young angling star, James Penwright, lands his first Atlantic salmon on the fly from the legendary River Spey!
My Spey Springer Salmon Capture
The 15th of April 2022. This was the day I had been waiting for. It was, for me, a long time coming. I have been salmon fishing for five and a half years now and I have never been too lucky when it comes to catching one of these amazing fish on the fly.
I started off fly fishing and lure fishing for salmon at the same time but for the first two years neither method was successful for me. In my second year of salmon fishing I was lucky enough to land my first ever Atlantic salmon on the River Tyne, weighing in at 6lbs. I caught this salmon on Flying C lure. This was a day I would never forget and I made lots of fantastic memories along the way in trying to land my first salmon, with my now good buddies, James Stokoe and Philip Plant.
For the first four years of my salmon fishing journey and, as my grandmother conveniently lives in Moray, I have been visiting the River Spey, fly fishing the Gordon Castle Estate beats. I have met, been mentored and supported by the wonderful ghillies and guests fishing the upper, middle and lower beats of the Castle Water.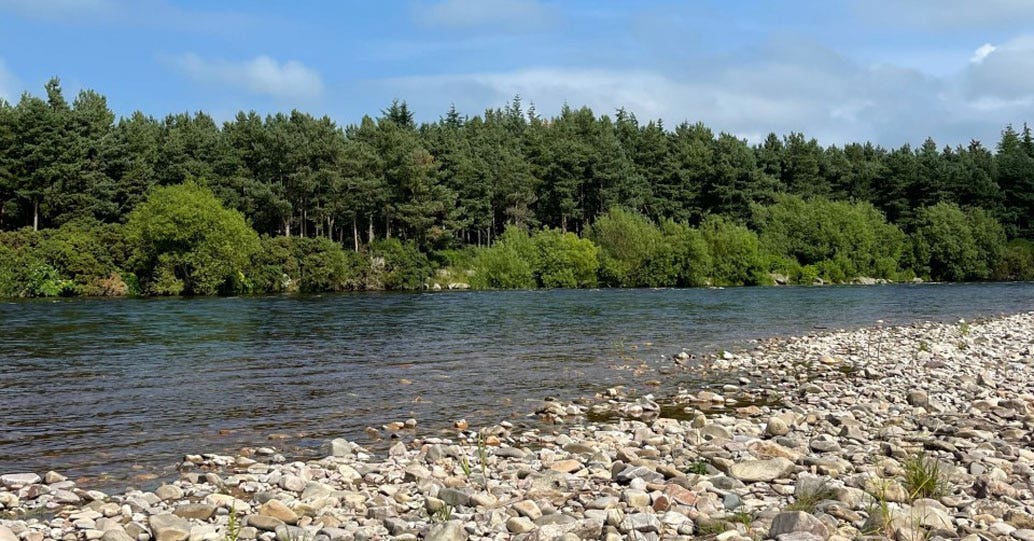 The Lower Brae is overseen by Dave Buley. Dave has impacted me massively in my salmon fishing career, helping me perfect my casting techniques and providing all sorts of tips and tricks to maximize my chances.
This spring I also met two other ghillies with responsibilities for the Middle and Upper Braes. Lewis Webb, who guides on the Middle Brae was so welcoming and helped me explore new parts of the Spey, maximizing that chance of catching that wonderful silver slab.
Finally, fishing the Upper Brae with Ian Stronach, whose local knowledge and experience I listened to carefully and acted upon his advice. It was Ian who was there to help me land my first ever spring salmon on the fly and guide me step-by-step on keeping it on the line, landing it and releasing the fish to allow this awesome wild traveler to continue its journey upstream.
Day 1, 12 April 2022
This was my first outing of the salmon season for 2022. I was fishing the Middle Brae with Lewis Webb. The day started off meeting all of the guests at the Gordon Arms hotel in Fochabers to get the running order of the day. We then headed down to the beat, prepared our salmon fishing tackle and got started, I fished the first part of the pool twice.
I used a Cascade fly and a fast sink tip fly line, fishing quite close into the bank as the fish were not far out at all. I've learned that in the springtime the salmon will not show above the surface as much as they do in summer, but that does not matter because they are most definitely still there! It is always a tough grind in spring but they say the reward is even greater.
After finishing covering the first pool, I walked upstream to a pool called Otters Cave. It is a pool that can be broken down into three parts, from a fast-flowing groyne that eddies off nicely into the side of the bank.
I fished that through without a touch. I got out and walked a little bit further to the next part of the pool and got in up to knee depth and sent out some long casts to see if there was anything sitting further out into the river. Having fished that through there was still nothing. I walked onto the bank and started to fish off it, as it was becoming too deep and unnecessary to wade. By the time I finished that top pool it was lunchtime so myself and the other guests headed back to the lodge.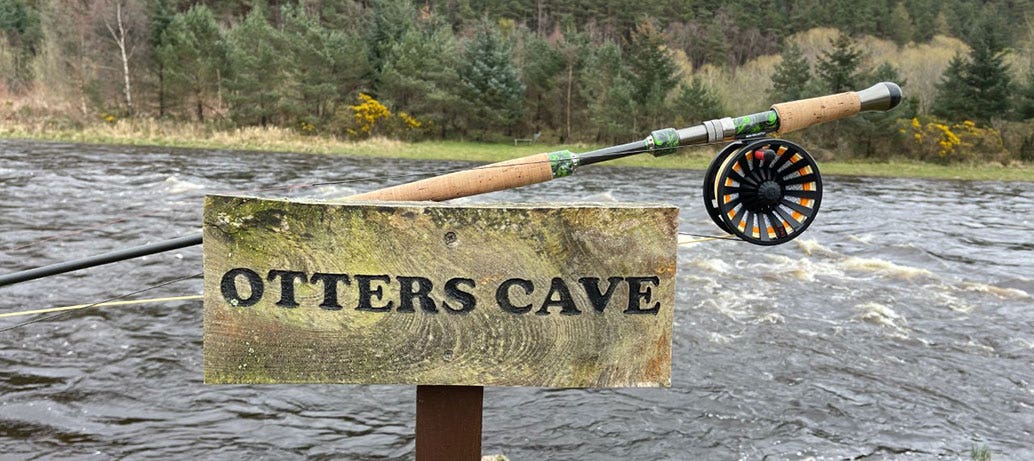 After lunch, we drove to the other side of the river and got started a short distance down from the first pool I fished in the morning. This is a great looking pool with a long shingle bank. I started up at the top where a nice riffle starts and I was wading in at ankle depth.
I fished that through twice and the trout were going crazy and I simply could not ignore them! For the last of hour of the day I set up a single-handed fly rod with a small dry fly and I got to work. I managed to catch two wild browns and lost a couple more. The hatch was dying off by the time I started fishing for them, so I was happy with my lot. I said my goodbyes to Lewis and the other guests.
Day 2, 13 April 2022
I met up with ghillie Dave Buley today with whom I have fished on a number of occasions. The plan was to fish the Lower Brae - the part of the Spey I know best. We drove down to the pool which is located under the Fochabers Bridge, one of my favourite parts of the Lower Brae. I have been told many stories of fish being caught here and how hard they pull and I was hoping that today could be the day where I managed to accomplish just that. I must have fished that stretch at least four times, thoroughly, but no fish were to show for my efforts here either.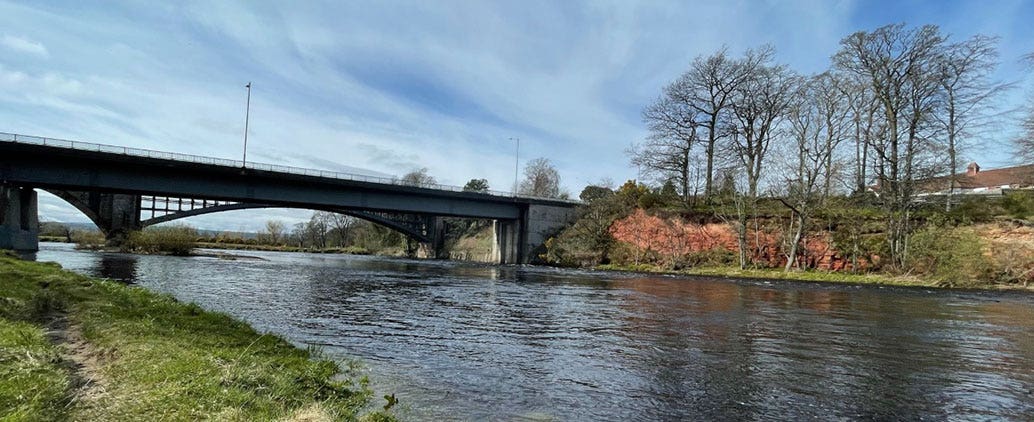 After lunch we headed to the main part of the Lower Brae where the Castle Lodge fishing hut is situated. During lunch, watching the water, every 30 seconds a trout was smashing the surface taking dry flies off the surface and I just had to get at them! I grabbed my Vision Onki Fly Rod, 9ft 5#, put on a yellow foam headed caddis and started casting right at them.
First cast, "Bam!" -a nice big brownie pulling like mad in the powerful current. After that it was constant, catching brownies averaging around one to two pounds. I cast again one last time and out of nowhere there was a massive splash on my fly and I set the hook. This fish felt big and strong. It was fighting extremely aggressively and launching itself out of the water. By the time I got it in to the net, I could see it was a stunningly marked sea trout kelt at around three and a half pounds. I was absolutely blown away by it.
After all of that after-lunch madness, I picked up the salmon rod, refocused and cracked on at it. This was the same part where I was catching all of my trout just outside the lodge. I fished it through well and yet again, no salmon. I finished Day 2 without a springer, but at least I did have fun catching the wild brown trout. I packed my gear up, got in the car and headed home - defeated by the salmon once again!
Day 3, April 15 2022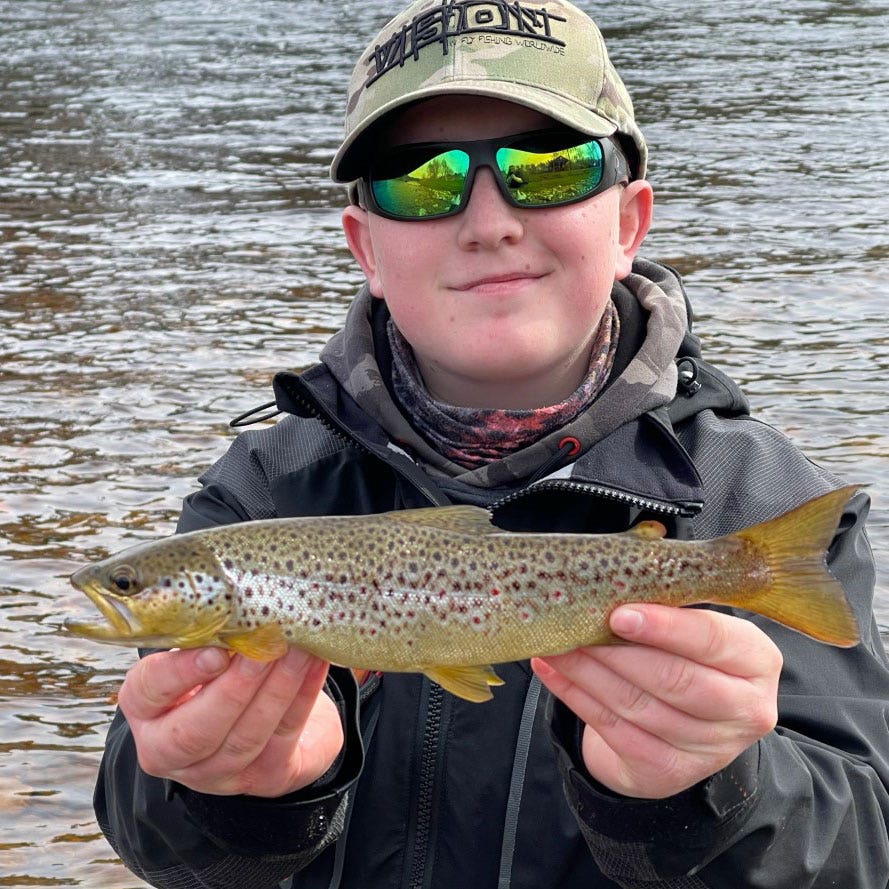 My final day of spring salmon fishing, with so many thoughts running through my head. "Will I ever catch one?", "Wouldn't it be great if I can manage one on the last day?" I met with ghillie, Ian Stronach, who assisted with setting up and showed me through the pool and where I would be fishing for this part of the day. Last chance saloon!
Ian directed myself and a fellow angler to the boat and rowed us across to the other side. He directed me as to where to start and where to finish and how best to fish the pool. He then left me and went off to attend the other guests. I set off, got about halfway down the pool and was lost in my thoughts. I was beginning to feel a bit shattered from solid fishing with a double handed spey rod for about 20 hours over the past two days straight, and was a bit downbeat through not having caught or even had sight of a salmon.
I walked a bit further when Ian came back to me. I made a cast, exactly as I have been doing for the past three days expecting nothing to happen as usual and as I was watching my line swing around - all of a sudden….BANG! My salmon fly line went tight and my reel started screaming away with the line peeling off at pace. I couldn't believe what had just happened - it all happened so quickly. I was finally into a spring salmon! All the time spent on the rivers, grinding and grinding, casting and casting, perfecting, trying, and it all led to this moment - the pressure was on!
I was so nervous and I was shaking all over. I could NOT lose this fish! I must have been playing it for a good 15 minutes, getting the fish in close a few times, only for it to bolt off back into the current. It would not give up the fight. This incredible fighting fish took me into my backing three times. I was just mesmerized by the experience.
The fish was finally showing signs of tiring and I was finally able to lift my rod nice and high so Ian could net it for me. I could not explain my emotions in this point of time - tears were flowing! The amount of hours spent trying to catch this amazing fish, dreaming of what it might be like… and I finally had done it!
We unhooked the fish and got a couple of quick snaps in the water and released her, watching her disappear off nice and strong. In a flash she was gone. Watching that fish swim off was a mixed blessing because I never wanted to let go of that moment and yet I felt like it was complete at the same time. By the time I had released the fish, my 2022 Spey trip had come to end and it had all fallen into place perfectly.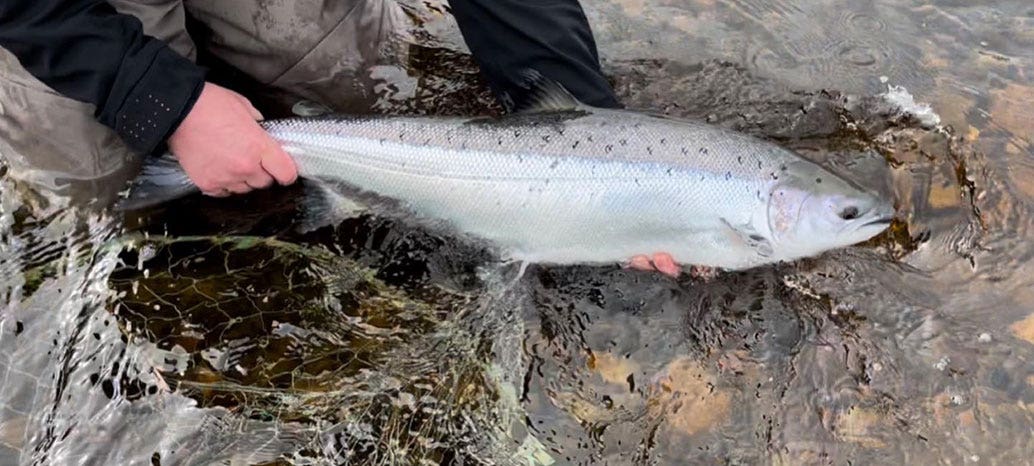 Ian rowed me back to the other side and congratulated me and I thanked him for helping me. I got a message from Lewis also congratulating me and a phone call from Dave who was mega happy for me. This 10lb springer wrapped-up my Spey trip of 2022 and I will remember those three days for the rest of my life. I cannot wait to go back again and try for another one!
Salmon fishing for me is one of the most exciting and also the most frustrating types of fishing. It is a skilled game of getting the fly in sight of the fish, at the right time, getting it to snap at something that it is not interested in even feeding on. I'm absolutely hooked for life. I'd like to give a massive thank you to everyone at Gordon Castle Estate for helping me and supporting me along the way in achieving a lifelong memory.
I hope you have found some inspiration from reading my story and hope to inspire more anglers, young and old, to go salmon fishing.
I wish you luck and thank you for reading. James.
---
The Latest Salmon Fishing Kit