Creating the Hobby Lake Experience
Jonno Randall, Retail and Fishery Manager at the Sportfish Game Fishing Centre,  looks at how he and his team created the Hobby Lake Fishery.
The New Hobby Lake Trout Fishery
The Fishery Background
Historically, Hobby Lake was managed by the Stratton family as a catch and release trout fishery to complement their main put and take Haywards Farm Lake, adjacent our Sportfish store. The name 'Hobby Lake' deriving from the fact that the area is a favoured haunt of hobbies, a fact we have recognised in creating the artwork of our new Hobby Lake lodge sign!
In 2015 Sportfish took full control of the site and set about creating a whole new fishery experience.
The process commenced with Haywards Farm Lake, which was restocked with more, and larger, fish. The lodge was gutted and refitted, aerators installed, landscaping enhanced and boats provided. It was a great success, and continues to this day as one of the top stillwater fisheries in the UK.
At this time, Hobby Lake was largely left to itself and developed as a predator fishery, as some very large pike were known to be present. However, the contours of the lake and the landscaping meant it was best suited to hardcore lure anglers, it wasn't easy fishing.
All Change at Hobby Lake
After a single winter as a predator fishery we decided Hobby Lake's future was best served as an exclusive use, private hire trout fishery for small groups of up to four people. The aim was to create a totally different experience to Haywards Farm Lake, for small parties of friends or colleagues to be able to enjoy some great fishing in a relaxed environment.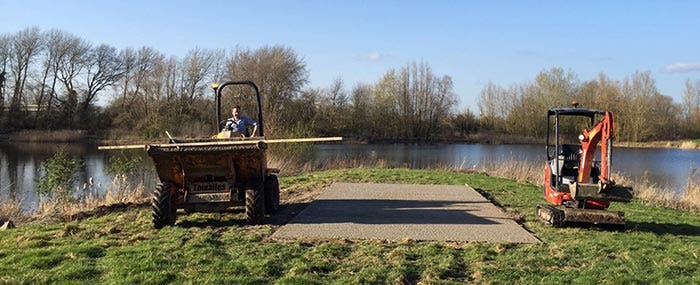 Helped by friends, the Sportfish Game Fishing Centre team started the re-development of Hobby Lake on the 14
th
March this year by building a 36m
2
concrete base for the new Hobby lodge, but with its remote location this in itself was a challenge!  Shortly after it was completed the lodge itself was constructed, a building project which took over seven days to complete.
The team then installed a solar panel on the roof of the lodge to provide basic lighting and a phone charging facility, and we have now further upgraded the electricity supply to mains power to further enhance the experience. Once the power supply was installed, team member Jonathan Tomlinson spent his time upcycling furniture for the lodge, it's a real home-from-home and facilities include everything from a dining table and fly tying vice to a BBQ and cool boxes.

Boat Fishing
The contours of Hobby Lake are such that it was always going to be better fished from a boat so our next project was to build a mooring pontoon and, together with helpers Nick Parker and Alan Tyson, we achieved this prior to delivery of our boats.
The boats were sourced from a well-known reservoir and although in sound condition they needed a little cosmetic refurbishment!  The team, including Chris Hayward and Simon Bedwell, worked hard to refurbish them in evenings after work.
Although boat fishing is probably the best way to tackle the lake we also fitted benches to provide comfortable bankside fishing for those requiring a little variety.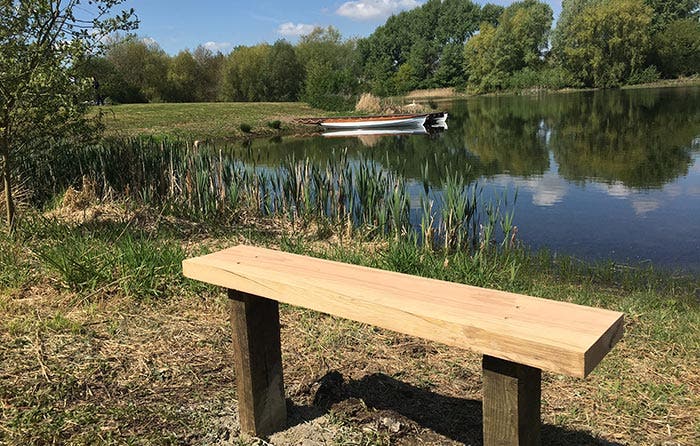 Fish Stocking
We dared to be a little different when it came to fish stock and after getting in a netting team from Sparsholt College to assess the existing fish population our first delivery was a consignment of big tiger trout – big as in some of them were into double figures!
We continued with the exotic theme and Hobby Lake is now stocked with a high proportion of exotic trout species, giving anglers a real chance of catching blues, browns, golden and tigers, as well as having a good head of hard-fighting rainbows.  We have continued with the 'big' theme too as the browns and rainbows, as well as the tigers, are present to double figures.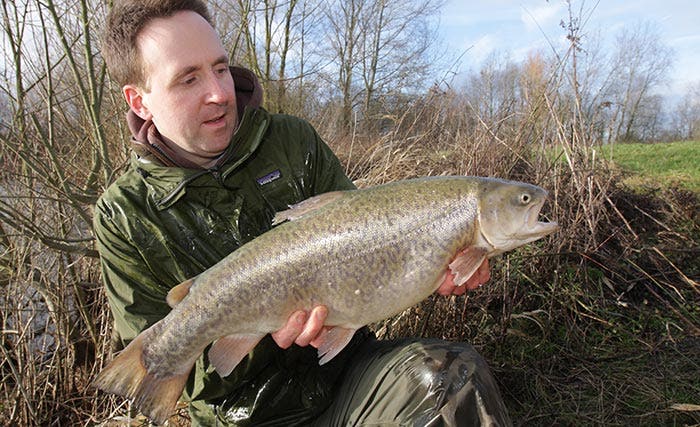 Opening the Lake
The Hobby lake project was completed on 5
th
May, featured in an episode of BT Sport's 'On the Bank' TV show, and was officially launched at our 2017 Reading Show over the weekend of 6
th
and 7
th
May.
Of course, work never stops on any fishery and we have recently installed a large aerator, having seen the benefit aeration has brought to Haywards Farm Lake.  This will ensure Hobby Lake fishermen have the best possible experience, even during the warmer months when trout fishing traditionally becomes much trickier!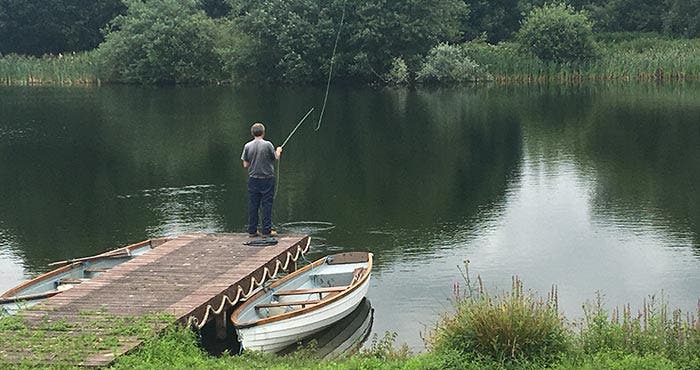 Booking
To book Hobby Lake, call us on 0118 930 3860. The cost of booking the lake is currently £300 for exclusive use of up to four anglers (£75 per head).