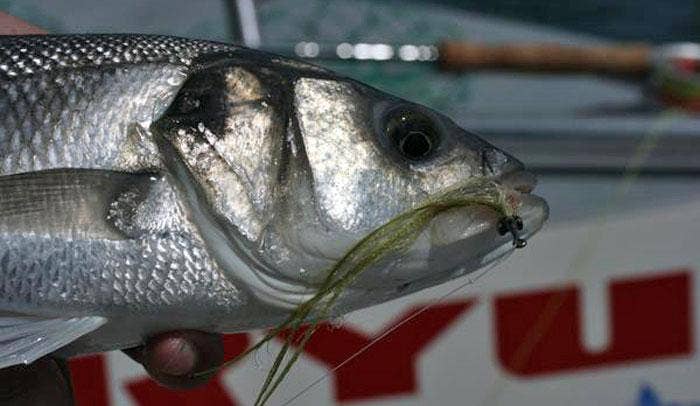 Top Tips for Summer 2014 Bass Fly Fishing!
Interest in fly fishing for bass has grown massively in recent years, so much so that it's now a regular part of the fishing calendar for many fly fishers. As a sport, bass fly fishing has a lot going for it, if you can get to the coast it's free, the tackle required is limited and bass are a hard fighting true game fish.
Top Bass Tackle Recommendations
Exactly what will be best for you will depend on where you will be fishing. My preference is for
9' 8wt or 9wt fly rod
for most applications but a lighter rods may be useful in some situations eg estuary fishing. The reel needs to hold the flyline plus 100m of backing and ideally have a sealed disc drag unit to prevent saltwater seeping into the drag mechanism. All tackle and equipment must be washed down with freshwater after use near to saltwater and allowed to dry thoroughly before storing. A choice of fly lines is useful so a floater, intermediate or sink-tip and a faster sinking line for deeper water will cover all eventualities. I generally use
fluorocarbon leaders
– they offer good abrasion resistance and are nearly invisible in the water. Use a tapered leader with a tippet of fluorocarbon for floating and intermediate lines and a short (1.5m) length of level tippet for the fast sinking line.
The choice of
flies for bass
will generally be a fry pattern that imitates a sandeel or baitfish of some description. It will help if you can match the size and basic colour of the natural food bass are feeding on – you are then matching the hatch!
Saltwater Fishing Clothing and Accessories
Again your chosen venue will dictate what is right. For shore fishing, waders are very useful. You may prefer walking boots for rock fishing or boat fishing. A good all round choice would be
stockingfoot waders
with separate boots – these will give the ankle support you need for rocky ground with a choice of sole for a variety of terrain.
Fishing sunglasses
are very important both for eye protection and for looking into the water to spot fish. My preference would be for a copper or amber lens to give the best visibility in a variety of light levels.
A
line tray
is very useful to prevent stray coils of line catching rocks and getting washed around by waves – this will give you more fishable casts in your session and save you from a lot of frustrating tangles.
I also carry some basic safety equipment and this will include an
automatic lifejacket
, a torch, tidetables, a mobile phone and enough freshwater to drink. Ideally you should fish with a friend or at least tell someone where you are going and your expected time to return.
How to Catch Bass!
If bass are in a feeding mood they are actually quite easy to catch, knowing a little about their habits will help you achieve the vital 'being in the right place at the right time' piece of the jig-saw. You will find clues to all of this by speaking to fellow anglers and putting the time in. This will teach you where to concentrate your efforts at which part of the tide cycle. A good short cut to this is to employ the services of a professional fishing guide – you will learn a lot very quickly by doing this.
Conservation
Fresh bass are delicious to eat as most foodies have now discovered. Bass do not freeze well and taste very disappointing after they have been in the deep freeze even for a short period of time. The message is only take a small number of fish that you can consume almost immediately. There is also a legal size limit under which juvenile fish must not be taken this is just 36cm. This is really not large enough and we recommend you impose a more realistic limit of 45cm, this will give more of the population of smaller bass a chance to reach spawning size at least. The
Bass Anglers Sportfishing Society (B.A.S.S.)
are lobbying to make 45cm the new size limit. This will give anglers a larger population of bigger bass to fish for in a very short time span.