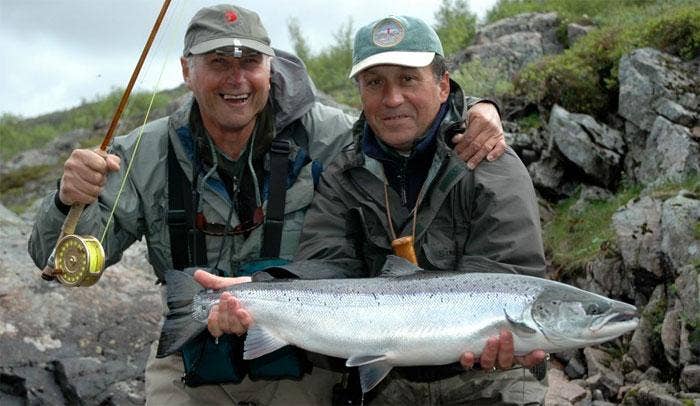 The Kharlovka Company & Sportfish – The Perfect Partnership for Travelling Fly Fishers!
As many will already be aware, Vladimir Rybalchenko, owner of the Kharlovka Company which administers the Atlantic Salmon Reserve (ASR) in Kola Russia, has acquired a majority shareholding in Farlows Group in London. Included in the acquisition is the familiar presence of Farlows of Pall Mall with its 173 years of heritage including its Royal Warrant, as well as the award-winning fishing tackle supplier Sportfish.
The consolidation of all these operations under one organisation offers an exciting opportunity for the co-ordinated development of the retail operations to meet the needs of the discerning fly fisher in all branches of the sport.
Commenting on the acquisition, Vladimir Rybalchenko said: "optimising the future for two of fly-fishing and country sports' iconic brands is a challenge that I'm delighted to be spearheading. Farlows has a long history of providing the very best service to its game fishing clients and safeguarding the future for a new generation of fishing aficionados is now achievable. Sportfish will continue to develop its award winning direct sales channel, and with both brands we will be looking closely at the sporting agency and international travel sector".
Farlows Travel Opportunities!
Through the Atlantic Salmon Reserve, Farlows and Sportfish customers now have direct access to some of the most desirable fly fishing in the world!
Salmon and Trout of the Atlantic Salmon Reserve, Kola Peninsula
Bookings for the 2014 season for the magnificent salmon and wild brown trout fishing on rivers Kharlovka, Eastern Litza, Rynda and Zolotaya are well under way. There are many groups returning year after year and we are delighted to extend current vacancies to Sportfish & Farlows customers. If you are thinking about your plans for next season, drop us a line or give a call and we can provide more detail. Similarly, our longstanding commitment to developing the next generation of Atlantic salmon fishers remains as strong as ever and we are therefore happy to once again offer preferential arrangements for parent and child trips! If you are considering your first trip to the Kola Peninsula, as well as speaking to us directly, we'd be happy to put you in touch with previous guests who can give you an unbiased view as to the unique nature of what we offer here at ASR.
Visit
kharlovka.com
for more details or
download the booking form and prices here
»
Saltwater Trips/Alphonse
Autumn 2013 also saw the Kharlovka Company expand its range of fishing beyond the Kola with the launch of a new saltwater fly fishing trip to Alphonse in the Seychelles. With two weeks taken exclusively for their guests, these trips proved an enormous success with excellent fishing. More detailed reports and photographs from our unforgettable trip appear on the new Farlows Travel website. Alphonse is a superb destination for both experienced saltwater fly fishers and novices - we'd be happy to speak personally to anyone considering this for 2014.
If you have any questions please contact Justin McCarthy, Director of Fishing on justin@farlowstravel.com or on +44 (0) 7460 292 170.