Sportfish's Travel partners Fly Odyssey's new and exciting Sea Trout fishing in Iceland.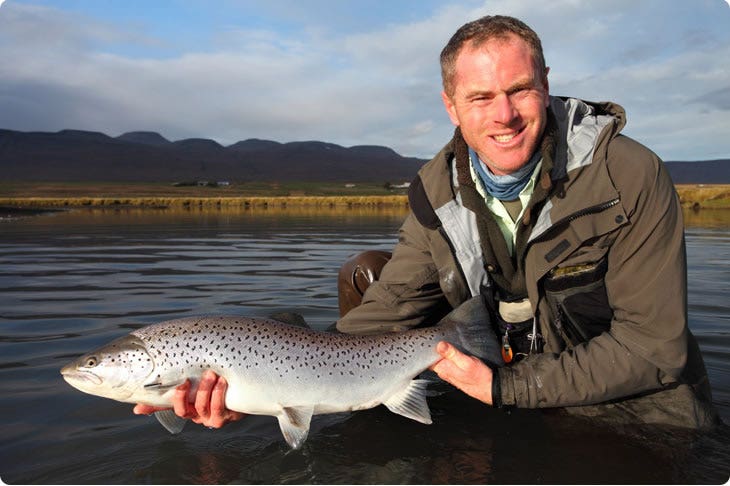 When Fly Odyssey asked if I could go over to Iceland to catch some Sea Trout it would have been hard to say no. The river was a system I had not heard of before, so even more of an incentive to go.
Huseyjarkvisl is situated 296 km from Reykjavik so easily drivable in 3 hrs (I hear now you can fly). Obviously when you think of big Sea Trout you think of the Rio Grande. Argentina is the obvious choice but just hold a thought for Iceland, I know sounds daft, however when you think you have a total of a 3 hr flight plus some domestic travel and you are then fishing, starts to sound slightly more interesting. You then can put into the mix fish up to 86 cm, not bad for 3 hrs of travel.
During our three day visit three of us which one rod was the photographer (he was kept pretty busy) caught 60 odd Sea Trout up to 11.1/4 lbs measured (4 hooked over 10lbs) and brown Trout to 3lbs. This really is one to consider. The fishing was not easy in respect of the conditions.
Teeny 200, 300 and 400's were the lines of choice and heavy stream lined lures were what these fresh off the tide fish had on their menu of choice. So casting these lines on single handed rods was interesting however you were never too far away from having a take, often ferocious. Don't get me wrong you would need to be able to cast efficiently to get the most out of this but if you can it is a style of fishing that was very exciting.
The lodge, of which I have visited many in Iceland was more than comfortable and our host Stjani did more than his duty. At the end of the day it's a river that can't compete with TDF'S Rio Grande however it is not the other side of the world. For a 3 day trip you should do it if you are either fed up with struggling to catch Sea Trout here in the UK or an avid reservoir angler who wants to experience something different.
If you would like more information contact Tom Festing at our Sportfish Reading store
Tel No : 0118 930 3860
Email : tuition@sportfish.co.uk