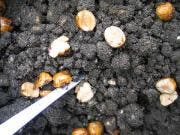 Particles are versatile baits that are excellent for attracting and holding big carp around your hook baits. Here's how you prepare them for use in a PVA bag.
1. Put a little spod mix in a bait box and add a little more ground bait to dry the particles out completely.

2. Add a few halved tiger nuts to the combination and give it a good mix around.

3. Use a table spoon to get the particles into the tube.
4. Carefully tie a small bag.

5. Hook the PVA bag onto the rig.

6. It's ready to cast.