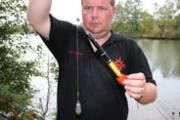 Catapulting pellets of various sizes can be nightmare. Their varying weights mean they go everywhere when fed loose so the answer is put them in a PVA bag and here's exactly how to do it.
1. Take a good handful of pellets and pour them down your PVA's tube.

2. You'll also need to add some weight so you can catapult the bait long distances. A stone is ideal.

3. Once everything's gone down the tube shake the bag tight before tying.
4. A simple overhand knot will seal the pellets and the stone firmly in place.

5. Trim off the PVA just above the knot you've just tied and it's ready for launching.

6. Make sure you select a catapult with a deep pouch and strong elastic before letting rip.