Cortland Line Company - The Early Days


During the summer of 1915, Ray Smith, a merchant and avid angler, from Cortland New York, decided he'd had enough of the clothing business. Ray, an expert in braiding technology, designed and produced a unique selection of braided silk fishing lines that soon made Cortland Line Company one of the major players in the fishing line business of the early 1900's.
With the onset of World War II, the production of fishing lines took a back seat to needs of the US armed forces. Parachute and bomb cord became first priority. Cortland Line developed many advanced manufacturing methods and technologies to help the war effort.
To read more about the History Of Cortland Fishing Tackle click here
ANATOMY OF CORTLAND FLY LINES
(
View All Cortland Flylines
)
When discussing fly line configurations, there are certain terms used. Fly lines embody two materials: the core and the coating. All of Cortland fly lines have a core of braided nylon, braided monofilament or single strand of monofilament. Cortland Line Company is the only fly line company that manufactures its own fly line cores. The core is coated with a PVC in which Cortland impart the taper design. Within the PVC they add hollow glass microspheres (floating) or various density compensating additives (sinking). Variations in the amount of additives used account for some of the differences in the characteristics of our lines, i.e. higher float or faster sink.
Cortland Fly Lines have many densities such as Floating, Intermediate, Sink Tip and Sinking
CORTLAND FLOATING FLY LINES (View All Cortland Floating Fly Lines)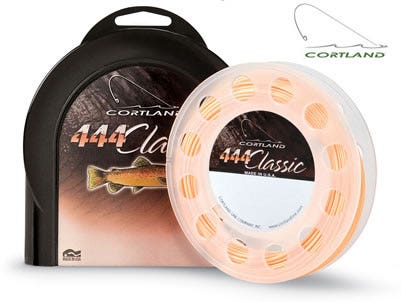 Cortland 444 Classic Fly Lines - Mastering a controlled, effortless cast determines your success in fly fishing. The time-tested formulation of the 444 Classic Fly Line series offers today' s fly fishers the same supple, glass smooth finish that made this line, the "Fly Line of the Millenium". The suppleness of the 444 Classic combined with special tapers allow you to keep tight loops and pinpoint casting accuracy.
The Cortland 444 Classic Floating Flyine has stood all the tests that generations of anglers have thrown at it and emerged as one of the finest fly lines of all time. Extremely supple in the hand, fast through the guides, high floating, and legendary for it's durability. Precise tapers for ease of casting, turning over long fine leaders, or slapping down a #6 Wooly Bugger with ease. The 444 stays flexible in any water.
The Cortland 444 Classic Floating "Whisper Taper" Flyline is extremely supple in the hand, fast through the guides, high floating, and outstanding durability. Precise tapers with extra long front tapers for turning over long fine leaders, when dry fly fishing or for any type of fishing.
The Cortland 444SL Floating Fly Line is Cortland's universal fly line to suit most of your fishing situations. Designed for those anglers that require accurate distance casting. Built on a braided nylon core using a stiffer outer finish for smooth effortless casts and exceptional durability.
CORTLAND INTERMEDIATE FLY LINES (View All Cortland Intermediate Fly Lines)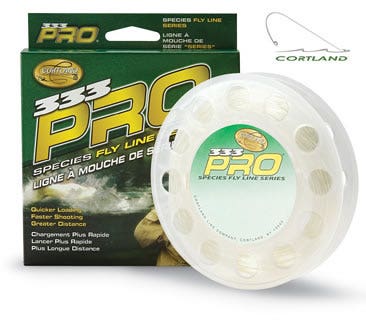 The Cortland Classic 444 Intermediate Fly Line when left untreated it will sink very slowly making it especially useful for fishing over shallow, submerged weed beds. A favorite for fly fishing enthusiasts because the line settles just below a surface shop and remains straight for positive hook-setting.
The Cortland Classic 444 Clear Camo Intermediate is the top choice for Stillwater anglers all over the world. The Cortland 444 Clear Camo is ideal for the shallow water conditions and spooky fish. This super supple line will remain supple in the coldest conditions.
CORTLAND SINK TIP FLY LINES (View All Cortland Sink Tip Fly Lines)
The Cortland 444 Sink Tip Fly Line allows the angler to easily mend and pick up line quickly while still keeping your fly down where the fish are feeding. 444 Classic Sink Tips offer the time tested proven features of the 444 Classic with the added benefit of an integrated 10 foot type 3 sinking tip.
The Cortland 444SL Ghost Tip Fly Lines come in 5ft or 15ft. These gives the angler additional length between the mint green fly line body and his fly. The clear type 2 tips are ideal for use with nymphs, streams and in stillwater. The Cortland Ghost Tip could be the most perfect fly line ever developed for the line-shy trout, steelhead and salmon. For all your deep water fishing, get down with the Precision Sub-Surface All Water lines.
With most species taking far more of their natural food below the surface than on the top, the Cortland 444 Classic Sinking Fly Line gets the fly down to theses deeper feeding locations. Because feeding patterns, water depth and current vary, Cortland manufactures a wide range of sinking lines. Available in different densities (sink rates) to insure that there is a line right for any condition. 444 Sinking Lines come in varying shades of brown, with the lighter lines indicating a slower sinking rate than the darker. Cortland Type 3 flyline will get your fly down to these deeper feeding areas consistently and efficiently in stillwaters and faster rivers, while Cortland Type 6 fly line will take lures and wet flies down very rapidly enabling deep lying fish to be targetted effectively.
CORTLAND BACKING
Cortland Micron fly line backing remains the toughest, smoothest and most popular fly line backing in the world. The quality product Leon Chandler designed has only been made better with technically advanced braiders and high pressure colour dying. Available in white and yellow.
CORTLAND ACCESSORIES

Cortland XL Line CLeaner removes unwanted debris that causes floating lines to sink. Clean and condition your fly line for increased casting distance and added years of line life.
To read about the History Of Cortland Click Here