Sportfish Reading Show Weekend, May 6th & 7th 2017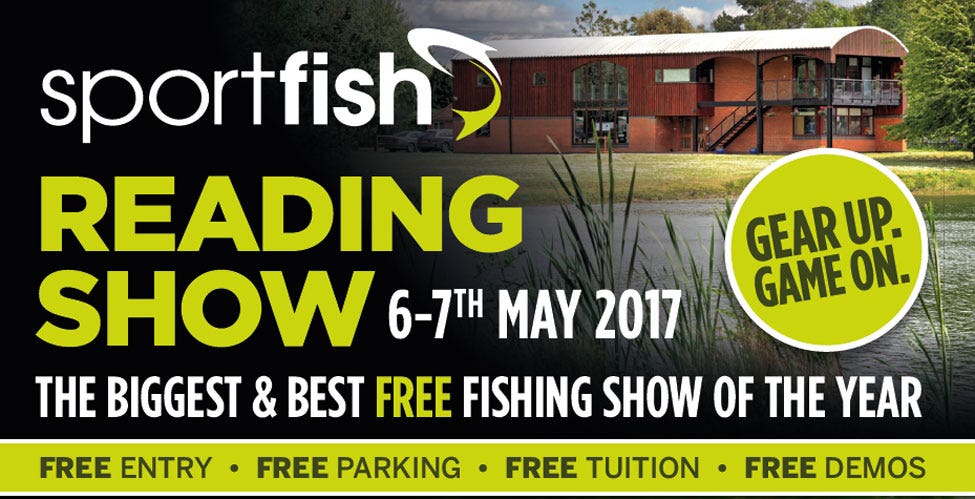 Summer starts with the UK's biggest and best FREE fishing event – the Sportfish Reading Show.
The game fishing event of the year takes place at the Sportfish Game Fishing Centre, Theale, Reading, Berkshire from 9am on Saturday 6th and 10am on Sunday 7th May so join us, and all the leading brands in the world of game fishing, and start your summer in true Sportfish style.
Join us lakeside and be part of our annual celebration of game fishing with all of the leading stars and manufacturers in the sport present to entertain and instruct you. There are free demonstrations and seminars, great competitions, special show deals, a hog roast and all of the latest kit to try and to buy set against a backdrop of one of the finest small stillwater trout fisheries in the UK.
There are cookery demonstrations and a hog roast to tickle the taste buds and a marquee packed with leading tackle brands to try and to buy, with experts on hand to quiz about the latest products and how to best use them.


Spend £150 at the Sportfish Reading Show and we will issue you with a FREE catch and release ticket* for Haywards Farm Lake worth £30 so you can enjoy some of the very best small stillwater trout fishing in England.

* Cannot be redeemed 6th or 7th May 2017 weekend.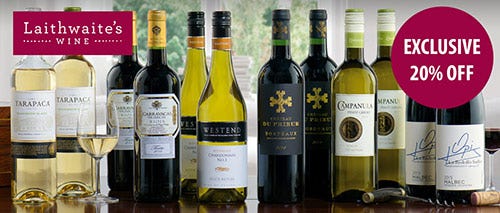 Love Fishing? Love Wine? Then Visit the Sportfish Reading Show!
If you love fishing and enjoy a glass or two of wine then you will love the deal we have arranged with Laithwaite's Wine at this year's Reading Show!
Simply visit the Laithwaite's Wine stand and pick up a 20% discount voucher to use against any purchase. Better still, the Laithwaite's store is just a few hundred metres away from the show site!
FREE Simms waders MOT and repair clinic
If you've got Simms waders in need of repair then there's some great news as they are bringing in a couple of technicians to offer a FREE repair clinic on both days!
The Sage and RIO Testing Area
If you would like to try any model of Sage rod and a huge array of RIO lines, the Guide Fly Fishing team have it covered at this year's Reading Show!

Simply book a slot at the Guide Fly Fishing stand in the marquee and spend time trying out whatever rods and lines you like, with a qualified AAPGAI instructor on hand to offer casting advice too.
Confirmed Exhibitors
Hardy & Greys
Guide Fly Fishing – Sage, RIO, Redington, Fishpond, Vision, Mclean, C & F
Shimano
Wychwood/Leeda
Mackenzie Fly Fishing
Guideline
Snowbee
Loop
FishingMatters – Marryat, Partridge, Regal, Cox & Rawle
Mayfly Art
Fulling Mill Flies
Fario Flies
Veniards
Funky Fly Tying
Wheatley
Laithwaite's
Outside Days

Costa Del Mar
Fly Fish Europe – Simms, Lamson-Waterworks, Scientific Angler Flylines
Tenkara
Buff
Savage Gear
Orvis
Darn Tough
Gigafish
Ecogear
Lifeventure
Hunts Original
Magneteyes
Farlows Travel
Get The Rods Out
3-Daggers Inn
Mullocks Auctions
Fordham and Wakefield

News for the 2017 Event
Sportfish Reading Show – Talk and Demonstration Schedule
Simon 'Bedders' Bedwell will be giving daily tours of our exciting new Hobby Lake fishery on both days.
Saturday 6th May
10:00 - 10:30 Scott Mackenzie - Spey casting demonstration using the new Graphene Rod (casting platform)
10:45 - 11:15 Jeff Pearce from Scientific Anglers discussing the latest in SA fly line technology (lecture theatre)
11:30 - 12:00 The Big Fish Off - Fly vs Lure vs Maggot including Simon Kidd, Charles Jardine and Danny Parkins (Haywards Farm Lake)
12:15 - 12:45 An introduction to RIO trout fly lines by Simon Gawesworth (lecture theatre)
13:00 - 14:00 Annie Assheton MasterChef finalist giving a cookery masterclass (lecture theatre)
14:15 - 14:45 Simon Gawesworth - Spey lines, shooting heads and Skagit lines - how and when to use them (casting platform)
15:00 - 15:30 Salmon Q&A panel featuring Scott Mackenzie, Simon Gawesworth, Ian Gordon, Jim Fearn and James Stokoe (lecture theatre)
15:45 - 16:15 David Wolsoncroft-Dodds - Fly fishing for Pike (casting platform)
16:30 - 17:00 Entomology with Lee Hooper and Charles Jardine (lecture theatre)
Sunday 7th May
10.30 - 11:00 The Big Fish Off - Fly vs Lure vs Maggot including Simon Kidd, Charles Jardine and Danny Parkins (Haywards Farm Lake)
11:15 - 11:45 Howard Croston from Hardy/Greys - Demonstrating the Hardy Sintrix range of trout rods, which one is best for you? (casting platform)
12:00 - 12:30 Simon Gawesworth - Demonstrating RIO Trout Fly Lines - which line do you choose? (casting platform)
12:45 - 13:45 Charles Jardine - Cooking demonstration (lecture theatre)
14:00 - 14:30 Ian Gordon from Hardy/Greys - Demonstrating the latest Hardy Sintrix double-handed salmon rods (casting platform)
14:45 - 15:15 Trout Q&A Panel featuring Charles Jardine, Peter Cockwill, Simon Kidd, Howard Croston and Ben Beckwith (lecture theatre)
15:30 - 15:45 Chuck 'n' Duck - Spey castings big hitters battle it out for distance and accuracy using a giant Greenheart Rod! Simon Gawesworth, Jim Curry, Ian Gordon, Scott Mackenzie and Jim Fearn (casting platform)
*All timings and demonstrations are subject to change.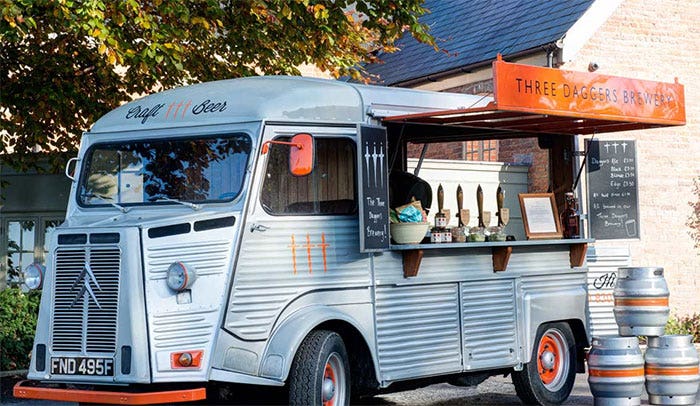 The Three Daggers Brewery Vintage Beer Bus
We've a new treat for this year - our friends will be bringing their fully-restored 1968 Citroen H Van - aka the beer bus!
They have created a fully mobile bar complete with four traditional ale hand pumps and a chilling system so that you can enjoy the perfect pint. Cunningly disguised as a vintage Citroen delivery van, the sides of our Beer Bus pop up to reveal a bar with the capability to serve chilled Three Daggers Brewery ales, wine, soft drinks, the lot. They even have a chiller serving our home-made ice creams, perfect for a summer's day party.
So why not order some food from our Hog Roast and grab yourself a beer before resting up for a spot of lunch overlooking the stunning Haywards Farm lake?
Getting there is easy...
By Car - We are just a 5 minute drive from junction 12 on the M4 (view our location page here)
By Rail - Theale Station (Paddington to Exeter line) is just a 2 minute walk away
Stay in touch...
Sportfish Game Fishing Centre, Station Road, Theale, Reading, RG7 4AS
Email: [email protected] Tel: 0118 930 3860