Streamlined Loops
Exceptionally slick and strong, our welded Streamlined Loops

produce smoother casts and easier turnover with a seamless fly-line-to-loop transition making for softer landings and cleaner pickups. The sleek design also maintains buoyancy for improved fly line floatation. They ensure seamless fly line-to-loop transition for softer presentations and cleaner pickups. Streamlined Loops also enable quicker connections between fly line and leaders.
STREAMLINED LOOPSDELIVER UNPRECEDENTED PERFORMANCE
Super slick and extremely strong
Smooth casting
Smooth, easy turnover
Less friction for cleaner, faster pickups Low-impact presentations
Slim profile slides through guides
Sleek design enhances buoyancy
Fast, secure connections
STREAMLINED LOOPS ARE EASY TO CONNECT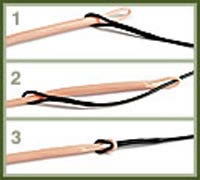 1. Slip rear leader loop or rear tip loop over fly line loop
2. Slip front leader loop or tip front back through fly line loop.
3. Tighten and you're ready to fish.
And note how sleek and streamlined the new connection. It's slick and exceptionally strong and delivers the ultimate in loop fishability.