Expanding the ultimate fly line technology : Sharkskin
see – feel – hear the difference
With cutting-edge angling technology that is revolutionizing the sport, the Scientific Anglers Sharkskin Series provides the ultimate casting experience. Sharkskin allows you to cast further with less effort and with less line tangling—elevating your fly-fishing experience to a whole new level.
Featuring 3M's proprietary microreplication technology, Sharkskin is a radical modification of typically smooth-surfaced fly lines. Its micro textured surface traps air to provide superior shootability and floatation while eliminating line flash and vastly reducing friction. All of this comes with the added benefit of increased durability allowing the line to last up to twice as long. Because of the increased surface area, this line sits higher in the water offering less drag, easier mending, roll casting, and pick-ups and less water spray.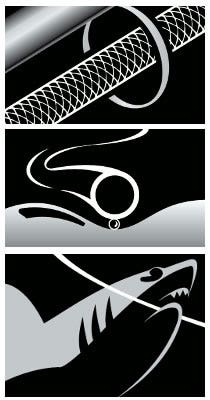 Superior shootability created by vastly reduced friction through rod guides.
Microtextured surfaces trap air to improve flotation, reduce drag on line pickup and shed water on backcast.
Microreplication synergizes with patented AST chemistry to strengthen coating integrity and increase durability of line.