Chalkstream Day Rods - River Pang, Berkshire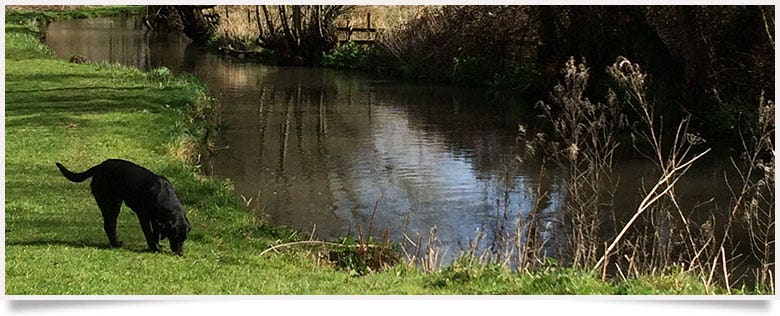 We are pleased to continue our partnership with Barn Elms Fishery and to offer day tickets on their beautiful section of Berkshire?s River Pang.
River Pang Fishery
If you have never ventured out onto a traditional English chalkstream before then this is a fabulous opportunity to give it a try - without the bank-breaking costs associated with rivers such as the Test and Itchen.
The Pang is a tributary of the River Thames and the river, and its population of water voles, is thought to have been the inspiration behind the character Ratty in Kenneth Grahame's The Wind in the Willows.
The working Barn Elms Farm has approximately 900m of the River Pang flowing through its water meadows, it's an intimate river with nooks and crannies and is well suited to both expert and novice anglers alike. Indeed, we shall be using the beat for some of our popular one-day chalkstream tuition courses throughout the summer.
The Fishing
The river has an average depth of 2ft, although there are deeper pools, there are mature trees lending atmosphere to the angler-friendly banks and it has an abundance of aquatic life, including a prolific Mayfly hatch.
The river holds a population of wild fish and is stocked during the season with energetic, hard-fighting brown trout.
It offers a relaxed and friendly atmosphere and, with fully appointed toilets, disabled access and easy parking, it is a great place to enjoy a day or to simply spend a few precious hours away from the office.

Prices and available dates:

We are pleased to advise that following essential bankside and in?stream maintenance work to improve habitat this section of the River Pang is now open for fishing.
A rod costs just ?50.00 outside of Mayfly season and ?37.50 each if you would like to share the beat with a friend.
Non-Mayfly season: April 1st – May 13th and June 15th – September 30th (inclusive)

1 rod £50.00
2 rods £75.00 (£37.50 each)
Mayfly season: May 14th – June 14th (inclusive)

1 rod £85
2 rods £100.00 (£50.00 each)
These rods sell incredibly quickly and we would hate for you to miss out, tickets may currently be booked by telephoning 07768 581785.