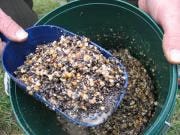 Particles are brilliant baits for attracting and holding big carp over your baits. Here's the ideal particle mix to use for spodding.
1. All the tools for the job.

2. Hemp is a great base for your particle mix.

3. Pour half a jar of hemp into a bucket.
4. Then pour in quarter of a jar of crushed tiger nuts.

5. Hemp and Tigers... not many carp can resist them.

6. Mix the particles together.
7. Use a groundbait to absorb all of the tasty juices.

8. Mix the particles and ground bait together and add a little liquid attractant if you want to give them an extra boost.

9. The particles are now ready for use in a spod.