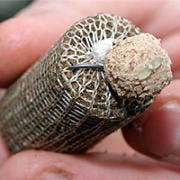 The Stick has become a deadly tactic for carp and conceals your hooklink when it's lying on the bottom. If you fancy giving it a try simply follow the steps below and the carp in your local water had better watch out!
1. Tie the PVA bag off at one end and fill the tube with bait. Try Dynamite Meaty Marine groundbait.

2. Hold the PVA tightly. Use a compressor stick to push the bait to the base of the tube.

3. Push the compression stick hard onto the bait to comress the bait tightly inside the tube.
4. Slide the PVA down the outside of the tube and tie off the open end to trap the bait inside.

5. Push a stringer needle through the stick and attach the loop of your hooklength.

6. Pull the hooklength through the PVA stick and pull the hook into the PVA. Now go get 'em.