Dig Out Your Lures - Tactics for Small Waters
WINTER is here, so dig out your lures! Sportfish's Matt Holden and Jonathan Tomlinson hunt for a winter
specimen with lures at Haywards Farm. Discover their top tips and tactics for small waters.
Although it's cold, we trout anglers can enjoy the bliss of cooler water temperatures.  This, in all but extreme cold, can lead to active trout with newly-found appetites and a desire to feed. Stunning autumnal reds, oranges and ochres litter the ground as the trees hold onto their last remnants of foliage.
This time of year is not only beautiful but offers some of the season's finest fishing. This year's fry are now approaching a heathy size and offer a serious protein and calorie boost for the water's larger inhabitants. With this in mind we head out to tempt a few trout on this crisp, sunny day.
Matt Holden is taking up this challenge with me. No stranger to Haywards Farm Lake, working in the adjacent Sportfish store as he does, he's a well-travelled and experienced fly fisherman with a wealth of knowledge, while also being a qualified instructor.
"These are some of my favourite days to fish – fresh yet still conditions. Even with temperatures in mid-single figures and the temptation to stay indoors and keep warm, I f ind myself heading to the water to take advantage of the great fishing that can be on offer," says Matt.
Two-Rod Approach
As he sets up his 6wt rods, fish can be seen in the middle of the lake, rising to a flurry of hatching buzzers. Even though we're looking to highlight winter lure fishing, we are both only too aware of how deadly Buzzer patterns, nymphs and even dry fly can be at this time of year.
Although a slight spike in temperatures has prompted hatches, often few or no emerging insects can be seen, but you shouldn't discount what's going on sub-surface: just because you aren't seeing buzzer activity, it doesn't mean that they've suddenly all disappeared from the water.
This main dietary component for stillwater trout is present and active all year long and will continue to form the bulk of the fishes' menu, so shouldn't be neglected.
Unfortunately for us, we've opted for the bank today and, as is so often the case, the fish are rising just out of casting distance even for a caster of Matt's ability. His choice of tackle consists of two rods, 9ft and 9ft 6in, both rated for a 6wt line.
"I much prefer a lighter line. I can cast every bit as far as I need but get better presentation," he explains. "More to the point, it's a lot more fun if I hook into some of the larger fish present."
He sets up the shorter rod with a weight-forward floating line and a single fly on a nine-foot leader of 10lb fluorocarbon. The fishery asks for a minimum of 6lb breaking strain tippet but with so many 'lumps' swimming around Matt is loath to take any chances.
"You have to make sure that you buy material that's 100% pure fluorocarbon," he points out, "so that you get all the benefits. Denser than water, it allows my flies to get down quicker and the fact that it's super thin for its stated breaking strength – and is nigh-on invisible due to its refractive index – definitely makes it worth the extra pennies."
His second, slightly longer rod, is armed with a fast intermediate fly line and a two-fly leader set-up, some 15 feet in length. The longer rod makes handling multiple flies a bit easier and allows him to get two offerings out there at the same time (two flies are allowed to be used at the fishery).
Humungus and Blob Approach
This is the outfit that gets wet first. A weighted Pink Humungus on the point and an Orange Blob on the dropper offer two very attractive flies but in very different sizes.
A couple of inches long, the flashy Humungus might just take the fancy of the fish targeting the vast amount of fry spawned this year, while the Blob is a popular favourite with many local anglers.
It's not long before the first take on the Humungus, but after a brief tussle the fish throws the hook.
It's a real shame as it looked to be a fish around the 6-8lb mark.
"I like to keep on the move, I never stay in the same place for too long. All too often I see anglers setting up camp for the day in one spot, but if I haven't managed to get some kind of interest in the first 20 minutes or so, I'll look for some fresh water," says Matt.
Cover Water, Mix Retrieves
Extending the countdown time by five-second intervals as the flies descend, and fan-casting his swim, Matt covers every inch of the water with varying retrieves. Often, when lure fishing, the temptation is to throw it out and just pull it back.
Mixing it up between long and short pulls, fast and slow and figure-of-eight retrieves, however, can often be just enough to trigger a take from that hesitant fish. No further interest occurs on this occasion, though, so a move is in order.
Changing flies regularly is another key to success. Minkies, Sparklers and Tadpoles, along with a host of other patterns, are given a go but to no avail.
"Extending the countdown time by five second intervals as flies descend, and fan casting his swim, Matt covers every inch of water..."
Target Upper Layers
We work our way up the whole side of the lake that backs onto the railway line, with only a follow and a couple of tentative plucks to show for the first hour or so. After lunch, the day continues to warm and more surface activity ensues, so another change in location and a change in tactics to target the upper layers of water are now in order.
We head to the opposite bank, closest to the stream, and Matt grabs the floating line. Fish can be seen rising and pushing water very close to the surface, thankfully now within casting range.
Matt changes to an old classic and a favourite amongst many, the Cat's Whisker. The increased activity has spawned a new-found vigour and confidence: anglers nearby can be seen hooped into hard-fighting fish and I can see Matt is itching to get among them.
As so often happens, a change in approach and location quickly results in a take, but after a brief jump the fish makes a bid for freedom and breaks free.
"I'm going to slow my retrieve right down. I think that was just a bit too quick to get a proper hook hold," claims Matt.
A Six-Pounder
Next cast and a swift figure-of-eight results in another take – a savage hit and a solid hook-up followed by a powerful run and Matt is suddenly being led a merry dance by a substantial rainbow.
Eventually slipping the net beneath it, I can see the relief and joy on Matt's face – a cracking, well-conditioned fish with a paddle for a tail tips the scales at a little over 6lb: modest by some big-fish waters' standards but a daily occurrence for Haywards Farm, which, along with many fish of this size stocks doubles up to 15lb.
A rejuvenated Matt steps up his intensity and quickly finds himself a few more fish to the good, which are quickly and competently returned.
Continuous Retrieve is Key
The change to the figure-of-eight retrieve, providing that continuous movement, is now doing the damage, proving that you don't have to rip lures back at breakneck speed. How many times have we hooked fish on that last cast, while wearily reeling in before going home?
Other anglers are using similar methods to great success, some with bag numbers approaching double figures. Two more fish are caught and we call it a day – an enjoyable spell on the water that has resulted in cracking sport and a lovely fish to take to the smokers.
Sportfish Game Fishing Centre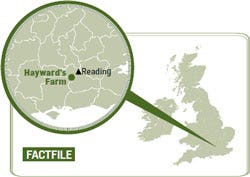 There are two lakes, Haywards Farm Lake and Hobby Lake, at the Sportfish Game Fishing Centre at Theale, near Reading. Managed by the Sportfish team and regularly stocked with fish well into double figures, it is the ideal place to test out rods before purchasing from the shop.
ADDRESS Station Road, Theale, Reading, Berkshire RG7 4AS CONTACT 0118 930 3860 WEB
www.gamefishingcentre.co.uk
CREDITS
Article courtesy of Trout Fisherman and Jonathan Tomlinson of Smokin Drag Productions