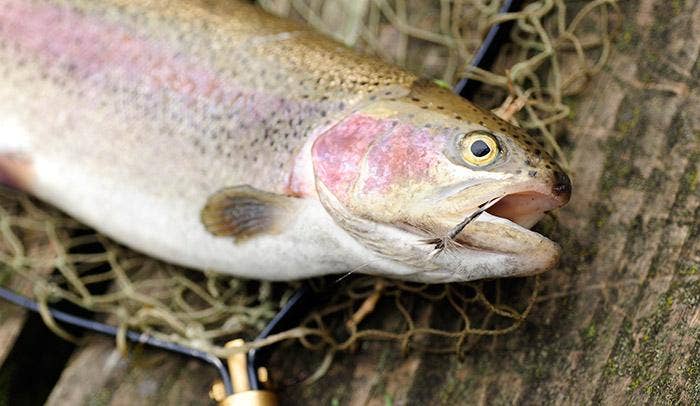 Fly Fishing Success with Early Stillwater Trout
Jonathan Tomlinson shares his wealth of trout fishing experience to ensure that you make the most of early spring on the stillwaters.
I'm always surprised that so many anglers wait until the weather has really warmed up before heading out for their first stillwater trout session of the year, by which time they have missed out on some of the best sport of the year! This time of year sees well-oxygenated water, active fish and plenty of opportunities as water temperatures begin to climb dramatically.
VIDEO: JT's Top Tips for Tackling Up for the 2017 Trout Fishing Season
Of course every fishery is different but if I had to cherry pick a few key pieces of advice that will help you to put fish on the bank during the next few weeks then these are the ones to note:
Get out there!
You catch nothing sitting at home in front of the TV, it really is one of the best times of year to fish so make the effort!
Concrete feet!
Don't get concrete feet! Make sure you keep active and on the move if you are not catching. 20 to 30 minutes is enough time to spend in any one spot.
Keep warm
Yes, it can be cold at this time of year so do make sure you are properly layered and waterproofed and don't forget a hat, good socks and fingerless gloves to keep those extremities warm.
Pre-fishing checks
The new Sportfish Tackle MOT events have been great, encouraging anglers to get their gear out early and make those essential pre-season checks.
If you would like a member of the Sportfish team to help you with your essential spring checks, or to advise on any aspect of your fishing, then simply bring your kit into our stores at Winforton or Reading and get yourself a full MOT.
Think about proofing your clothing with Nikwax, check that your flies are not rusty (and your boxes are filled up with those essential spring patterns). Check your nets for mouse damage, your tippet material, your loops and backing. Do you have mud, gink and xink? You may not have been out for a while, so check everything!
Fan casting
Cover as much of the water in front of you as possible by fanning out your casts. Don't forget to work the different depths too, so count your fly down and work it at different layers in the water. You may well find a similar 'kill' zone all over your water so count down carefully and maximise the time your fly is in that zone.
Retrieve rates
Freshly-stocked fish will respond to a quickly stripped fly, but if you want to connect with a big over-wintered fish then try a slow retrieve instead.
Key patterns
Most anglers reach for
mini lures
at this time of year but don't neglect buzzers and nymphs. Nymphs are in the water all year round and make up the bulk of a trout's diet, even if they are not hatching. The key 'must haves' in my box at the moment are:
•
Diawl bachs
•
Orange blobs
•
Hare's ears
•
Pheasant tails
• Gold head cats whiskers •
Blue damsels
I'd go as far as to say if you can't catch with those six, you
probably
won't catch with anything!
Changing patterns
Notwithstanding my above comments it is important you change colours and patterns regularly until you find what the fish want to take on the day. Try being a bit left field too – if you usually fish (or your fishery usually produces on) small flies, go for something big – and vice versa.
Dry flies
Even this early in the season late afternoon warmth may bring on a small hatch so keep your eyes peeled and make sure you have a few
dry flies
in your box too.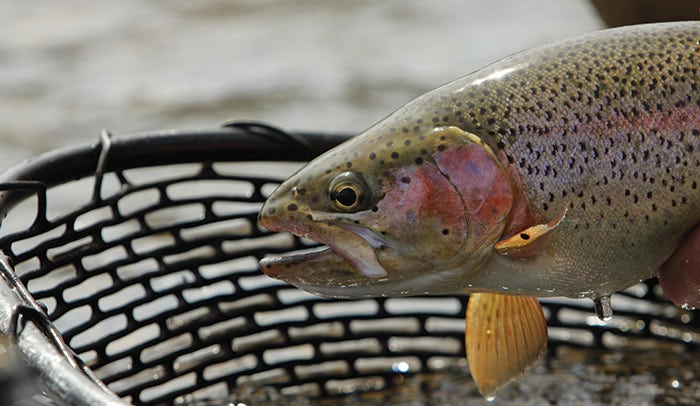 Boat etiquette
If you are afloat on one of the reservoirs fish on the drift rather than at anchor and cover the water in much the same way as you would by regularly moving if you were bank fishing. Don't forget to be sensible and adopt the appropriate etiquette too; 'boats attract boats' particularly if someone is catching, but keep your distance and gain some respect from your fellow anglers!
Safety first
It may seem obvious to many but a
lifejacket
is a MUST if you are afloat (at any time of year) and don't forget a hat and glasses, especially if you are throwing weighted flies – as you invariably will be at this time of year.
Local knowledge
Finally, if you are fishing a new water check the rules beforehand and speak to the bailiffs about patterns and areas to try. Nothing beats local knowledge.
I do hope I have persuaded you that early spring is a great time to be out and that it can produce some terrific fishing – so get out there and enjoy it!
It's good to share - so please leave your questions, comments or your own tips below.