Chris Hayward's Top Fly Fishing Lessons & Courses Gift Ideas
Farlows Group Tuition Manager, Chris Hayward, heads a team of highly skilled staff and arranges fishing courses both at 'home' on our very own Haywards Farm Lake on the Sportfish Game Fishing Centre and 'away' at prime river destinations throughout the UK.
We asked Chris to select his ideal tuition and fishing gifts and below are his top selections.
Hourly Lessons »
This is our 'bread and butter' course and the ideal way to learn how to fly fish, to brush up on your technique, or to master a different style of casting – perhaps double hauling or advanced roll casting.
For a short time only we are also offering a 'buy one, get one half price' deal on these lessons too – so it's an even better way to learn!
Prices: From £50 per hour (adult) and £20 per hour (under 16s)
One Day Stillwater Trout Course »
Based on our fabulous Haywards Farm Lake this regular course covers everything from talking tackle and techniques to casting and then getting out and catching a few fish!
The package includes: all-day instruction; a two-fish ticket and catch and release fishing in the afternoon; lunch; tea and coffee throughout the day and a £35 voucher to be redeemed on tackle purchases of £210 or more!
Price: £149:00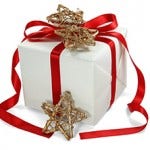 Getting it all Wrapped Up
If you are thinking of purchasing a course from our selection as a Christmas gift, please call our team to book it.  If you let them know that the course is a gift they will be happy to arrange for a card with the details of the course to be sent to you, ready for wrapping up and handing over on Christmas Day.
You can contact our tuition team on: 0118 930 3860 or via email at:
tuition@sportfish.co.uk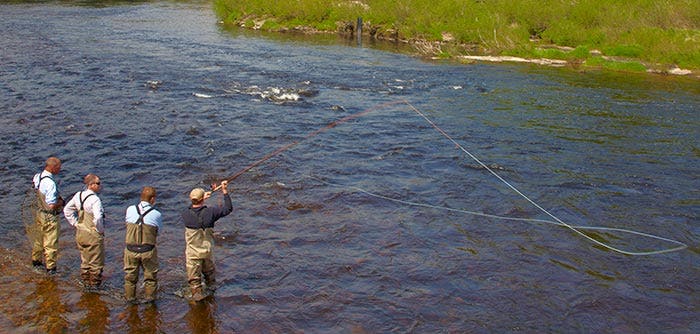 Three-day Spring Salmon Course on the River Tyne
» The 2.5-mile-long Bywell beat of the River Tyne is one of the best stretches of salmon fishing in England and our three-day course aims to teach you everything you need to know about tackling up for, and catching, spring salmon.
Now in its sixth year this course offers superb food and accommodation, full tuition and ghillie service, a free casting lesson prior to the course and 10% off pre-course tackle purchases.
Price: £999
Boat Fishing Basics »
This is a new course, based on Haywards Farm Lake, Theale, and it is designed to ensure you make the most of your fishing afloat. One-to-one instruction covers everything from the key safety aspects through to setting drogues, drift work and various leader and fly techniques.
The course also includes a two-fish ticket on Haywards Farm Lake, followed by catch and release fishing.
Price: £149:00
Bass Fishing »
This is the ultimate experience for UK saltwater fly anglers and we have teamed up with one of the top skippers on the south coast, Paul Haldenwang, to deliver courses out of Chichester with a mix of wading and boat fishing, you can even throw a few lures if you wish to as well.
Perfect for saltwater beginners as well as more experienced fly anglers this is a great opportunity to tackle the UK's iconic saltwater game species.
Price: £215:00
Chalk Stream Day Rods »
We have a limited number of rods available on the prestigious Lower Itchen Fishery for 2017, offering excellent dry fly fishing for brown trout over five beats.
This is not guided fishing, but offers some very fine chalk stream angling, spotting and casting to fish in crystal clear water – it includes prime Mayfly dates too! Days are strictly limited and rods are sold on a first come, first served basis.
Price: From £152:50