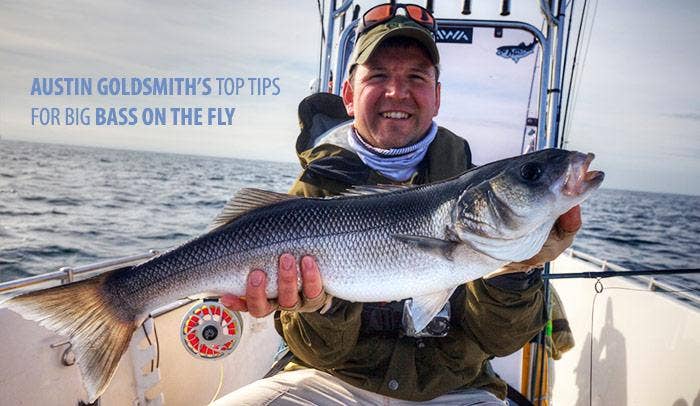 Summer Fly Fishing for Bass – Top Tips and Tactics
Austen Goldsmith, arguably the top bass guide in the UK, just can't get bass out of his system and in this Sportfish exclusive he tells us why – and passes on the secrets of his fly fishing for bass success…
So, what's so special about catching bass on the fly? Well, this fish has dominated my working life for over a decade now; I've got bonefish, tarpon, permit, GTs and roosters out of my system but I just cannot shake the bass bug. So let me try to explain why, and what is involved in fishing for bass on the fly.
Introduction to Fly Fishing for Bass
The coast
These days the epic backdrops, rugged coastline and marine wildlife of Cornwall are as much a part of what defines bass fishing for me as the fish themselves. A big bass on the fly may be my ultimate destination but it's the journey to that point that keeps me setting the alarm for 3am of a summer's morning.
The fish
For a start they are silver, not dirty brown like pollock, and silver fish are cool fish - just like salmon, tarpon or bonefish. On top of that a big bass develops a huge head and dark black back –  a big bass will really take your breath away if you meet one, they are just awesome creatures. When a bass's pectoral fins catch the light the edges are electric blue, just like those of a bonefish. They are bristling with sharp edges and spines, a tough fish that can stay out of water for a long time, or come up from 100ft depths with no ill effects.
They are night creatures, although we often make the mistake of hunting them during daylight hours, they are moody fish too and there are times when I spend hours in the company of vast shoals of bass, that just refuse to eat until something triggers the collective mind of the shoal to feed. That same fish that sits in a shoal unwilling to feed will also travel solo and hunt the shallows. They will take a surface lure or fly, which makes them exciting fish to pursue and they fight well when they are in peak fitness. They grow slowly and wisely - those big girls are smart and often 20 years old.
The current state of the UK bass fishery
Onto the fish stocks, and there has been a lot of negativity about bass stocks and the state of the fishery over the last year. I have become friends with a number of commercial hook and line bass fishermen over the years and the word I am hearing across the west, where I am based, is that the size of the shoals on the reefs are larger than we have seen for a good few years. Make of it what you may, but I will just enjoy myself while it lasts.
Hopefully this news will encourage anglers to get out there and fish hard for bass in 2016. We should not talk ourselves out of bass fishing just because elements of EU/ UK fisheries policy understandably disappoint us right now. We have, in fact, seen more positive steps to preserve bass stocks in the last three years than we would have imagined was possible, including the facts that:
The minimum landing size has increased from a pathetic 36cm to a far better 42cm
Commercial catches are now capped for the first time ever.
The pair trawling fleet has been closed for two years.
We have not encountered a cold winter for four or five years.
The truth of the matter is that future stocks may well be receiving a much needed boost right now. I put the negativity behind me and am doing what I love so deeply and that is fishing for bass in Cornwall - preferably with a 9 weight fly rod in my hand – but we are fishing for wild fish in the largest natural reservoir on the planet and we have chosen to pursue them with a fly rod and highly evolved mackerel feathers! How can we even up the odds?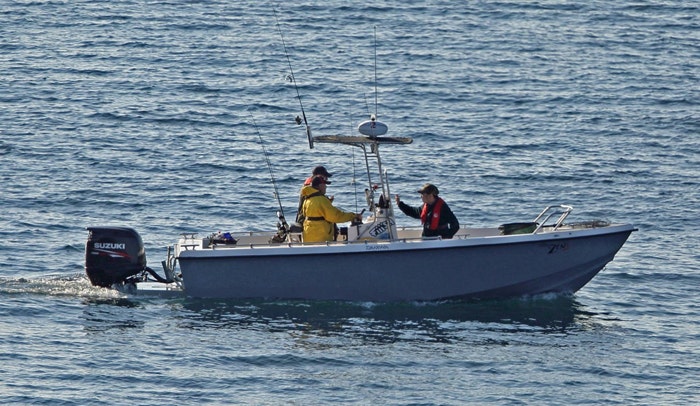 MY TOP BASS FISHING TIPS
Get out of bed very, very early
I catch plenty of bass in bright sunlight from my boat throughout the day, occasionally in shallow water, but generally in more that 20ft once the sun is high. If you want to fish from the shoreline on foot then you need to think about fly fishing for bass at first or last light. If you fish for bass in early summer, I would look to be in position and casting from around 4am in the morning. It hurts when the alarm goes off but it really is the most magical time of the of the day to be alone by the water's edge fishing.
Learn to kick butt with a fly rod!
No haul = no hope. Harsh words but so very true in saltwater fly fishing. As a fishing guide I have to share the pain and frustration of inexperienced casters who have not invested in some
proper casting lessons
.
In the early days I sought the advice of a professional casting instructor and I strongly advise anyone who wants to fish the coast to do the same. When we are fly fishing for bass we need to be able to think about how to catch that fish, not how to cast. We can't always choose to have the wind on our favourable shoulder, the saltwater fly fishing world doesn't work like that.
Understand the tides
Lunar cycles effect the fall and rise of the tides, once you get dialled into the natural rhythms it makes the choice of when you fish that much clearer. We have two sets of neaps (small weak tides) and two sets of spring tides (strong tides that fall and rise over a greater height). These can be seen quite clearly on a tidal graph as two humps - just like a camel's back. The years have taught me that the rising curve from small tides to larger tides usually offers the best chance of success.
Get the right gear
For bass shore fly fishing I would choose an 9wt rod. On my boat we fish Hardy Pro Axis 9 and 10 weights.
Reels are a personal choice and I have used and abused many over the years. The only reels that have survived my lack of maintenance and 120 days' fishing a year are my
Nautilus models
. I fish the FWX for most applications and CFF for big pollock or sharks.
For fly lines I have found the Rio Outbound excellent as a floating and intermediate. My all-time favourite fast-sinking lines are the Airflow Depth Finders and 40 Plus range of lines in 300 to 400 grains.
For leaders I have used the
Seaguar tapered fluorocarbon leaders
rated at 20lb breaking strain, I rarely fish any lighter or feel the need. These leaders are pricey but will outlast others, failing disaster, and they turn over flies very well .
Use the right fly
Keep it simple and don't fish too small.
In the old days I used to fish size 2 or even size 4 hooks when fly fishing for bass. It took a series of painful losses of big bass before I realised that it was hook size that let me down. These days I fish size 1/0 to size 6/0 for bass, with an average of size 2/0. Bass have big mouths and they are generally greedy.
My fly - 'Oz's Livebait Fly'- has accounted for thousands of bass now and has become the classic UK bass fly - vain words from me or just stating the truth? You fish the fly then decide for yourself!  It's super simple to tie, just don't make the mistake of going too small - learn from somebody else's mistakes!
Fish with a guide
A day out on a boat with a professional fishing guide can really ramp up your skills and confidence. I fish with beginners and advanced fly and lure fisherman 120-plus days a year for a living and I still love it!
For the first time in years my diary has spaces on prime tides in prime months, so don't let these golden tides slip away, it's just too much fun to be out there fishing for them so check out my website at
www.bassfishingcornwall.com
and join me!
Thank you for reading - leave your comments or questions below. Austen Goldsmith
[vc_button title="Shop our Bass Fly Fishing Tackle »" target="_self" color="default" size="default2" href="http://www.sportfish.co.uk/fly-fishing-tackle/top-bass-tackle.html"]