Onto a New Level with Snowbee
Discover Snowbee at the Sportfish Game Fishing Centre and get top advice, see and try the best new products for today's game angler and there's a special show deal not to be missed…
In 2014 Snowbee celebrated its 30th anniversary – three decades of delivering the best tackle at the most affordable prices – whether for the river, the lake or the sea.
Not a company to rest on their laurels, the new 2016 range has taken the Snowbee fly fishing brand onto a new level, with the best range of fishing tackle Snowbee have ever produced and the team of Russell Weston, Simon Kidd, Nigel Bracey and Russ Simons will all be on hand at the Reading Show to provide advice and give direction on the best of new products for today's game angler.
New Waders
Having pioneered many of the wader development for nearly 30 years, something we all now take very much for granted, it was time to develop the 'ultimate wader'. Snowbee's new Geo-5 Breathable model, is just that and features a new 5-layer material from the waist down, with two breathable membranes for double protection and performance. This tough, hard wearing material will stand up to the harshest conditions one is likely to fish in, whilst keeping totally dry and comfortable. These waders represent the best waders Snowbee have ever made. The company has been in this business a very long time and these are the cream of 21
st
century wader production.
A further development in waders has been the new Classic Neoprene Waders too, aimed at the fisherman looking for performance, coupled with great value for money! In all Snowbee now has nearly 20 different designs of chest or thigh waders to choose from this year and in the widest range of shapes and sizes ever, come along and try them for size.
Fly Rods
When it comes to new rods, the recent reviews all help tell the story for Snowbee. The Geo Nano technology heads the table, with the new 6-piece Salmon and 15 other modern Nano models making up this range. Demand for the popular Prestige Stillwater and river rods continuing to grow every year, these rods simply can't be improved upon for performance and value. They are what they are; great performing, tremendously good value rods that can match the and compete with the very best. Whilst the Diamond Range fits a quality minded, budget conscious angler, their outstanding value too is also endorsed by Trout & Salmon magazine with the 15ft Salmon and new Switch rods probably the pick of the crop. Finally, there is just one new fly rod for this year, this comes in the Classic range and is a 10ft #7 rod on its own or in a ready to fish boxed kit.
Apart from the boxed Classic Kits, one of Snowbee's most successful marketing campaigns to boost rod and outfit sales has been the introduction of the 'Perfectly Balanced' Snowbee Outfit choice.
New Fly Reels
To help us achieve our perfectly balanced ideals, Snowbee have extended the sensational Spectre Fly Reel range to include a stunning new Gunmetal Silver version across the whole range, plus a new cassette option in both Black and Gunmetal Silver, in the most popular #5/6 and #7/8 sizes. Furthermore, these cassettes are identical to those used for other reels on the market, like the Onyx for example, around which the new machined reels have been designed specifically. So one can now trade up from a simple die-cast cassette model, to a pristine new machined option and stay fully compatible.
New Fly Lines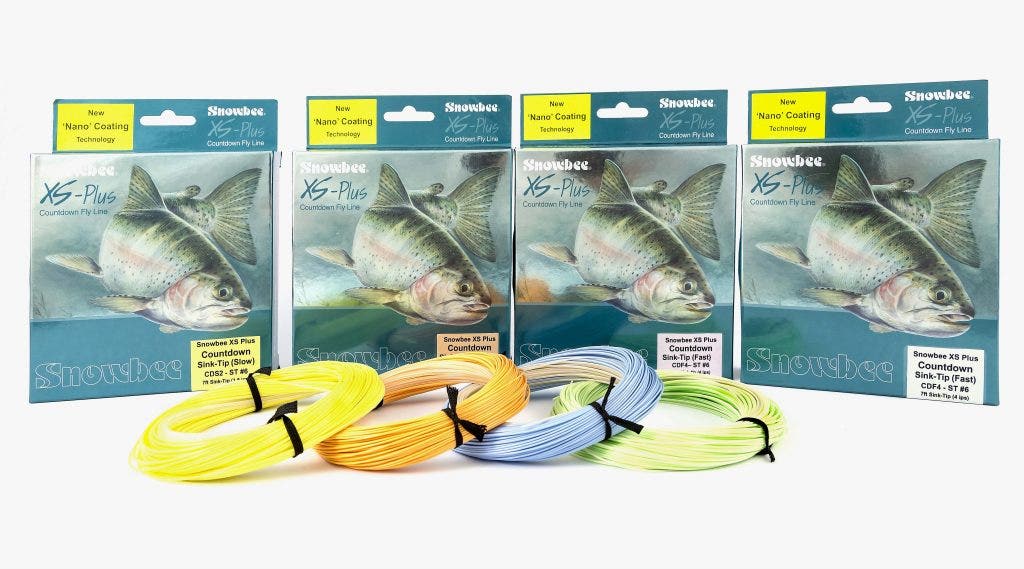 Perhaps one of the most significant developments for Snowbee in the last 18 months has been the advances in Nano-technology in fly lines. Already respected worldwide as manufacturers of some of the world's finest fly lines, total fly line sales have grown some 30% since the introduction of the new Thistledown and the other XS Nano fly lines, first launched last year. For 2016 there is a whole new range of advanced Sink-tip, Distance, Roll Cast, Saltwater and Salmon lines all helping to fulfil a truly sensational product range today, limited only by production capacity.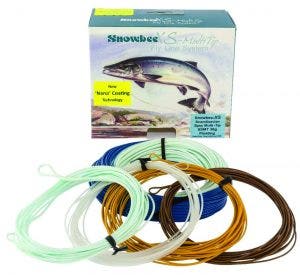 2016 will see yet more innovative new designs added, but the new Extreme 50yds Long-Cast line, aimed squarely at the competition angler is exceptional for casting performance. A new short Spey 'Roll-Cast' line for single handed rods and the popular 'Countdown' sinking line series are also enhanced with the addition of the new Nano technology. For the Salmon angler, Snowbee have extended their range as well, with a new short head Multi-Tip Scandinavian Spey and a Shooting Head version, plus a Multi-Tip Kit and new Shooting Head running line. These new short head floating and intermediate fly lines, come with four interchangeable tips, in different densities and offer the progressive salmon angler a host of options, to cover all situations.
Finally, on fly lines for the saltwater fly fisher, Snowbee have a brand new range of Tropics Saltwater Fly Lines. There are four different lines, each with specific design requirements from delicate stealth presentation to clear sink-tip lines for 'spooky' fish, to short taper lines designed to turn over big flies plus a new 'Depth Charge' line for monsters of the sea, designed to get flies down to the 'strike-zone' fast. All are made with a new version of Nano-Tec coating, specifically designed to withstand tropical temperatures and without the need for a stiff core.
New Technical Clothing
Aside from the above, one of Snowbee's strengths has always been technical clothing and this year is no exception. For 2016 the company has a new range of 'All Seasons' Breathable Waterproof Clothing, offering total comfort and protection from the elements, whether fishing, shooting, or simply out for a healthy walk enjoying any country pursuit. There is also a very comfortable and popular new Country Sweater featuring a tough knitted outer, laminated to a micro-fleece lining, with a breathable/waterproof membrane sandwiched in between. This provides total warmth and windproof properties, that will also keep one dry, if caught out in a shower. The Breathable waterproof Breezebloc fleeces are also still going strong. Finally, the new Fleece Salopettes provide total warmth and comfort when cold-water wading, or under breathable clothing especially on colder days. The new 'open weave' polyester fleece, traps more air, for enhanced insulation & breathability in cold water, keeping the angler both warm and dry, whilst a new style stitching provides completely flat seams, with no hems, for total comfort, under waders.
Bags and Accessories
Add the new range of bags & luggage, new top-of-the-range Float Tube and stunning new Fly
Tying Vice and you really do have the ultimate product range for the progressive modern day angler, no matter what your discipline!
Snowbee's commitments to customers is to pride itself on being a tackle company of fishingnenthusiasts regularly fishing alongside customers, sharing their passion and, above all, listening to requests and feedback for better and more useful fishing tackle.
Whether you are happiest fishing a small moorland stream, expansive salmon river, wild hill loch, small stillwater fishery or the open sea, Snowbee has a practical and affordable tackle option for all. Rely on Snowbee to make your day on or near the water that much more memorable and most enjoyable.