Tom & David's Guide to Fly Fishing for Pike
Targeting pike on the fly is one of the fastest growing – and most adrenaline fuelled - branches of the sport so Sportfish Tuition Manager Tom Festing was keen to catch up with one of the undoubted maestros of the method, David Wolsoncroft-Dodds
Tom and David fished together on the delightful Bowood Estate Lake, venue for our
pike on the fly courses
, and selected their top tackle to tame big, toothy predators.
RODS
For rods look for a progressive action to make casting big, hairy pike flies a relaxed process so that you can enjoy your sport without aches and pains. Your choice also needs to be able to handle big fish comfortably.
The Greys GR80 Fly Rod
is ideal tool if you are looking for a great value-for-money option.
The
Sage Maverick
with its fast recovering tip action is another one to look at, and if it's a complete outfit you're after then take a look at the
Vision Pike Read-To-Go Kit
.
REELS
David has read articles that state you do not need a good drag for pike – and he disagrees strongly – you most certainly do! His choice is the
Sage Spectrum Max reel
but is also happy to recommend models from
Tibor
,
Nautilus
and
Lamson
. The important factor is to ensure that the reel is big enough to hold the fly line without cramping it into coils that are too small.
FLY LINE
Fly lines for pike
need to have short head lengths which load the rod quickly and make casting big pike flies (relatively!) straightforward. The
freshwater RIO InTouch Pike / Musky fly line
is a good choice and David also recommends using a buoyant fly for bumping close to the bottom.
TIPPET
David recommends attaching your fly to about 12" of
Rio Powerflex Wire Bite Tippet
(30lb) using a Rapala Knot. This forms a secure loop that allows the fly to wiggle enticingly. Join the wire to a
Seaguar fluorocarbon leader
with a shock leader knot; the total length of the leader should vary from about 8'6" with a floating line down to 3'6" with a T14 head and a buoyant fly.
FLIES
David ties his own flies but if you prefer to buy yours then take a look at the
Perch Baitfish
, the
Rabbit Roach
, the
Roach
, the
Perch Fry
or the
Electric Yellow Roach
. You will also need a
Big Fly Box
to store them in.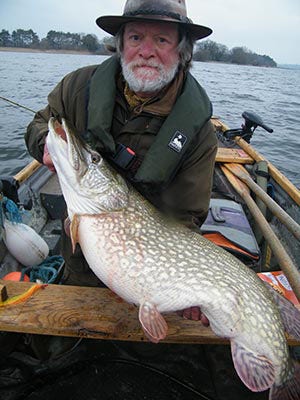 ACCESSORIES
You will need a suitable landing net, designed to cope with big fish and David's recommendation is the
Mclean Salmon/Sea Trout Weigh Fishing Net
.
You will also need some wire cutters and pliers / forceps and the
Sportfish fishing pliers
are the ideal tool to make unhooking easy.
If you want to know more about catching pike on the fly then take a look at our very popular 'Pike on the Fly' courses.
[vc_button title="Shop Our Pike Fly Fishing Tackle »" target="_self" color="default" size="size_large" href="http://www.sportfish.co.uk/fly-fishing-tackle/best-pike-tackle.html"]