Always Select the Right Fly - With Fulling Mill!
Fulling Mill - leaders in high quality dressed flies - are regularly at the Sportfish Show, so join Peter Gibson and Andreas Linz and make sure you always select the right fly for the right occasion!
Representatives Peter Gibson and Andreas Linz will be on hand throughout the show weekend to guide you through the
Fulling Mill fly range
, and help you to select the right flies for your fishing trip.
Fulling Mill is widely recognised as a global leader in the manufacture of high quality fishing flies. With a heritage that dates all the way back to the 1930s we have slowly but surely built a brand on the keystones of quality, value and service.
At 
Fulling Mill
 our range of flies never stands still. Sure we have all the old favourites in stock but we also love developing fresh and exciting new patterns. Since our flies are designed by fishermen for fishermen (and don't think we are excluding fisherwomen here!) we just love trying out something new.
Every single one of our 
fishing flies
 is tied in-house in our factories in Sri Lanka and Kenya (Fulling Mill golden rule: we never ever sub-contract production) before being quality checked and distributed through our UK and US hubs.
With over 2,500 proven patterns to choose from, all made using the highest quality materials tied on the sharpest hooks, we've got your needs covered.
We look forward to seeing you at the main fly section in the Sportfish shop over the show weekend where you will be able to see and purchase our latest patterns and one or two brand new key fishing accessories which have just landed in the UK.

The Tacky Fly Box was the brain child of Tim Jenkins and Ki Aston, two American fishing entrepreneurs who had long been frustrated in their search for the 'perfect'
fly box
. Not being able to find what they were looking for, Jenkins and Aston decided to design the 'perfect' fly box themselves.
Two years in the making, the Tacky Fly Box was launched in the USA in early 2014 to great acclaim, and has already picked up numerous awards - Fly Fusion Magazine 'Editor's choice award'; Fly Tyer Magazine 2014 'Editor's' choice award", Outdoor Canada Magazine 2014 'best new fly gear' and most notably IFTD's 2014 New Product Best of Show Award.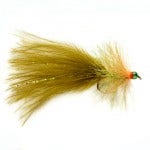 The Tacky Fly Box is a tough and sleek polycarbonate box with a clear top, a magnet closure system and a patent-pending silicone rubber insert. It is the insert that is attracting all the interest in that, unlike many of the boxes currently on the market, it has little memory and therefore holds flies securely over a much longer time frame.