Mackenzie Fly Fishing Visit Sportfish
We were delighted to have Scott Mackenzie and his team demonstrating and exhibiting at this year's Sportfish Show.
Mackenzie DTX is a brand of the highest quality products first established by Scott Mackenzie, 3 times world Spey casting champion. Scott is an AAPGAI qualified casting instructor and has 22 years experience as a full time ghillie on some of the best salmon rivers in Scotland.
Using his vast knowledge collected throughout the years, Scott created the Mackenzie DTX (Designed Through Experience) products by using this experience to create some of the best, high quality, award winning fly fishing rods and lines available in the world today. Mackenzie DTX is now one of the fastest growing fishing tackle companies on the market, and is considered by many as a world leader in new tackle design and development.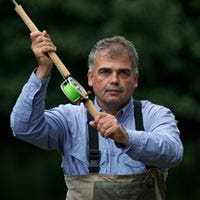 Scott Mackenzie
Scott is a 3 times World Spey casting champion and was team captain for the winning Scotland team at the Spey casting world championships in Ireland 2006. He is a fully qualified casting instructor holding an Advanced Professional Game Angling Instructors Certificate.
Scott has built up a world class design team around him, consisting of some of the best ghillies and instructors from around the globe, utilising their combined experience and expertise to create the best products.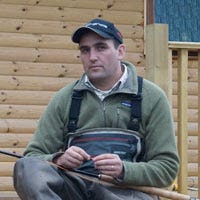 Andrew Toft
Andrew Toft is a qualified THCI & AAPGAI Master Certified Instructor and ICSF World Spey casting champion, he is a lifelong passionate fly angler. He is currently involved in product design for Mackenzie Fly fishing, Andrew can be seen demonstrating his Spey Casting skills at many events and destinations worldwide
Andrew says
"Our job at Mackenzie Fly Fishing is to filter our experience into what is becoming one of the fastest growing brands in game fishing tackle. Innovations and designs within our expanding product range are based on our collective knowledge allowing us to maximise the performance characteristics of each and every product. Mackenzie DTX equipment is becoming a leading brand both in the UK and around the World. I will only use the best possible equipment available, compromise is never an option."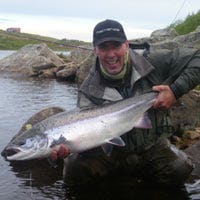 Ian Kirk
Iain has been part of the product design team at Mackenzie from the early days, he is a Camp manager on the Yokanga River,Kola Peninsula, Russia and fishery manager for Scone Palace River Tay.
Based on experience, there has been one brand that will survive the demands of a Yokanga season and that is MacKenzie DTX. Time and time again DTX outperformed other brands when expected to perform during the most demanding conditions that any angler will ever experience.