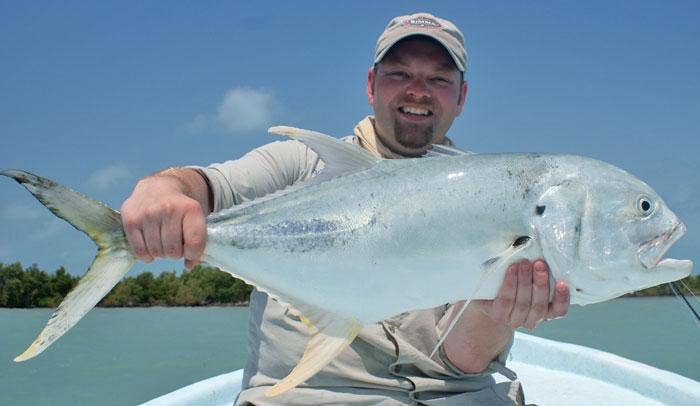 JT's Top Tips for Saltwater Fly Fishing
For many anglers the end of the salmon and trout season heralds the beginning of the foreign saltwater season. Some have been eagerly awaiting the colder months in readiness to jump on a plane and head to warmer climates. The prospect of wading cobalt blue tropical waters stalking the ghosts of the flats is a mouth watering thought, one that is now kinder on the wallet than ever before!
Destinations such as Mexico, the Bahamas, the Seychelles and Belize offer a huge variety of species to target from the big three (bonefish, permit and tarpon) to the unusual milkfish, triggerfish, bumphead parrotfish and the hard fighting bully boys of the trevally family.
The rise in popularity of destination fishing has led to manufacturers catering specifically with these anglers in mind. 4 piece rods are now the industry standard with ease of transport being paramount. Hard wearing salt proof fittings make rods hardier against the abrasive saltwater environment.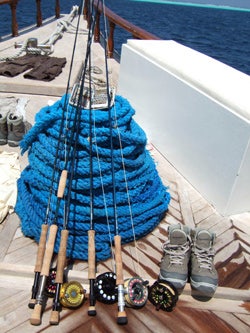 Specialist
tropical fly lines
makes casting easier in the high temperatures were normal trout lines become very soft and difficult to use. Their tapers are perfect for quick shots and turning over heavy
saltwater flies
in windy conditions. Presentation is the key to wary shallow water species and delicacy is very important, specialist
saltwater leaders
are very resistant to abrasion and have tapers that lend themselves to using and turning over bigger flies. Try to use as long a leader as you can manage, the further your flies lands from your fly line the better.
Top Tips for Success for the Travelling Saltwater Angler
Make sure you cover up well, clothing with an SPF rating is essential. Use good quality sun tan lotion such as Riemann's P20 single application. The tropical sun can be deceiving especially if there is a breeze.
Invest in a good pair of Polaroid's such as Costa Del Mar 580 fishing sunglasses in green or blue mirror finishes.
Safety is important especially when wading, be sure to have a good robust pair of flats boots that will protect your feet from stingray's, coral and volcanic rock.
Be frugal with your packing, try to avoid filling your bag with too many clothes as this will reduce the amount of fishing tackle you can take. A lightweight travel bag will give you more available check in weight. Most locations are remote and if you run out of something it often is not possible to get a replacement so always be prepared.
Be sure to take a lightweight waterproof jacket and a pair over trousers, this may sound crazy in 30+ degrees but when rain comes it will bring quite a drop in temperature and it is very easy to become cold and uncomfortable.
Make sure that all of your reels are properly rigged and fit for purpose if you have any reservations or are unsure please contact one of our stores for expert advice.
Brush up on your casting before you depart, having the confidence and ability to make that all important cast count can be the difference between a good trip and a fantastic trip! We can offer one-to-one casting lessons for £45 per hour - book casting lessons online »
If you are going to a new destination do as much research as you can, try to talk to someone with first hand knowledge of were you are going.
A flats pack or back pack is a great piece of kit that will allow you to carry essentials such as water, fly boxes, leaders and the all important camera without impeding your casting
A buff and a good peaked cap will help to cut out any sunlight allowing you to spot fish more easily
Most of all enjoy your holiday!
If you've any top tips for saltwater fly fishing of your own, or wish to ask a question, please
leave your comments below
– it's great to share & chat! You can also share with all your friends via our
social sharing buttons
below.