Snowbee (UK) Ltd., is part of the International Snowbee Group, which was established in Taiwan in 1978. The UK branch has the backing of a large International Group, with offices in Taiwan, Singapore, New Zealand, Canada and the USA, together with manufacturing bases in Taiwan, China & Korea, in addition to their UK manufactured products.
Snowbee's design team are all keen Fly Fishermen, with between them, over 80 years experience in all aspects of our sport – Single-handed trout fly fishing, 2-handed Salmon Spey fishing and Saltwater Fly Fishing.
Based in Plymouth, in the far south west of England, Snowbee are spoilt for choice in their fly-fishing. A short distance to the north is Dartmoor National Park. Thousands of acres of unspoilt moor-land; the peat moor providing gin clear brooks and streams, full of wild brownies, with lightening reactions. Further down the valleys, these streams combine forces to create the Rivers Tamar & Plym, which border the City of Plymouth to the east & west and feed into Plymouth Sound. These two mighty rivers and their associated tributaries, offer a wealth of Salmon & Sea-Trout Fishing. The moorland streams & rivers flow into spectacular reservoirs, which together with numerous small stillwater fisheries, provide unparalleled loch style & stillwater fly fishing.  To the south of Snowbee is the sea, bordered by a rugged coastline with numerous estuaries offering spectacular sport for the saltwater fly fisher, with species such as Bass, Sea-Trout, Pollack & Mackerel in abundance.
First introduced to the UK market in 1984, the original range of Lightweight PVC Waders has grown considerably to include a full range of Fly Fishing gear - Snowbee's aim being to equip the progressive, modern day fly fisher from head to toe, with clothing tackle and accessories.
SNOWBEE FLY REELS
Snowbee Geo Fly Reel
is
machined from the best quality solid bar stock aluminium.  The Geo fly reel really is the ultimate lightweight large arbor reel fishing reel. By using every weight-reducing technique available, the new Geo checks in at 25% lighter than the XS, whilst still retaining its structural rigidity.
Hard anodised in a satin pewter finish, with brushed aluminium trim, the Snowbee Geo is closer to a piece of artwork than a fly reel. Yet lurking below the surface is the latest design of multi-disc, centre drag systems, featuring polished stainless steel, glass fibre and Teflon/Rulon composite drag washers. A detented drag control provides a smooth, progressive drag, coupled with minimal start-up inertia. Whether you are fishing 2lb tippet for lightening-fast, wild Brownies, or coping with smash-takes from heavy overwintered Rainbows the Geo will take it all in its stride.
To protect your valuable reels and spools Snowbee have designed the Snowbee Reel Brief and the Snowbee Reel Case.  They are
both constructed entirely from tough Polyester material, the sides are stiffened with foam, for additional protection. The inside is lined with an ingenious, soft looped lining material, to which Velcro will grip at any position.  This allows the inner dividers to be positioned as required, allowing infinite arrangements, for Trout reels or Salmon reels, or dividers can be removed completely to accommodate fly boxes and fly fishing accessories. 
The Snowbee Reel Brief
holds up to 10 reels/spools and the Snowbee Reel Case
take up to 5 reels/spools.
SNOWBEE FLY LINES
(
View All Snowbee Fly Lines
)
All Snowbee fly lines are designed in the UK and are recognised by top professionals everywhere, as truly world-class and arguably the best British fly lines ever made. Some of these include
Snowbee Prestige XS Floating Fly Lines
, Snowbee Specialist XS Fly Lines,
Snowbee 3-D Spey Casting Fly Lines
&
Fly Line Cleaning Accessories.
The
Snowbee 3D Floating Spey Fly Lines
are perfectly balanced for Spey-Casting in just about any river environment. 
For enhanced performance and extended life, each fly line comes with a specially formulated bottle of Snowbee line care, plus two loop connectors in appropriate sizes, to be used with the enclosed line.
1D Spey Lines
are suitable for casting in small rivers where bank-side vegetation and/or seep sided riverbanks severly limit the back-cast area.
2D Spey Lines
are suitable for casting in medium rivers where bank-side vegetation and/or seep sided riverbanks have only minimal impact on the back-cast area.
3D Spey Lines
are suitable for casting in large rivers where bank-side vegetation and/or seep sided riverbanks do not encroach on the back-cast area.
The Snowbee Prestige XS Extreme Distance Fly Line is designed for the distance caster who regularly shoots a full fly line, but whose further distance is restricted by current line designs.
The
Snowbee XS-
Delicate Presentation Floating Fly Line -
the long shallow front taper gives superb, controlled turn over and allows the most delicate presentation of dry flies at both short and long distance.
The
Snowbee XS Neutral Density Fly Line
is the ideal fly line for those easily spooked fish. 
The super slow, uniform sink rate, is designed to 'hang' just sub surface.
SNOWBEE WADERS
(
View All Snowbee Waders
)
Snowbee waders include Prestige Zip Front Waders, Prestige Breathable Waders,
Zip Front Granite Neoprene Waders
&
Nylon Waders
Snowbee
Prestige Zip-Front Waders
was developed by the Swiss manufacturers Riri for the diving industry. These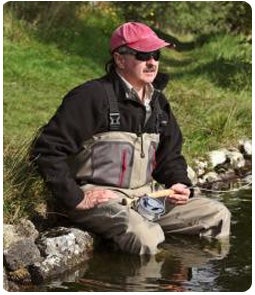 brand-leading, precision, water-tight zips are pressure tested to 1.7 Bar. They provide the wading angler with a convenience never before experienced. Utilising the very latest in breathable material technology and using a durable, new triple laminate Nylon material, helps Snowbee ensure total reliability and durability.
Snowbee Prestige Zip-Front Bootfoot model
is for those anglers who don't want the trouble of separate Wading boots, a bootfoot
version is the answer. Neoprene lined for warmth and extra comfort these
are fitted with either our combination felt sole & cleated heel or with our popular
spike sole for the ultimate grip in any conditions.The
Bootfoot model available in combi felt-sole & cleated heel
or our popular spike sole.
Snowbee
Prestige Zip-Front Stockingfoot Waders
have the same features as the bootfoot model, but in a stockingfoot design. The 4mm
neoprene sock uses a unique 3-panel design, so no seams run under the foot. The
'shaped foot' design avoids slack material inside your wading boots, for additional
wading comfort.  A Hypalon sole panel prevents compression at the heel area, which
can cause leaks. Integral gravel guard, with front lacing hook.
Snowbee Prestige Breathable Waders
provide wading comfort, with some innovative new design features.
Using Snowbee's Vapour-Tec ® ' System – the totally new materials have a tough Nylon outer shell and a Breathable Inner Membrane, allowing rapid vapour transfer to keep you dry and comfortable all day.
The Snowbee Prestige Breathable Bootfoot Waders feature a unique new front pocket design. Rather than the usual stitched pockets, where the stitching penetrates the body material and has to be sealed on the inside, their new design features an outer 'gasket' which is heat welded to the front of the waders, holding the pocket in place. No seams, no stitching, just a totally waterproof seal, which leaves the body material intact. Add to this a vertical, YKK waterproof zip and at last you have totally waterproof pockets on the front of your chest waders.
Snowbee Prestige Breathable Thigh Waders are f
or occasions where chest waders are not required, but you still want the cool, dry
comfort of breathable waders.
Fitted with the same PVC boot as the chest model, with a combi felt-sole & cleated heel.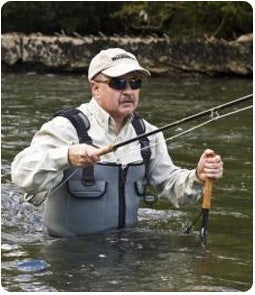 weather  conditions. Snowbee Granite Neoprene Zip Front Waders

offer the winter angler all the comfort and warmth of traditional neoprene but now, for the first time, coupled with the 'convenience' of a zip-front.

Using the well-proven Swiss Riri waterproof zip, these are sure to become firm favourites, particularly with Salmon fishers. Not only does a front zip allow a 'pit-stop' without having to take everything off, but it also makes getting in and out of your waders so much easier. Featuring the same heavy duty, combi-felt sole, neoprene lined rubber boot as the standard range, for all-day comfort. Fitted with two Velcro flap front pockets for fly boxes & accessories.
Snowbee Granite Neoprene Bootfoot Chest Waders
are a new superior Neoprene wader using only the highest quality 4mm Neoprene which will retain its elasticity, & therefore keep out water, for much longer than cheaper fabric.  These are available in cleated & combi sole models.
Snowbee Nylon Waders
Snowbee Nylon Chest Waders
are made of  210 Denier Nylon material is lighter, tougher, more durable and more flexible than the old PVC, so offers the wearer greater protection,
coupled with added wearer comfort.
Chest waders are by far the most popular fishing waders because chest waders are the most versatile in terms of where you fish, for instance, to get to a very shallow stream you sometimes have to walk through head high wet undergrowth, but in chest waders you remain completely dry.  As well as keeping you clean chest waders keep you dry and safe in the water.
Snowbee Nylon Thigh Waders
are a lot lighter and more versatile, so offers the wearer greater protection, coupled with added wearer comfort. The tightly woven 210D Nylon outer, resists thorns and abrasion like no other wader of this weight, while the inner PVC coating ensures they remain 100% watertight. For added strength, the seams are double stitched and heat sealed on the inside.
SNOWBEE WADING EQUIPMENT
The
Snowbee Line Tray
is mesh base with a fold down base board which holds the tray open when in use and prevents water filling the tray from below and tangling the line, when deep wading or saltwater fly fishing.
Snowbee Folding Wading Staff
is ideal when you only need to deep wade occasionally and don't want the inconvenience of carrying a full wading staff all day.  The length is 52in, but packs down to only 10in and stores in a neat waist belt carry bag with belt loop and clip.
Snowbee Replacement Feltsole Kit
is specifically designed for replacing Felt-Soles on Wading Boots. The one-piece Felt sole is oversize to fit any size boot up to Size 14 and is simply cut down to fit smaller sizes.
SNOWBEE FISHING CLOTHING
(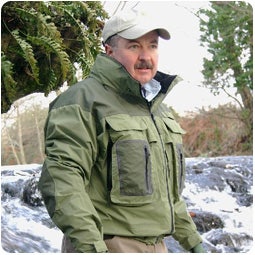 Snowbee Breathable Packable Rainsuit
consists of
Snowbee Packable Jacket
and
Snowbee Over Trousers
.
They are constructed from a lightweight Rip-Stop Nylon, with our Vapour-Tec' inner membrane, making them 100% waterproof & breathable. Packing down into their individual stuff-bags, the Jacket & over-trousers can be kept in your fishing bag or rear fly vest pocket, in case of unexpected rain.
Snowbee Fishing Hats
Snowbee Wide Brim Ranger Hat
offers protection to the ears and back of the neck and is treated with an anti-UV agent for maximum protection.  Treated with DuPont Teflon for water resistance, this fishing hat will also keep you dry in a downpour. Complete with an adjustable chin-strap for windy conditions, which can be tucked away inside the hat with a neat Velcro strap. Has a second Velcro pocket inside the hat crown for fishing licence etc.
Snowbee Fishing Gloves
(
View All Snowbee Gloves
)
Snowbee Soft Neoprene Gloves
are 100% waterproof, seamless product.  The neoprene used is a new 4-way high-stretch, 100% CR neoprene, but only 1mm thick, so for the first time you can have a neoprene fishing glove, which is a good tight fit, but ultra thin, allowing you to feel everything…. and remain 100% dry. To give added grip, without bulk, the palms & finger panels on the gloves are screen printed with a silicone ink, which provides a totally flat surface, but gives amazing grip and feel, even when wet.
Snowbee Lightweight Neoprene Gloves
are lightweight gloves with a Nylon Jersey knit palm with rubberised "dots" pattern for extra grip, allowing the gloves to be kept on when fishing or shooting. The tips of the thumb and index finger are left exposed to allow tying of knots, or loading, without removing the gloves.
SNOWBEE FLY VEST & LIFE JACKETS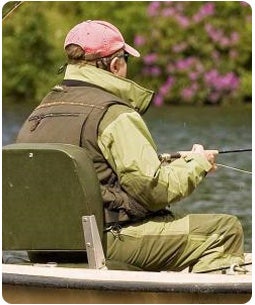 Style & Innovation are the key words for the Snowbee Fly Fishing Vests. Design features never seen on fly vests before – Waterproof Pockets - set them apart from their peers.
Every pocket is there for a specific purpose and not just because there is space available - allowing you to spend more time fishing and less time looking for things!
They have waterproof linings with heat-taped seams and waterproof zips to all the main pockets, allowing your fly boxes, reels, spools and accessories to remain dry in the worst of weather. The main body material is a lightweight, breathable 50% Cotton, 50% Polyester material, which has high wicking and quick drying properties.
Snowbee Geo Fly Fishing Vest combines the features of the previous XS & XS-Pro fishing vests, constructed using a soft feel polycotton for the best of both worlds – comfort, quick drying & durability. A mid-length fly vest, for both wading & bank use.
The Snowbee inflatable lifejacket
MUST
be worn
OUTSIDE
any other garment, to avoid the danger of injury in the event of an activation.
Snowbee Auto Inflate Fly Vest
offers both wading & boat anglers a proper, functional fly vest, with built-in lifejacket.
The Snowbee Auto-Inflate Fly Vest incorporates many of the innovative Fly Vest design features from the Snowbee award winning XS-Pro Fly Vest
but with the added advantage of fleece lined hand-warmer pockets.
Approved to the latest ISO12402 standards,
this model features the very latest UML Mark 5 auto/manual inflation device.  It
incorporates a simple screw-in cartridge unit, with a new 'rain-proof' cover, to prevent accidental inflation.
This EN393 approved safety vest is fitted with a simple screw-in 24g CO2 cylinder, which provides 120N buoyancy.
Snowbee Collar Style Life Jacket is designed specifcally for anglers and is buoyant enough to hold up to a large angler fully dressed in waders and outer clothing. 
The Snowbee Life Jacket incorporates a rear panel, joining the collar to the waist-belt, which holds the collar down out of the way, more like a jacket. On the front, are 2 useful, bellows design pockets, large enough to hold a small fly box, packs of leaders, floatants/sinkants etc.
SNOWBEE FISHING BAGS & LUGGAGE
(View All Snowbee Fishin
g Bags
& Lugagge)
The Snowbee Boot Bag is perfect for carrying wellies or other boots around when they're wet & muddy.  Also has a pocket for socks or folding wading staff.
Snowbee XS Travel Bag
will hold all
you need for a 10-day lodge fishing trip.
The base compartment is designed to
take travel rods, plus a pair of wading boots, stockingfoot waders, reels, fly boxes and vest or wading jacket. The upper compartments have ample room for dry clothing, shoes etc.
All this gear is safely concealed and the XS2 doesn't look like a 'fishing bag' to rouse the interest of unscrupulous baggage handlers.
Snowbee Chest Pack / Bum Bag
is what you need
when wet wading, particularly in saltwater conditions as you need to travel light. Snowbee Chest Pack/Bum Bag allows just that.
It has
removable insulated drinks container and camera/phone case on waist belt
.
Snowbee Wet Sacks
solves the problem of what to do with the catch, when you return to the car, with a Bass Bag full of slimy, dripping fish!
Made from our tough PVC/Nylon/PVC material, with welded seams, guaranteed 100% waterproof. The smaller wet sack is ideal for a Bass Bag full of fish whil the larger wet sack will swallow boots, waders, waterproofs, landing nets, or whatever else you care toput in it.
Tough zip across the top, with strong Nylon webbing carrying handles.
SNOWBEE FISHING NETS
(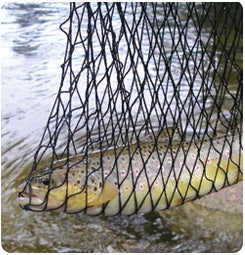 The Snowbee Landing Net range has steadily evolved over the years, to offer a net suitable for any purpose. Every net has been designed, developed, thoroughly tested and approved by the Snowbee design team.

With the increase in catch & release, all landing nets should use spare knotless nets to prevent scale damage. A range of 3 sizes of high quality replacement nets, in Dark Green, 3/4" mesh knotless Nylon.

The Snowbee Salmon Gye Net is constructed from lightweight, corrosion proof aluminium and is fitted with a quality knotless nylon net.  A traditional Salmon Gye style net with a 24in round frame constructed in strong, but lightweight alloy tube.

The Snowbee Telescopic Folding Nets

are made to a unique design and utilise the latest top-grade materials.

The well proven range of Snowbee Telescopic/Folding Landing Nets, offers a net and size range for all types of fishing.





Snowbee Boat Landing Net

is

a teardrop shaped frame and has a flat front section, to slide

quickly under the fish to minimise fish lost at the net. The

D-section aluminium is lightweight but remarkable rigid and

strong, which together with the die-cast Y-piece, joining the

frame to the handle, eliminates 'net sag' with heavy fish.



SNOWBEE FISHING ACCESSORIES

Snowbee have a wide selection of fishing accessories which range from Snowbee Smokers, Snowbee Float Tubes, Snowbee Priest, Snowbee Zingers, Snowbee Line Winder and many more.

Snowbee Float Tube - Incorporating the very latest thinking in Float Tube design, the twin-tube 'V-Boat' style, has the tubes swept up to form a bow, providing less resistance and far easier passage through the water.

Maximum recommended user weight -

21 stone (135 Kgs) To help inflate the Float Tube is the Float Pump which is

a durable two-way pump.





Snowbee

Smoker Cookersolves the problem of what to do with the catch! A generously sized Hot Smoker/Cooker constructed in Stainless Steel for easy cleaning & long life. Will take 4 or 5 small Trout, or 2 large fish, headed & tailed.  Smoker Oak Dust is t

op quality, kiln dried English Oak dust, which gives a wonderful rich flavour to all smoked foods,

adds a rich smokey flavour to all outdoor cooking.

The smoke dust is finer and burns more slowly than our earlier 'chippings' giving even more flavour.



Snowbee Aluminium Priest has glass-fibre shafts which are varnished in the same colours and over-whipped in fine gold thread. The solid aluminium heads are chrome plated and have enough weight to quickly and efficiently despatch your catch.

Snowbee Stripping Finger Protectors

are a simple, innovative design offering good protection to both the wearer and the fly line.

Prevents cuts & abrasion from the fastest running saltwater species, or even on the local reservoir.

Lycra Finger "tubes" with felt protector pads, which can be treated with line lubricant to clean line as you strip!




Zip Lubricating Oil is ideal for wader and dry suit zips, jackets foul weather gear etc.
By using
Snowbee Leak Doctor
its a simple way to identify & locate leaks in breathable waders or clothing
caused by thistles, brambles & gorse along the bank.
Snowbee Aluminium Tube Fly Boxes
have an unique 'card-index' type system, allows numerous tubes to
be laid over the top of one another with each row able to be
'flipped over' to reveal the next row.
Flat foam in the lid provides additional storage
for trebles, Waddington's or traditional flies.
SNOWBEE VICES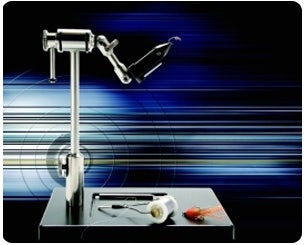 The
Snowbee Waldron Vice
offers the progressive fly tier a unique hook clamping principle, quite different from anything else on the market. 
Superbly CNC engineered to tolerances of less than 0.01mm using 303 grade Stainless Steel, aluminium and CR12 tool steel for the jaws, hardened to Rockwell C 58. The main head axle runs on two sealed stainless steel ball-race bearings. Tension for the 360° rotating head is by means of a tension screw at the rear, operating on two delrin washers. The vice jaws are joined to the main head by means of a simple link-arm. Two Allen screws allow setting up of the jaws for total rotational symmetry about the centre line, irrespective of the hook gape. The precision jaws feature two precisely milled grooves to allow different sized hooks to be held securely - from as small as #28's right up to large single Salmon irons and the largest saltwater fly hooks available.
The Waldron Sight Board & Bobbin Cradle is
an ingenious double pivot and stem system supports both a sight board and bobbin cradle, allowing totally independent movement of each component. The sight board can be rotated around the vice jaws allowing for left or right hand positioning and the bobbin cradle through almost 360 degrees, or can be folded away behind the head when not required.  A unique cradle head features a tradional "V" groove one end to drop a tying thread into, but also has a second groove fitted with 2 rubber "O" rings. This allows the thread to be locked in place, cut and dubbed, seperate to the main bobbin thread.  The
Waldron Tube Fly Attachment
simply replaces the standard vice head, converting the vice to a precision Tube Fly model.
SNOWBEE SALTWATER FLY FISHING
The Snowbee Fly Wallet
offers the serious saltwater fly fisherman huge storage capacity for large saltwater flies. Each Wallet holds 12 Self-seal bags, each capable of holding 10-20 large saltwater flies. That's over 200 flies, enough for an entire trip, in just one wallet!
On the front of the wallets is a mesh pocket for tools, leaders etc.
Snowbee Sun Gloves With Stripping Fingers
offer extreme sun protection with the added bonus of a reinforced palm and extended Stripping fingers. The high density microfibre & Lycra back, provides 50+ UPF, while the synthetic suede leather palm has double reinforcing patches where you need it most.
Snowbee Neoprene "Flats"

Wading/Kayaking Shoes
offer a lighter alternative for the angler covering a lot of ground. They are also great for Kayaking or summer wet-wading & beachcombing . The upper is made from soft Neoprene and has a tough outer rubber sole, which partly "wraps" around the sides of the upper and has a fibre mid-sole for protection.
Snowbee Saltwater Pliers
is constructed from T6511 grade aircraft aluminium and then anodised, for complete corrosion resistance.  The main jaws are made from hardened, high carbon steel, for strength & reliability.
To View All Snowbee Fishing Tackle Click Here