One-Day Guided Bass Fishing Days in Chichester Harbour

Sportfish Tuition Update
Our 2020 programme of courses and tuition is currently on hold, but we do hope to be able to resume safely soon, and are already busy planning for 2021.
Our bestselling courses are very popular indeed, and do sell out quickly, so if you would like to get ahead of the crowd for next year and receive advance notice of dates, simply email: tuition@sportfish.co.uk with your name and telephone number, stating which course(s) you are interested in.
We will then be in touch via email, prior to advertising the course, with dates for your consideration before they go live.
---
Guided Fly Fishing for Bass
Fly fishing for Bass is amazing and for many it is the ultimate UK saltwater fly fishing experience. These slow-growing, extremely hard fighting fish are a joy to target and they will devour anything from small crab patterns through to sandeels and mackerel.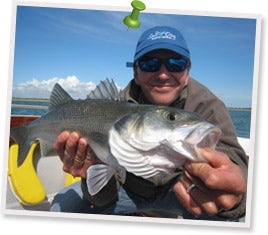 We are delighted to be able to offer a bass fishing experience from late spring through to early autumn with one of the top skippers on the south coast, Paul Haldenwang.
Paul, owner of Salty Dog Game Fishing Ltd, will be your host and guide for the day and he has been fishing since he was five years-old with his father as mentor. He is passionate about marine conservation and preserving the oceans for the next generation and strives to put this at the forefront of his business ethics. Paul has a commercial skipper's license and is an IGFA-registered captain, he is fully certified and insured under the Maritime & Coastguard Agency.
Our bass fishing days are suitable for anglers of all abilities so don't feel you need to know all there is about saltwater fly fishing as this is a perfect opportunity to 'dip your toes' and to learn and understand all of the various techniques you need to succeed - and hopefully catch a few bass along the way.
All fly fishing tackle can be provided (except for waders, rain gear and sunglasses) so there is no excuse not to get out there, learn some new skills, have a great day afloat and, most importantly, really enjoy yourself.
The Bass Fishing Day
Weather permitting, the day will comprise a mix of wading and boat fishing with fly and, if you wish, lure, on one of the most beautiful stretches of the south coast around Chichester Harbour.
During your day you will fish a variety of locations and water depths, on the shore you will wade shallow water casting to fish coming in on the tide. The day will give you a fantastic overview of saltwater fly and lure fishing and your new, or improved, skills can be applied anywhere in the world, whether it is an organised trip or your next family seaside holiday.
Starting times will fluctuate due to tides and Paul will contact you closer to the time to finalise arrangements. The guided fishing days are all on weekends and make a fantastic present for friends or family.
Please note: We do not add a commission to these prices, they are the same as those charged by Salty Dog Game Fishing Ltd.
As a thank you for your booking we will be send you a 15% discount voucher* that may be used in-store at either the Sportfish Game Fishing Centre in Theale, RG7 4AS or at Farlows of Pall Mall, London SW1Y 5NP.
Price does not include: Gratuities or travel costs. Please ensure you read our course terms and conditions prior to booking.
*Discount vouchers cannot be used against tuition, courses, promotional or already discounted products.