Advanced Shooting Technology (AST) Fly Lines
Scientific Anglers' patented dry slick technology sets the standards for slickness, Advanced Shooting Technology (AST) Fly Line provides continual line slickness allowing the line to shoot farther as it moves virtually friction-free through the guides. AST fly lines easily shed dirt, algae and other parasitic drag particles allowing them to cast farther, float higher and stay cleaner than traditional lines. As a result, fly lines featuring AST are more durable and last longer.
Some say Advanced Shooting Technology is the greatest innovation in the history of the fly fishing. Others say that dosen't begin to tell the story.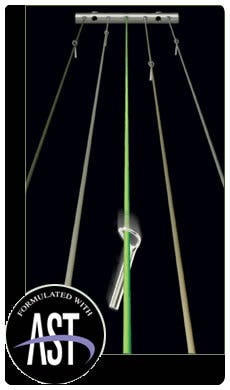 The picture to the right is a real test that shows what happens when you compare and ASTfly line to any other fly line. We've taken our incline tester all around the world to show people how much better an AST fly line shoots than any others, and now you're starting to see other companies run their own tests with lesser lines. But don't be fooled. There's only one AST – Advanced Shooting Technology – and it's available only from Scientific Anglers.
And if you think this test result is amazing, wait until you try an AST-formulated fly line on the water. We believe that once you do, like the test suggests, you'll never, ever be satisfied with anything else. There is just no comparison in performance. None.
AST-formulated fly lines shoot better – With AST, line shoots virtually friction-free through the guides and keeps on doing it for the life of the line – without dressing.
AST-formulated fly lines cast farther – They shoot through the guides like lightning and, because they're cleaner, AST lines fly through the air with little resistance.
AST-formulated fly lines float higher – The dry slickness of AST prevents dirt and algae from clinging to line, which means line stays cleaner and floats higher for longer intervals.
AST-formulated fly lines stay cleaner – Free of sticky lubricants and dressing, the AST coating doesn't give dirt and algae anything to cling to, so line stays free of debris that can ruin performance.
AST-formulated fly lines last longer – The AST coating is inherently more durable, and because line stays clean and free of debris with AST, the line is less prone to wear and corrosion.