One-Day Stillwater Trout Fly Fishing Course

Available Dates:
June 2017 - 17th
July 2017 - 1st and 22nd.
Further 2017 dates will be added in due course, please check back.
Cost of course : £149.00 (Rods strictly limited to three per course)

To make a booking, or for more information, please call 0118 930 3860 or email [email protected]
Stillwater Trout Fishing Course
Fly fishing for trout on a stillwater is how the majority of people enter the sport and there are a plethora of lakes all over the country making it easy to grab a full day, or even just a couple of hours after work, without any real planning or preparation.
It's a great way to unwind surrounded by great scenery, wildlife and the occasional like-minded angler relaxing in the fresh air, hopefully catching a fish or two along the way.
If this is something you have fancied having a go at why not join us at the Sportfish Game Fishing Centre
just off the M4 motorway at Junction 12 for a full day of instruction and fishing - but most of all fun.
Trout Course Aims
The course is aimed at beginners or anyone who may have left the sport and wish to get back into the swing of things, we run them on a Saturday too so there's probably no need to take time off work. And don't worry if you haven't got any equipment, we can provide that for you.
Kicking off at about 9.30am the course is restricted to three people only, so plenty of time can be spent with instructors Matt, JT or Chris. We will talk tackle in the morning - with a look at all the kit that is available and, more importantly, how it all works and why we use it. We will even spend time in the store getting 'hands on' with the latest kit.
Then it's down to the really fun bit - getting out and having a go at the casting on the lawn, trying to get that fly where it needs to be….in front of that fish!
After lunch we go fishing proper for the afternoon and you can fish for brown and rainbow trout on our fully-stocked 12-acre lake and even take a couple home for dinner. If you're lucky enough to get a couple early on you can keep fishing on a catch and release basis for the rest of the afternoon, honing those all-important fishing skills.
During the fishing Matt, JT or Chris will be on hand at all times to help and guide you in how to tackle up, play, net your fish and most importantly fish welfare.
The day concludes at around 4.30 returning to the shop for a well-earned cup of tea.
By the end of the day it is hoped that you have had a real taste of all that stillwater fly fishing has to offer and we hope that you will be well and truly 'hooked'.
Please book early to avoid disappointment as these courses are very popular
COST INCLUDES: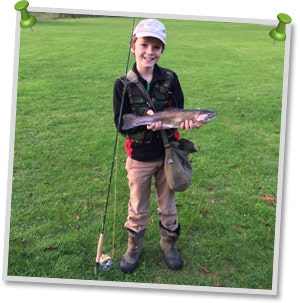 All-day instruction
Two fish ticket as well as catch and release fishing in the afternoon.
Lunch
Tea and coffee during the day.
A £35 VOUCHER TO BE REDEEMED ON TACKLE PURCHASES OF £210 OR MORE*
Note
You will need a current EA Rod Licence, which is available from the Post Office Website.
There are a couple of options but as a minimum you will need a one day non migratory licence dated for the day of your chosen course. This license is a legal requirement and must be purchased before any fishing can be carried out.
Please read our terms and conditions prior to booking.
*cannot be used in conjunction with any other offer or against already discounted products