River Deveron
By Keith Johnson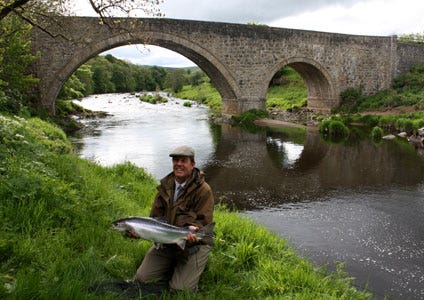 The Deveron rises in the northern part of the Grampians and flows largely north eastwards through Huntley and Turriff before flowing into the North Sea at Banff. Often underrated, many regard it as the 'best of the rest' after the four major east coast rivers of Scotland, and it regularly produces the fifth largest annual rod-caught salmon catch.

Where to Fish
There is relatively little public water on the Deveron, although Huntley A.A. has day tickets on its waters on the Deveron and its tributary the Bogie (tel.: 01466 792291). However, many of the private beats can be accessed through the two main agents on the river : Frank Henderson of Turriff Tackle, who also controls day tickets for Turriff A.A. ( for more information click here ) and George Manson ( for more information click here )
Fishing Advice
The Deveron has an appreciable run of spring salmon from March onwards, followed by summer salmon and grilse (given reasonable rainfall) and a run of autumn fish through September and October. It is noted for large salmon, indeed the British fly-caught record fish of 61lbs. was taken by Mrs. Morrison from her beat at Mountblairy in 1924, and most years produce fish of 25lbs.+. The Deveron is also noted for sea trout and although numbers have decreased in recent years as on many rivers in the U.K., there is still a reasonable run peaking in June/July. Unlike many such rivers, the Deveron can also produce good brown trout fishing, especially in April/May.
In spring and autumn a double handed rod is most suitable for salmon fishing, however in summer a 10' single handed rod will often suffice for both salmon and sea trout. Most locals tend to use fairly small flies, generally doubles. Although the Deveron has very good fly fishing, it can get rather peaty, or 'black' in local terminology, and at such times a spinning outfit with a Rapala or Rubber Tail spinner can be useful.
Tackle Recommendations
A 13 to 14' 8 or 9 weight rod is ideal in spring or autumn, teamed with a suitable large arbour reel . The Deveron is not a deep river in general, so a multi-tip line will cover most cases, or a floating line with a selection of polytips. In summer a 10' 7 weight rod with floating line will suffice. As mentioned above, take a spinning outfit (if permitted on your beat) in case of coloured water.
Fly Rod – Spring/autumn – 14'3" 9 weight Sage Z-Axis
Summer/sea trout – 10' 7 weight Sportfish Purecast
Fly Reel – Spring/autumn – Orvis Hydros V
Summer/sea trout – Lamson Litespeed 3.0X
Lines – Speyworks Switch Tip 9/10 wt.
Rio Gold 7 wt.
5' Polytips in intermediate, medium and fast sink.
Leader/tippet – Maxima Chameleon in 8 to 15 lbs.
Flies – Speyworks Salmon Doubles and Cascade sets in 10 and 12
Spinning outfit – Greys GRXi Travel Spin rod 9' 15-35g ;
Reel: Shimano Nexave RC reel ;
Line: Power Pro braid 15kg.
If you would like further information about tackle suited to fishing this river please contact Sportfish Reading on 0118 9303860.
News & Offers Sign Up Visit Our Blog Second Hand Shop